Note: Alan Bennett has won dozens of prizes over his long career, but he declined the honor of becoming a Commander of the British Empire in 1988 and a knighthood in 1996.   He has stated in a BBC interview that, "although he is not a republican, he would never wish to be knighted, saying it would be a bit like having to wear a suit for the rest of his life."
'I ran into a snake this afternoon,' Miss Shepherd said. 'It was coming up Parkway. It was a long, grey snake, a boa constrictor possibly, it looked poisonous. It was keeping close to the wall and seemed to know its way. I've a feeling it may have been heading for [my] van.' I was relieved that on this occasion she didn't demand that I ring the police, as she regularly did if anything out of the ordinary occurred…She brought her mug over and I made her a drink which she took back to the van. 'I thought I'd better tell you,' she said, 'just to be on the safe side. I've had some close shaves with snakes.'–Miss Shepherd to Alan Bennett.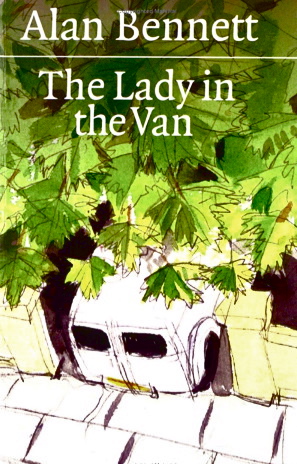 Famous for his hilariously ironic comic sketches in Beyond the Fringe (1960), with Dudley Moore, Jonathan Miller, and Peter Cook, and Talking Heads (1992);  for his recent Tony Award-winning play The History Boys (2004), among other productions; and, most recently, for his gently satiric novel (2007), An Uncommon Reader, about Queen Elizabeth's discovery of a new kind of reading, Alan Bennett in this 1989 novella gives insights into his own life and personality. In The Lady in the Van, he details the relationship he had with someone who, under any other circumstances, would be considered a homeless person. In this case, Mary Shepherd is not really "homeless" because she lives, unkempt and unfettered, in a dilapidated van, painted yellow, "the papal color," which she has parked illegally in various places throughout Bennett's neighborhood. When she runs afoul of the parking regulations while her van is on a lot across the street from Bennett's own house, Bennett offers to let her park the van temporarily in the garden entrance to his house.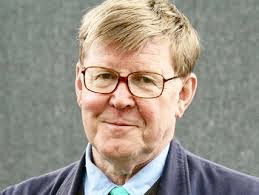 Beginning in 1969, when Bennett tells of meeting her for the first time, and concluding in 1989, with her death at age seventy-seven, Bennett gives a diary of Mary Shepherd's life – and, incidentally, his own life – not as her benefactor (which he fears might leave him open to the charge of "do-gooding") but as a person who respects the independence of those around him, even those like Mary Shepherd who severely challenges his good nature every step of the way.  Like many well-educated young liberals of the seventies, Bennett recognizes his privileged middle-class social position and feels a social obligation toward those less fortunate, and he genuinely wants to help Miss Shepherd.   She herself, however, feels no gratitude whatsoever, simply regarding his sharing of his private entrance-way as the appropriate thing for him to do.  The challenges she presents would have qualified Bennett for sainthood.  Independent, unrepentant, and fiercely self-protective, she is so difficult that Bennett remarks,"One seldom was able to do her a good turn without thoughts of strangulation."  He never expects that she will remain parked in his driveway for the next fifteen years.
The founder of her own political party (with its membership of two, including a nun suffering from Alzheimer's) and writer of political tracts (which she sells, along with pencils), Miss Shepherd attempts to run for Parliament while lacking any official address.  As Bennett describes her colorful clothing and headgear (all of it foully odoriferous), the listener can only acknowledge in amazement Bennett's tolerance and ability to continue allowing Miss Shepherd to live her own life on her own terms – on his property and in his close neighborhood.
If her long intrusion into his own life and privacy were not bad enough, Miss Shepherd brings with her one more huge problem: The van has no plumbing – no running water, and no sanitary facilities.  She casually stacks her growing collection of plastic bags – piles of them –around the van in Bennett's driveway.  Eventually she begins to spend nights in a lean-to on the side of Bennett's house, and ultimately, Bennett strings a cord to the lean-to so that she will have at least some power and warmth.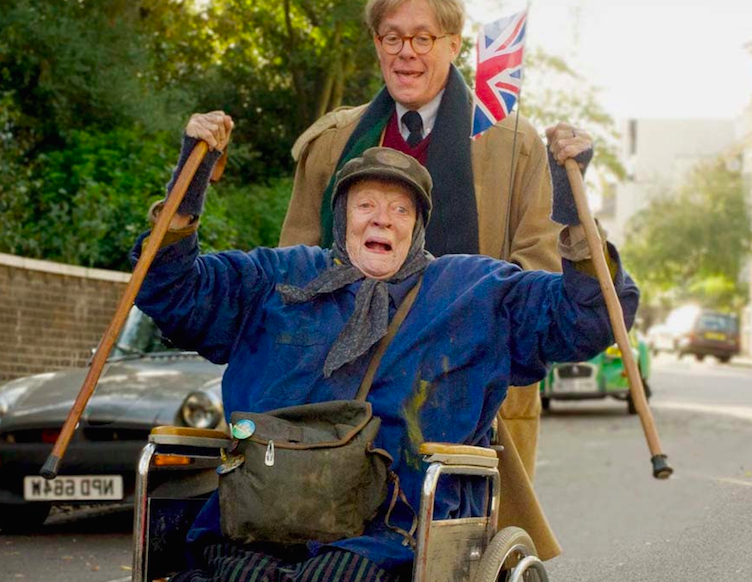 As Miss Shepherd continues her unsanitary life on Bennett's property, the reader gradually recognizes that she is aging and becoming less grounded in reality, though dementia does not stop her and does not interfere with Bennett's kindness toward her and his willingness to acknowledge her independence while also wanting to help.  The novella is as much a tribute to Bennett, though he would be horrified to hear this, as it is to Mary Shepherd, a woman who never gives in.  His attitude toward her over the course of almost twenty years is actually somewhat mystifying, and he himself may have had a hard time reconciling his goodness toward her with the genuine problems she created for him in his own life.
Even after her death at age seventy-seven, Bennett continued to focus on Mary Shepherd and her life, off and on, for twenty-five more years, from their first meeting in 1969 until the present.  His book, The Lady in the Van, was written in 1989; his play of the same title, in 1999, starring Maggie Smith; his radio play, in 2009, also starring Maggie Smith; a new edition of the book, being released by Picador (in the US) on November 3, 2015;  and now, coming out in December, 2015, the film of this story for which Bennett has also written the screenplay.  This film also features Maggie Smith (who must have relished playing this role after playing the role of the Dowager Countess of Grantham in "Downton Abbey" for the past five years).
ALSO reviewed here: THE UNCOMMON READER
The official trailer for this film is here: ">
Photos, in order: The author's photo is from http://www.broadway.com/
Miss Shepherd (Maggie Smith)paints her van yellow in the film version, which comes out in December, 2015.
Alan Bennett (Alex Jennings) pushes Miss Shepherd in her wheelchair, right down the center lane of the street.  http://filmmusicreporter.com/
The poster for the December, 2015, film appears on http://www.tribute.ca/

THE LADY IN THE VAN
REVIEW. Photos. Film connection, Video Trailer. Book Club Suggestions, England, Humor, Satire, Absurdity, Psychological study
Published by:
Profile Books
Edition:
New Edition, 1999.
Available in: Paperback