"Dreams are the bright creatures of poem and legend, who sport on earth in the night season."
A han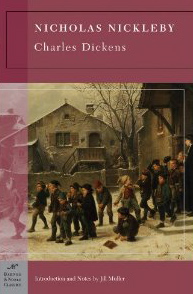 dsome young man who finds himself the sole support of his mother and sister after his father's death, Nicholas Nickleby is hopeful that his uncle, Ralph Nickleby, a weathy speculator in London, will assist the unfortunate family in its hour of need. Ralph's cruel response, however, is to make Nicholas the assistant headmaster at a notoriously abusive school in northern England and to make his beautiful sister a seamstress and part-time hostess at his own parties. There she is subjected to innuendo and to the drunken intentions of men whose accounts help keep Ralph a wealthy man.
This early novel is pure melodrama, with the good characters being unbelievably good, and the evil being unbelievably bad. The multiple adventures of Nicholas through a variety of settings, both in the city and in the countryside, create a broad picture of life in England in the 1830s. Nicholas's job as assistant headmaster exposes him to the horrors of so-called boarding schools for young boys, which were essentially warehouses for young children where they were forced into physical labor, kept malnourished, and beaten regularly. These abuses, based on Dickens's personal observations, so horrified his readers that major reforms of these schools eventually resulted. When Nicholas, in frustration, finally beats headmaster Wackford Squeers for his abuse of the children, Nicholas and Smike, a crippled boy who has been the headmaster's slave, escape together.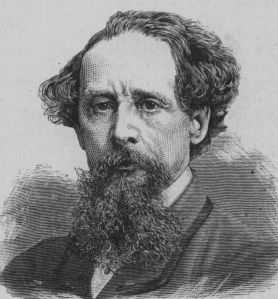 Their interlude with a traveling theatrical company, led by friendly Vincent Crummles, gives Nicholas much needed emotional support and provides Smike with a temporary home–until Nicholas is called to return to England to rescue his sister from unwanted attentions fostered by her uncle. Eventually Nicholas works in London for the saintly Cheeryble brothers and meets Madeline Bray, the love of his life.
Long recognized as one of Dickens's best novels for its wide assortment of characters, the novel mixes delightful humor with the pathos. The complex plot employs coincidence and miraculous interventions to save the day for the good characters while well-deserved disasters befall the evil ones. Dickens's vibrant descriptions bring people, places, and scenes fully to life, and the realistically described social conditions provide a clear vision of life's travails.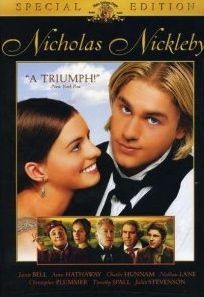 Despite its great length, the novel is a fast read–and fun–but it is soap opera-like in its ups and downs, and the main characters are not fully developed. One knows little about Nicholas except what one "sees"–that he has a kind heart and acts on it–but we know little about his inner life. (David Copperfield and Pip in Great Expectations are still ten and twenty years away.) Sentimental and occasionally bathetic, the novel involves the reader in the social abuses, some of which were improved as a direct result of this book's publication.
Notes: The film production of this novel, directed by Douglas McGrath, won the Golden Globe Award in 2003 for Best Motion Picture Musical or Comedy.
Also reviewed here are three other novels by Dickens–BLEAK HOUSE, HARD TIMES, AND THE MYSTERY OF EDWIN DROOD. See Author tab at top of the Home page, if interested.