Note: Laleh Khadivi was WINNER of a Whiting Award for Fiction in 2008.
"Everywhere, we are leaving. In desert villages, mountain towns and old cities, the worried minds hum with decision-making, decisions made. We meet in groups to talk it over, to look into the eyes of family, lovers, and dear friends and ask. Do we go?"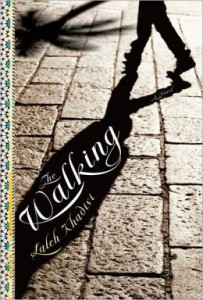 Having read The Age of Orphans, the first novel in Laleh Khadivi's projected trilogy, published in 2009, I vividly remember the author's haunting style and musical, even psalm-like cadences, along with the power and passion with which she creates that novel's memorable main character, seven-year-old Reza Khourdi, who grows up under the Shah. I also remember, however, passages of brutality, violence, and horrific cruelty, often toward women, which Reza, a member of the Kurdish minority, observes and even participates in, and though those horrors were not the main focus of the novel, they were disturbing, and I hoped that this second novel might avoid some of the brutality.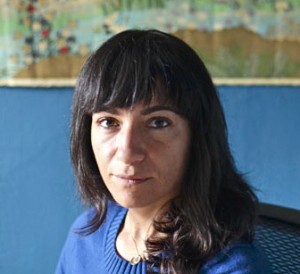 This book, though similar in the best aspects of its style, is truly different, and in its differences, it hits heights rarely seen in a second novel, especially by such a young novelist. Beginning in the earliest days of the Iranian Revolution under Ayatollah Khomeini in 1979, The Walking is simultaneously much narrower in focus and much more universal in its themes. The author says almost nothing about the revolutionary events themselves, concentrating instead on the lives and innermost questions, thoughts, and fears, of two Khourdi brothers, ages nineteen and seventeen, who leave Iran secretly after a bloody incident involving their father, Reza from The Age of Orphans. They become part of the Iranian diaspora – young men and families who leave to create new lives in another world while they still have a chance to escape. "For the most romantic," one character comments, "it took a death in our homes or close to our hearts before we packed and fled…[but] the news followed behind, biting at our heels."
The brothers' story, so intense and so true in its depths of character, obviously parallels stories the author herself has grown up with. Though she was an infant when she and her family came to the United States, she endows this story of emigration and resettlement with immense emotional power, incorporating the kinds of personal details which only someone who has first-hand experience of a total change of culture can truly appreciate. The author's own knowledge, combined with the stories she must have heard throughout her life, allow her to create a novel which stuns with its insights, hitting all the right notes as she recreates the many issues which families new to the US must experience, though few articulate them so clearly.
Saladin Khourdi, a teenager from a mountain village in Iran, arrives in Los Angeles with no support system, other than the Hollywood films which he has devoured since early childhood. Khadivi recreates his earliest days in the US without a shred of sentimentality, though these are days in which he has no place to stay, no food to eat, and no money. The city is hot, "a furnace, and the human elements therein crumble in the fire, morph into one another and so create a new element that belongs more to Los Angeles than to whatever oven held them before." Concentrating on his daily life and his thoughts, she brings Saladin to life allowing him to maintain his dignity as she takes the novel to rare heights – ultimately creating a chronicle of the total immigrant experience which she endows with a kind of universality which nevertheless feels unique.
Khadivi, a poet at heart, shifts points of view at will, developing separate portraits of the lives of some who have decided to leave, some who are thinking about leaving, and some who are committed to staying, moving among points of view as a musician might change melodies which become part of a symphony. Almost instantly, she can shift time and place as Saladin or his brother deal with life after crossing the border into Turkey, shifting back to Los Angeles, where Saladin is alone, then shifting again to the Azores where they await a flight to the US, then shifting yet again to some other setting which shines new light on still other scenes. One scene has the point of view of an Immigration Office. Another is a picnic at the park on the thirteenth day of spring when Iranian emigrees hide from the devil to avoid being caught.   The overall impressionistic picture is like a gathering of puzzle pieces which eventually become part of a large and unique jigsaw puzzle, which requires a bit of patience but never becomes frustrating. Khadivi's language keeps the reader completely in her thrall as she moves the story along, repeating images and creating refrains.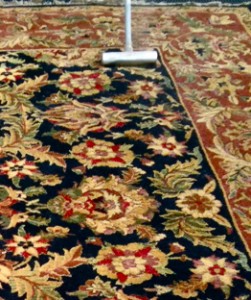 Gradually, the reader sees Saladin as he moves through Los Angeles, eventually finding a short-term and then a long-term job, a place to live, and a girl who means something to him, and as he lives his new life (and continues to go to the movies to compare his life to that on the screen), he sees how even the emigrees change after being in the US for some time. Their children begin to misbehave and to mock their parents for their accents, and the elderly begin to complain about the traffic, the water, the smog, and even the salt. "Lucky the child who knows so little about here and less about there….Unlucky the gathered crowd; men with heads bowed and women with hearts clenched, grandmothers who smack lips in disbelief over every bite: Doesn't taste the same, will never taste the same, how can it ever taste the same?"
Eventually, he concludes that "Not until a baby is born. Not until your dead are buried beneath this ground. Only then can you say that you belong to a place or claim that a place belongs to you." At the conclusion, Saladin walks all day from Santa Monica to Malibu on his day off, and he observes the ocean (as he does on his first day in Venice Beach), this time from a cave on the beach (which has symbolic meanings to him). Only when he watches the ospreys feeding, does he come to a true understanding of what it means for him to be in California, rather than in Iran. "He sees that in every catch there is a moment when both bird and fish suspend, equal, between drowning and flight, and for one second it is unclear which is the fiercer of the two desires."
ALSO by Laleh Khadivi:  THE AGE OF ORPHANS
Photos, in order: The author's photo by Ariel Zambelich is from http://www.reed.edu, which also contains a fascinating story on the author.
The boardwalk photo is part of a story on  http://www.soulfulplanet.com
The Griffith J. Griffith statue in Griffith Park, photo by mineart, appears on http://en.wikipedia.org
Saladin works cleaning Persian Rugs, a job requiring hard physical labor. http://www.orientalrugcleaningbocaraton.net
The osprey and his meal are from http://wsbrc.org.uk
ARC: Bloombury