"Souls are fragile, [Commissario]. Beautiful, fragile creatures, made of glass, they let light and heat through, but they're incapable of containing them. Souls are made of glass, and if you treat them too roughly, they're able to crack and emit inaccurate reflections. Never underestimate the soul, Commissario. Have the courage to gaze deep into it, the surface is transparent, and it will let you see." – Don Pierino of the Church of San Fernando.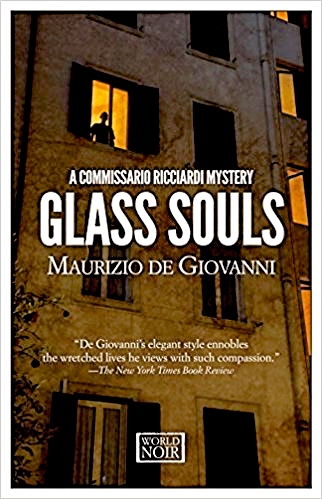 Just when you might think Maurizio de Giovanni's Neapolitan mystery series cannot get much better, he outdoes himself, building on everything he has been doing in the past seven novels in this series and creating this one, his best so far.  Further developing the most delightful aspects of his characters and their relationships to date, he expands them in complex ways which I suspect every fan will celebrate. Here main character Commissario Ricciardi, who works in the Public Safety Division of the Royal Police Headquarters in Naples in the 1930s, during the reign of Benito Mussolini, continues to live up to his beliefs in true and equal justice, regardless of class. Though he is known professionally as Commissario Ricciardi, he is, in his private life, Baron Luigi Alfredo Ricciardi di Malomonte, a nobleman in his early thirties, whose parents died when he was young and who was brought up by his "Tata" Rosa, an old woman hired by his family to work for them. Like his deceased mother, he has inherited the ability to "hear" the last words of anyone who has been murdered, and he is totally dedicated to helping the victims of crime find rest for their tormented souls. He often associates with members of the political and social elite, their families, and those who control much of the economic and social life of the city, but he is painfully shy, uncertain about his inner identity.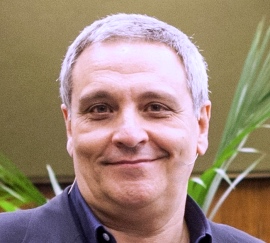 In this novel, author Maurizio de Giovanni retains all the characters and relationships which fans of the series already delight in, and his sense of humor is more obvious here than it is in several of his previous novels. Though the nature of the murder in question (that of a loan shark), its victim and killer, and the motivations for it are well developed, many readers will become more interested in the psychological and social interactions of the characters than in the mystery itself, a situation common in de Giovanni's work. When the preceding novel, The Bottom of Your Heart, ended, Ricciardi was worried about the failing health of his "Tata" Rosa, and he had hired a young woman, Rosa's niece Nelida, to help Rosa until her recent death and then to help him. Now Ricciardi finds himself truly alone, his last remaining intimate connection with his family's past gone. Two women have been interested enough in him to try to "save" him from his self-imposed misery, but Ricciardi has been unable to love with his whole heart.   One, Livia, the exuberant widow of the world's greatest tenor, moved to Naples to be closer to Ricciardi after the murder of her husband and still hopes to win his heart. The other, Enrica, a shy, young woman whose family lives in an apartment building across the way from his, is quietly in love with him, and she has had the blessing of Rosa to try to win his heart. Ricciardi, not now capable of loving her as he would like to, has recently observed a tall, blonde German officer making overtures toward her.
Like all of the previous novels in the series, de Giovanni uses the seasons to give additional atmosphere to the novel. The previous novel, set during a very hot summer, has given way, with this novel, to a cool September. Fortunately, that means that the police caseload is lighter than usual – until a woman comes to see Ricciardi regarding the imprisonment of her husband for the murder of Piro, a loan shark. Her husband has confessed to the murder and has spent the past three months in jail, but his wife knows he was at home with her during the time of the murder. He refuses to recant, and the police regard the case as closed. With the Fascists in power and making more and more connections with the Germans, absolute rule is becoming more of a national goal, and no one wants this case to be reopened or reinvestigated. A secret police force also exists, operating apart from the official force and apart from the government, often used by those with the means to hire them for their own purposes. Ricciardi and his partner, Brigadier Raffaele Maione, a warm-hearted man with a large family, decide to take up the case secretly, Maione agreeing to help because he fears that Ricciardi might get in trouble with the government or secret police.
De Giovanni, consummately aware of the need to provide background information to new readers, dedicates a page or two to each of the major players, including Ricciardi, Maione, Livia, Enrica, and Manfred, the German who is interested in marrying Enrica. In the course of the novel, several favorite characters also make the equivalent of "guest appearances," often very funny and so amusing that even newcomers to the series will find them memorable. The first of the "old favorites" to reappear is Dr. Modo, the irreverent coroner who will say anything, even when he is not under the influence. Sensitive toward Ricciardi's situation, he demands that Ricciardi meet him for dinner one night, at Ricciardi's expense. He is still being accompanied by a small dog, the former pet of an orphan boy who died in The Day of the Dead. Not surprisingly, Maione also contacts the transvestite prostitute Bambinella, who often serves as an informant, and, as always, their scene is a classic. Don Pierino, the tiny priest from I Will Have Vengeance, the first novel in the series, becomes a counselor both for Enrica's father and for Commissario Ricciardi. As for places, the Caffe Gambrinus, which appears in most of the novels in this series, is the place where Enrica's father takes her for a serious chat, and where, to her horror, Enrica is also taken by her German suitor for dinner.
Throughout, de Giovanni provides thought-provoking and atmospheric interludes, some of them enhanced by symbolic images, intensely emotive descriptions, and just enough atmospherics to add a whiff of otherworldliness to what is a fairly simple mystery. Readers of this novel will find plenty to love here, and the lack of many thriller moments will not be a problem for anyone familiar with the series. Ricciardi fans probably will not need a character list to keep track of the who's who, though newcomers may find it helpful as a resource during the novel. Ultimately, the author's message regarding the importance of following one's dreams serves as a guide to the messages of this novel, regardless of the characters and their opinions. As one character says, "If there's one thing to look out for in this strange city, it's September nights. And the dreams that September nights bring."
ALSO by De Giovanni:  I WILL HAVE VENGEANCE (#1),     BLOOD CURSE (#2),      EVERYONE IN THEIR PLACE (#3),      THE DAY OF THE DEAD (#4),     BY MY HAND (#5),     VIPER (#6),     THE BOTTOM OF YOUR HEART (#7),     NAMELESS SERENADE (#9)
Three other novels, by de Giovanni, not part of the Ricciardi series are also reviewed here:  THE CROCODILE (#1),     THE BASTARDS OF PIZZOFALCONE (#2),    DARKNESS FOR THE BASTARDS OF PIZZOFALCONE (#3),     PUPPIES (#5)
Photos, in order:  The author's photo is from http://www.leconversazioni.it/
The photo of Poggioreale Prison, built in 1905, regularly holds 2000 – 2300 prisoners, with 700 guards.  https://atv.be/nieuws
The Church of San Fernando, where Don Pierino is Vice Parish Priest, is visited by both Enrica's father and Commissario Ricciardi:  https://commons.wikimedia.org   Photo by Lalupa.
Caffe Gambrinus, another favorite spot in Naples, is a place where Ricciardi often has meals, where Enrica's father meets her for a quiet lunch, and where Enrica's new German beau takes her for dinner:  https://en.wikipedia.org/  Photo by Armando Mancini.
GLASS SOULS: MOTHS FOR COMMISSARIO RICCIARDI

REVIEW. Historical, Italy, Mystery, Thriller, Neapolitain Noir, Social and Political Issues

Written by: Maurizio de Giovanni

Published by: Europa

Date Published: 07/18/2017

ISBN: 978-1609454098

Available in: Ebook Paperback