Note:  Billy O'Callaghan has received many awards for his short stories and was WINNER of a Bord Gáis Energy Irish Book Award in 2013.
"Even now, I see myself in shards of glass and find more of a sense of identity there than I can in the shaving mirror.  Standing in the cold of an early morning…staring at my reflection, the face I see in the rust-freckled glass is a strange one: flesh leaden with middle age; eyes wide in awe at having to fit myself, whoever I might be, to the tired features; skin lined by years and hanging from the scaffold of bone." – Jer Martin, 1920.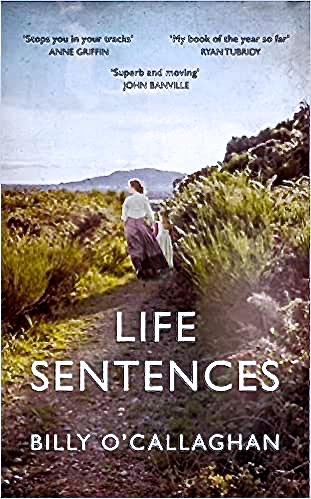 Setting his third novel in the south of Ireland in the years between 1920 and 1982, author Billy O'Callaghan writes a semi-autobiographical account of an extended Irish family always struggling to stay alive, meet their responsibilities, and love their children.  Focusing separately on three family members from three generations, each with his/her own novella, the novel covers a large swath of history, and through flashbacks and flashforwards provides an intimate picture of the families' lives and of life in general during poor times in a country in which simply staying alive is sometimes a person's primary focus. Jer, as his section opens, is being arrested at a pub  for his own good and jailed overnight for the violence he has shown toward his brother-in-law, Ned Spillane.  Jer believes Spillane has finally succeeded in killing his sister with his drinking.  Though "[Ned] might not have kicked the chair away with his drinking, he put the rope around [Mamie's] neck…And now she's gone," he notes.  Alone in a cell and exhausted as he tries to sober up, he feels his mind sinking slowly "from the man I appear to be, down to the stranger lying half an inch beneath the surface of my skin."  He bemoans the fact that he has never really  known his father, Michael Egan, having seen him on "maybe half a dozen occasions over as many years," but he has tried to be strong, while recognizing that the few occasional periods of calm that he has felt serve primarily to connect and intensify his feelings of turmoil.
Jer's story, from the beginning of the book, establishes many of the relationships and circumstances of his life and introduces key players from other parts of the novel, setting the scenes for the earlier and later segments which follow in the book's structure.  Jer's service in the army from 1908 through World War I included his being wounded in the war, and he has many nightmares of warfare to deal with.  On an emotional level, he also lets the reader know that he fights internal wars.  He loves his six children, and at his sister Mamie's burial, to which he goes accompanied by "minders" in case he gets violent toward his brother-in-law, he dearly wishes he could "cuddle' Mamie's three distraught children at her gravesite. Eventually, he expresses his belief that life is determined every bit as much by absences as by acts, though he shares deep fears that if he lets himself go that he may not regain his balance.
In Part II, "Nancy," Jer's mother, begins her adult life on Clear Island, ten miles off the coast of Cork, during times of the potato blight and Great Famine (1845-1849), a disastrous time in which over a million  people died of starvation, including Nancy's mother.  At nineteen Nancy, alone, leaves the island and sails to a place outside of Cork in search of work.  Working full-time as a housekeeper in a large house, she is eventually attracted to Michael Egan, who looks after the grounds twice a month.  Their relationship leads to the inevitable – two children – and Michael is no help.  Vivid descriptions follow of the workhouse where she is employed in Cork for three years, without her children, who are not allowed at the workhouse.  Her children are released to her when Mamie is five and Jer is two-and-a-half so that they can all move on elsewhere.  Years pass, and Nancy eventually reconnects with the children's father, Michael Egan, at his request, though she never again has a relationship with him.
In Part III, Nellie, the youngest of Jer's six children by Mary Carty, a woman he loves, is in her sixties in 1982 when this section opens, and she is on her deathbed, reconciled to the inevitable and refusing medical care. Remembering her past, she is most haunted by the death and burial of her first child, baby John.  She and the family were determined to have him buried in the family plot, but she and Dinsy, the baby's father, have not married, much less married in the church, and they know they would have to bury the baby secretly, late at night, in order to avoid the priests overseeing the churchyard.  The relationship between the poor and the church is depicted graphically here, and the church as a potential source of comfort is revealed as punitive instead.
Author Billy O'Callaghan, a master of description, both physical and emotional, creates scenes of great sadness, stressing the goodness of the people and the horrors of outside events – from the Potato Famine through a world war and a society and church in which women have little control over their lives. The strength of these women lies in their love of family, especially their children, and their willingness to do whatever is necessary to save them under horrific conditions.  Their hard lives are their "normal," one which becomes real as a result of O'Callaghan's insightful descriptions of the conditions under which these women live and the creativity with which they approach their difficult roles as mothers and caregivers.  These mothers give birth to the next generation of mothers, stronger for the events they have shared and survived, even as they may continue to struggle on many levels that affect their families.  Nellie sums up her experience near the end of the novel:  "There are no beginnings, my father once told me, and no ends.  It had been his experience, he said, that until our hearts stop beating, there's only what lies between, and that's a time of war and nothing but. I often ponder this, and I believe I know what he meant, though I'd struggle to explain the thought in a way that makes sense.  You need to have felt it." O'Callaghan makes you feel it.
Photos.  Men of the Royal Irish Rifles, with which Jer may have served, are from https://www.history.com
Clear Island or Cape Clear Island, where Nancy began her life, may be found here:  https://www.pinterest.com
The old cemetery, similar to where Baby John was buried, is on   https://www.bizjournals.com
Author Billy O'Callaghan's photo appears on https://www.irishexaminer.com
LIFE SENTENCES

REVIEW. PHOTOS. Historical, Ireland and Northern Ireland, Literary, Psychological study, Social and Political Issues

Written by: Billy O'Callaghan

Published by: Jonathan Cape

Date Published: 01/14/2021

ISBN: 978-1787332454

Available in: Paperback Hardcover