"I was an actress who couldn't act, a dancer who couldn't dance, a singer who couldn't sing.  So I went straight to Hollywood after my sophomore year at college in Kalamazoo.  Still, I wasn't much of a maverick.  I had grown up on a farm in southern Illinois.  Both my parents couldn't read a word.…[But] I saw every film that reached our rural town, and I  discovered the world watching William Powell and Myrna Loy eat breakfast in their pajamas." – Rusty Redburn.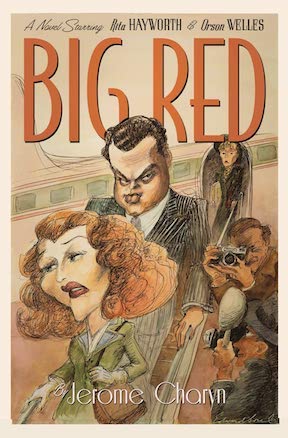 Rusty Redburn, the narrator who directs the traffic of this exciting and busy book, never expects, when she goes to Hollywood in the early 1940s, that she will end up as a spy for Columbia Pictures.  Columbia's President Harry Cohn wants to keep tabs on every aspect of the life of "Rita Hayworth" (Margarita Carmen Cansino), his shy and most mistrustful star.  As author Jerome Charyn traces the life of Rita Hayworth, Rusty Redburn, becomes a sympathetic confidante for Rita.  Redburn's own resentment of the male dominated film business and its demeaning of its female stars allows her access to Rita's inner feelings.  Gossip magazines and the intrusions of columnists like Luella Parsons and Hedda Hopper into the stars' private lives have added to the private misery that many stars must endure.  Rita, the child of dancers, grew up knowing how to move and attract attention physically, but she never felt beautiful, and, as she tells Rusty, she regrets "not being smart enough.  I don't have the gift…of words."  She begs Rusty to teach her, including Hamlet and War and Peace and Pride and Prejudice, and Rusty agrees to that. 
The literary lessons with Rusty soon take a back seat to the growing attraction between Rita and Orson Welles, "the Boy Wonder" of Hollywood.  Soon Rusty realizes that she no longer wants to be a spy for "the Janitor," Harry Cohn.  Instead she will "feed him a few morsels, but nothing that would hurt Rita and Orson, or reveal her own  true identity."  She, a gay woman, feels a kind of protectiveness toward Rita, and can understand her sense of isolation.  When Orson Welles, a special envoy for FDR, is invited to the White House and Welles wants Rita to come with him, she demurs.  "What if Mrs. Eleanor asks me about world events?  I can talk abut Alice and Humpty Dumpty, but I can't say much about Stalin's mustache," Rita responds.  He begs her to come, but "the closer it came to leaving for the White House, the more she grew mummified," he remarks.   Welles is forced to go on alone.  Later, after their "honeymoon" in 1943, when Rita discovers herself pregnant, Welles has Mrs. Roosevelt call Rita on the phone to congratulate her, thinking that will help. He, however, begins to spend more and more of his time in Washington, D.C., while she stays in Hollywood, and though he continues "to woo her from afar," he spends less and less time with her.
Rita's professional life expands, however, with much included about her dancing style and dancing partners, such as Fred Astaire and Gene Kelly in films, but almost no time is spent here in the novel, showing her relationship with her new baby daughter, who disappears from the narrative.  Rita makes six movies in the five years between 1942 and 1946, including Gilda, perhaps her most famous film, and in the course of her career, she also appears with Cary Grant, James Cagney, Glenn Ford, Edward G. Robinson, Victor Mature and a host of other Big Hollywood stars. Her marriage, what was left of it, suffers. Welles continues to treat her like a toy, and in 1947, she and Welles separate and plan to divorce.  She tries to hide the unhappiness she feels with her life by drinking, and she becomes unstable, known for her temper and occasional  "murderous rage."
The marriage, of course, fails, but the divorce takes longer than usual.  In the meantime, Rita meets Prince Aly Khan, the richest man in the world. Aly Khan once served with the French Foreign Legion and participated in the US Seventh Army's Allied landing in the South of France in 1944, for which he received medals from both France and the US.  Soon "a legend grew around Rita and this playboy from Pakistan.  "He was a sharpshooter, our own Wild Bill.  Never saw anyone who could handle a Colt or a carbine like him. Never met anything like it."  After a year's courtship, and the end of Aly's ongoing relationship with Gene Tierney, Aly and Rita marry in 1949, and she becomes Princess Rita.  Once again, she becomes pregnant – with another daughter, Yasmine.  Again, her marriage fails, though she emerges from the relationship with the firm friendship of Aly Khan's father, the Aga Khan, who comes across as a remarkably sympathetic figure here. 
The last forty pages of the book compress the years from Rita's doomed appearance in the film Pal Joey until the end of her career. Though she has top billing in Pal Joey over Frank Sinatra and Kim Novak, she ends up being recast  "as the "other woman," with Kim Novak in the starring role.  Rita is insulted and outraged. On the set, she forgets her lines a moment after she receives them, sometimes stuttering and losing track of the action.  Though she is still in her thirties, the feeling in Hollywood is that her career is just about over.  She disappears from much of the action at the end of the book, and Welles, Aly, and Hollywood itself become the focus.  In an Author's Note, Jerome Charyn describes his own problems with the focus.  He had originally planned to write a book about Orson Welles, with an emphasis on Citizen Kane.  He discovered, however, that Rita and her role in Welles's life would be central to the book.  Realizing that he could not write in her voice, he creates Rusty Redburn, a fictional character, to straddle the various aspects of the novel as an active participant in the lives of Rita, Welles, and the other characters.  As Charyn says, "I did not want to document [Rita's] decline in Big Red, though we do glimpse her in a bedraggled state.  Instead, I tried to reveal the music in her bones…Rita was always dancing, even when she stood still."  
Photos.  The wedding picture of Rita Hayworth and Orson Welles may be found here:  https://www.pinterest.com
The poster from Gilda, thought by many to be her best film is from https://www.ebay.com
Rita's 1949 marriage to Prince Aly Khan lasted, officially, for four years.  They were separated for much of that time.  https://en.wikipedia.org
Author Jerome Charyn has published over fifty works in fifty years:  https://www.goodreads.com
BIG RED: A Novel Starring Rita Hayworth and Orson Welles

REVIEW. PHOTOS. Biography, Film connection, Historical, Psychological study, Social and Political Issues, United States, Hollywood

Written by: Jerome Charyn

Published by: Liveright (W. W. Norton)

Date Published: 08/23/2022

ISBN: 9781324091332

Available in: Hardcover