" [Artist Felix] Vallotton came to prominence in a period of -isms: symbolism, naturalism and decadence in literature; post-impressionism and Nabi in art; anarchism, reaction, militarism and boulangisme in politics, not to mention the Dreyfus affair and the Panama Canal scandal.  It was also a period in which the extraordinary rapidity of technological and social change became a subject as well as a context of literature and art.  As Charles Péguy wrote in 1913: 'The world has changed less since Jesus Christ than it has changed in the last thirty years.' "  – Patrick McGuinness, "Vallotton and fin de siècle France."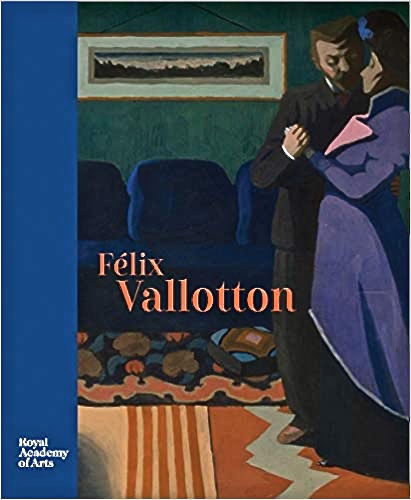 Prepared as a permanent memento of two grand shows of the work of "Felix Vallotton: Painter of Disquiet," this book showcases the cumulative artwork by the artist displayed for six months in two different sites, the Royal Academy of Arts, London, from June 30 – September 29, 2019, and the Metropolitan Museum of Art, New York, from October 29 – January 26, 2020.  Here a host of different art critics write chapters detailing the various periods and aspects of Swiss artist Felix Vallotton's work.  Dita Amory and Ann Dumas, in the "The Very Singular Vallotton," stress this artist's uniqueness – he was Swiss, not French – brought up Protestant with rigorous discipline, and his paintings reflected this heritage, they assert.  Vallotton (1865 – 1925) was not part of any of the radical movements in Paris at the end of the nineteenth century, and except for his association with Nabi friends, he remained unmentioned and virtually unknown in the "art circles" of the period.  He was not "just" a painter, however.  Vallotton also made a major contribution to art history with his revival of the woodblock print, pure black and white, which, in his case, expresses often satiric and dark points of view.
Amory and Dumas note that the acerbic wit he displays in many of his prints made them popular in "established anarchist political journals" and led him eventually to take unusual steps even with his paintings which created much attention from 1900 on. Vallotton's unusual domestic scenes were often considered "subversive," filled with "caustic wit," and often suggestive of stories regarding the subjects of the paintings – predatory females, men on the prowl, and relationships which suggest that secrecy is essential.  Nudes become an important aspect of his work, with some people "admiring their flawless classicism" while detractors attack their "dry frigidity."  As for his landscapes, those are described as "conceptual," not the capturing of an instant in time, as the Impressionists promoted.  As Amory and Dumas conclude, "Vallotton has no obvious place in the trajectory of French painting of the late nineteenth and early twentieth centuries, and was immune to all avant-garde developments from Impressionism to Cubism." They point out that the sometimes "bleak, visceral tension of his interiors" bear a great resemblance to the work of American painter Edward Hopper (1882 – 1967), who visited Paris twice between 1907 and 1910 and may have seen Vallotton's work while there.
Readers of the novels of Patrick McGuinness may be surprised to see a chapter that he has written for this collection, entitled "Vallotton and fin de siècle France," which is the source of the opening quotation here.  In this chapter McGuinness concentrates on Vallotton's prints: "Demonstrations? Anarchist bombings? Police charging a crowd, batons athrash? Vallotton had the image," achieving the effects of a news scoop or an action photograph.  Vallotton also wrote three novels, "which showed an imagination that was not simply visual but narrative, and which paid homage to newspaper sensationalism, detective fiction , and the mystery genre."  His political agenda was anarchist, and his print of "L'Anarchiste" shows several aggressive police grabbing a long-haired young man with his hand in his pocket, as two enormous soldiers get ready for action, if necessary.  The viewer will fill in the blanks.
The succeeding chapter, by Belinda Thomson, focuses on the Nabi Group, a group which used theories being developed by Paul Gauguin to carry emotion in paintings "through bold colors applied flatly within simplified contours." "The Red Room," an example of this work, also shows the "secret story-telling" so popular with Vallotton.  By the end of World War I, Vallotton had stopped doing his immensely popular woodblock prints and was now using paint exclusively to convey his ideas and images.  Even scenes of war are featured as paintings.  Since the emphasis of the art show and the book is so strongly on people, Vallotton's spectacular scenes of nature and his semi-abstract sunsets are almost completely absent here.
Beautifully illustrated, sometimes with full-page copies of the paintings, this book concentrates on artwork, instead of words, though the five essays are beautifully written and provide great insight into Vallotton and his legacy.  Of primary importance are the sixty-eight pages of colored reproductions of his work which highlight Vallotton in all phases of his painting, including several pages of portraits, including one, especially memorable, of Gertrude Stein, who became a friend.   These are followed by thirty-three pages of black and white prints, usually with two prints per page, so well chosen that those who may not have been fans of black and white prints in the past are certain to be surprised by the depth to which Vallotton has been able to use these prints for his own purposes, including satire and social criticism. Ultimately, Patrick McGuinness in his essay sums up the power of Vallotton's work:  "Wherever we are in the French fin de siecle, we are never very far from one of Vallotton's images: whether a portrait in a highbrow literary magazine, a street scene in a fashionable revue or a pungent image of police brutality in a radical newspaper, there is something ubiquitous about him.  Vallotton is always there, in the political, social, artistic, and urban life of Paris."
Photos: Nude at Stove, 1900.  https://www.wikiart.org
L'Anarchiste, 1892.  https://commons.wikimedia.org
La Chambre Rouge, 1898.  https://commons.wikimedia.org
Gertrude Stein, 1907.  https://commons.wikimedia.org
"Evening on the Loire, 1923.  https://www.wikiart.org
 

FELIX VALLOTTON

REVIEW. PHOTOS. Biography, Book Club Suggestions, Switzerland France, Historical, Literary, Psychological study, Social and Political Issues

Written by: Various, representing he Royal Academy of Arts

Published by: Royal Academy of Arts, London

ISBN: 978-1912520046

Available in: Hardcover