"I have never respected chronological order.  It has never existed for me.  Present and past blend together in a kind of transparency, and every instant I lived in my youth appears to me in an eternal present, set apart from everything."  Jean Eyben, narrator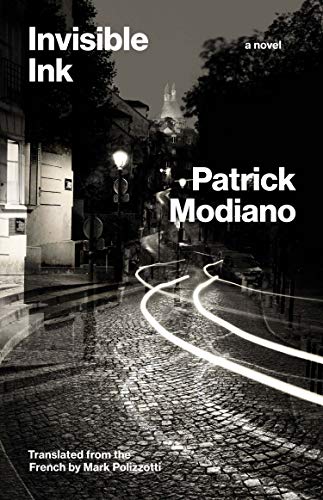 I readily admit that I have found Patrick Modiano to be the most fascinating author I have ever experienced, and I have read most, if not all, of his books in print in English.  His unique upbringing in post-war France, essentially without parents or real stand-ins for them, his search for his identity through his writing, and his honesty as he approaches life make each book, which he calls a novel here,  a unique experience for the reader as much as it must have been for the author.  He has published two books in English since receiving the Nobel Prize for Literature in 2014 – Sleep of Memory in 2017, and Invisible Ink, in 2019. A third book, Chevreuse, not yet in English but expected in 2023, was released in French in 2021, and is on Yale University Press's docket for publication in English in 2023.  All his books so far are highly autobiographical, even Invisible Ink, which he describes as a "mystery novel."  Though his readers may never know how much of the story in Invisible Ink is purely fiction, his method of composition and his presentation of his story line are unique, dependent upon a background in which he says in the quotation opening this review, that chronological order has never existed for him (or, in this case, the narrator). His youth and the lack of  firm boundaries and limitations have left him thinking in an "eternal present."  In Sleep of Memory, a book written at about the same time as Invisible Ink, he attests to the fact that he is trying to impose some order on his memories, each of which is "a piece of the puzzle, but many are missing," and that he hopes that he will be able to connect what seem to him to be isolated memories, give them some order, and "form paragraphs and chapters that link together."
The result in Invisible Ink, at least for me, is that by the time I finished the whole reading experience I felt as if I had actually lived through the life of the narrator in a way I have never experienced before – feeling his feelings, recognizing his surprises with him, and puzzling with him when some of the events and characters appear with little to no connection or context.  Though some who strongly depend upon a set chronology and organization will find this frustrating, I became so curiously fascinated, actually living the life of the main character, that I read the book twice and spent hours rereading sections to try to see events as they appear in the book. I puzzled over the mysteries as they happened but did not obsess over them, noting the oddities within the mysteries and how they might connect with characters and places that have appeared earlier in the narrator's life.  If all this sounds like a prelude to a book that is frustratingly disorganized, that is the author's whole point, I think – and why I spent so much time on it.  I wanted to know more about the narrator's unusual life, and ultimately, I concluded that this was the most fascinating and unusual book I have ever read.  I felt, as I read, that I was honoring the author's creative spirit, trying to match the author's commitment as he "let the writing flow…Don't break momentum, but rather keep in mind the image of a skier gliding for all eternity down a steep trail like the pen on a blank page."
As the novel opens, the main character, Jean Eyben, is twenty years old and he has just received a case file regarding Noelle Lefebvre, a young woman who is missing.  Jean is working for the Hutte Detective Agency, and his "case file" consists of "a single sheet in a sky blue folder that has faded with time…turned almost white."  A few months later, he has left the agency, but he takes the fact sheet with him as a souvenir and puzzles over the case, off and on, for the rest of his life.  Noelle has not only disappeared, but no one has even been sure of her identity.  Jean learns that she has been married – or not – to someone named Roger, but may be using her maiden name.  He meets some people who have met her, but no one has seen her recently.  She used to go to "La Marine Dance Club, but her "husband" never danced.  When the young detective has the opportunity to visit her apartment, now empty, he discovers a notebook in the drawer of a night stand and takes it.  Later he learns that Noelle has sent a letter from Paris to a friend.  When, soon after, Jean leaves his job at the detective agency, he does so in order to become a writer.
Ten years pass.  "There are blanks in a life, but also sometimes what they call a refrain," an observation which echoes the narrator's curiosity regarding Noelle, even ten years later, at which point he follows some new information.  Some of the earlier settings have reappeared in the narrative.  Characters' lives have changed, as has that of the narrator.  Then a new time shift, back to two years after the novel first started, gives narrator Jean Eyben another chance to check on people and places, and some new characters are introduced.  The name of one of them, almost irrelevant in this context, becomes important thirty years later.  The narrative continues to shift back and forth taking the narrative forward and filling in some blanks for the characters and for the reader.
Modiano still has some surprises left in the conclusion.  After thirty years have passed, the point of view changes to that of a female, and the setting changes from southeast France to Rome.  New characters appear, and the denouements of some are discussed.  The new female narrator and Jean Eyben make contact, but who she really is, what her role is and has been, and where the novel will go from here, are not certain.  The reader, by now, has lived through innumerable characters, their contacts with each other, who they have become, and the commitment of Jean Eyben to try to fill in blanks, not just in the case of Noelle Lefebvre, but in his own life.  It is one of Modiano's skills which also allows him bring in the reader to share these results in new ways.  I found myself loving this book the second time I read it.  The one concession I made for my own need for organization (and the fact that the time and places and characters here change but also often repeat) is that keeping a character list made a big difference for me.  Other readers may have a better recall of unusual foreign names, places, and people than I do and may not need to do this.  It helped me to get inside the mind of the main characters, however, and to the extent that the narrator may have represented the author, too, it helped me to get truly inside his mind, also – not a feeling that I can remember having on very many other occasions.
Also by Modiano, reviewed here::   AFTER THE CIRCUS,    DORA BRUDER,    FAMILY RECORD,    HONEYMOON,    IN THE CAFE OF LOST YOUTH,    LA PLACE de L'ETOILE (Book 1 of the OCCUPATION TRILOGY),    LACOMBE LUCIEN, a screenplay,    LITTLE JEWEL,     THE NIGHT WATCH (Book II of the OCCUPATION TRILOGY),     THE OCCUPATION TRILOGY (LA PLACE DE L'ETOILE, THE NIGHT WATCH, AND RING ROADS),      PARIS NOCTURNE,    PEDIGREE: A Memoir,    RING ROADS (Book III of the OCCUPATION TRILOGY) ,    SLEEP OF MEMORY,    SO YOU DON'T GET LOST IN THE NEIGHBORHOOD,    SUCH FINE BOYS,    SUNDAYS IN AUGUST,    SUSPENDED SENTENCES,    VILLA TRISTE,    YOUNG ONCE
Post-Nobel Prize books:  SLEEP OF MEMORY (2017), INVISIBLE INK (2019)
Photos:  The author's photo by Alexander Mahmoud appears on https://www.nobelprize.org
The dance club by Luisa Fereira is from  https://thespaces.com
The Hotel Imperial at Lac D'Annécy may be found here:  https://www.wikidata.org
The Piazza Esedra in Rome appears on  https://www.pinterest.com
INVISIBLE INK

REVIEW. PHOTOS. France, Italy, Literary, Psychological study

Written by: Patrick Modiano

Published by: Yale Margellos

Date Published: 10/27/2020

ISBN: 978-0300252583

Available in: Paperback Hardcover