NOTE:  WINNER of many European Prizes over the years, Patrick Modiano was WINNER of the Nobel Prize for Literature in 2014.
"Every time I went to the movies, I took care to arrive after the newsreel. No, it was best to avoid knowing anything about the fate of the world. Best not to aggravate that fear, that feeling of imminent disaster. Concentrate on trivialities: fashion, literature, cinema, variety shows. Stretch out on the long deck chairs, close your eyes, and relax…Forget. Right?" – Victor Chmara, Villa Triste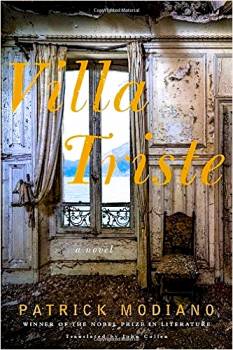 French author and Nobel Prize winner Patrick Modiano has always claimed that his stories are not autobiographical, but his novels, themes, places, and details about life often repeat and attest to the ways in which his own dysfunctional childhood has had long-lasting effects on his life. Permanently alienated from his neglectful and uncaring parents, who essentially abandoned him when he was only ten, he grew up with no close family ties, no strong adult role models, and no sense of home or permanence, conditions he writes about with great sensitivity in Suspended Sentences (1988) and other novels. By the age of eighteen, having completed school, Modiano was on his own, but he succeeded in finding a mentor for his writing, novelist Raymond Queneau, and at age twenty-three, with Queneau's help, he published his first novel. Two other successful novellas followed in 1968 and 1972, the three novellas now known collectively as "The Occupation Trilogy."  Villa Triste (1975), is the first novel written by Modiano after the success of these novellas.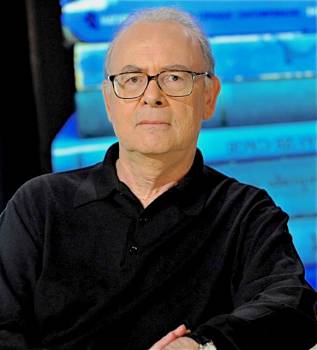 Only thirty years old when Villa Triste hit the Parisian literary scene, Modiano reveals his continuing belief in "writing about what you know." Here his main character betrays a palpable sense of loss, a lack of understanding about who he is and who he might become. A man alone, he yearns for deep, long-time relationships. Calling himself Victor Chmara, a name he tells us is invented, the main character in Villa Triste is eighteen as the novel opens in 1960, and Modiano's development of the intimate details of his thinking and his emotional states attest to the powerful influence his own past must have had in the creation of this realistic character. Victor does not connect effectively with the rest of the world, and his uncertainty about how to deal with issues of life, love, and the ghosts of his past lead to his pervasive loneliness and sense of isolation. As he reveals in the quotation which begins this review, he avoids the big issues, keeping himself moving, living in the moment, and losing himself in films, books, and romantic attachments – anything to avoid thinking about the uncertainties of French life, which add to his own tensions.
For the past six years, the French have been fighting the Algerians, who are struggling for independence, and news reports suggest that the struggle is about to become a full-fledged war. At eighteen, Victor is terrified of being drafted, fearful of losing the life which he has never really had a chance to explore, and this may be the reason that he is using a false name, and eventually pretending to be a Russian count. He changes his place of residence frequently, having somehow acquired enough money to pay for his stays in small hotels and for his food and entertainment. As this novel opens, Victor is living in a French "spa resort" on the shore of a lake, a place he regards as a "refuge because it was [only] five kilometers from the Swiss border. At the first sign of danger," he thinks, "all I [have] to do [is] cross the lake." On his first night at his new residence, he takes a walk, stopping to enjoy the changing colors of a fountain outside the casino, where he'd "go off in a dream, taking mechanical sips of my drink." As it is mid-June, the "season" has started, with parties, dinners, theatrical productions, ballets, boat trips, films, celebrity appearances, and trips to the casino. A night-time walk back to his residence one night is so sensuous that he begins to lose his fear, asking, "Who would have ever thought of coming to look for me among these distinguished summer vacationers?"
Before long Victor has met Yvonne, a gorgeous woman in her early twenties – "Auburn hair. Green shantung dress. And the stiletto-heeled shoes women wore." She has already had a small part in a film and hopes to make connections that will improve her chances of making more. She introduces him to "Doctor" Rene Meinthe, a gay man in his forties with whom she seems to be traveling and who wants to help her with her career. Meinthe, who adds Chmara to his retinue of unusual friends, makes many mysterious side trips to other cities, which often leave him so agitated upon his return that he suffers from tics. No one know where he goes or why. Though Victor also meets other denizens of the Haute-Savoie during that "season," it is Yvonne, the young actress who "resembles Martine Carroll," who most fascinates him, and he quickly moves into the Hermitage with her.
If you are wondering when the action is going to start, you are looking in the wrong place. The "action" here is internal action, related from the point of view of Victor. Most of the outside action is superficial, deliberately so, a way for the wealthy and would-be wealthy to avoid thinking about their own problems and the problems of the country. One event which consumes Meinthe and Yvonne is the Houligant Cup which is the prize in a "sort of concours d'elegance," or contest of elegance. You had to own a luxury automobile to participate in the parade, and the objective was to show from your appearance and behavior how "elegant" you were. Meinthe decides this would be a great career move for Yvonne, if they can win. Their biggest problem is whether his Dodge convertible is elegant enough for the parade.
With concerns like these, the reader must be patient with young Chmara as he sorts out his life. Some of his questions never do get answered, and others seem to open doors to new questions. Modiano broadens his perspective at the halfway point of the novel, jumping forward twelve years to rejoin some of the characters as they revisit this place where they escaped the world briefly, then jumping back to expand on life in 1960. In some cases, Chmara finds out much more about his friends, even visiting the places where they grew up – Villa Triste, in the case of Meinthe – and meeting family, in one case. In others, he never does find out what he wants to know. Emphasizing the ways people deal with life or try to escape it, and the ways they remember the events which are important to them at the time they live through them, Modiano presents a new way of examining the past and its importance. This light novel hides some big truths within its superficialities.
Also:    AFTER THE CIRCUS,    DORA BRUDER,   HONEYMOON,    FAMILY RECORD,        IN THE CAFE OF LOST YOUTH,     LA PLACE de L'ETOILE (Book 1 of the OCCUPATION TRILOGY),    (with Louis Malle–LACOMBE LUCIEN, a screenplay,    LITTLE JEWEL,    THE NIGHT WATCH (Book II of the OCCUPATION TRILOGY),    THE OCCUPATION TRILOGY (LA PLACE DE L'ETOILE, THE NIGHT WATCH, AND RING ROADS),    PARIS NOCTURNE,     PEDIGREE: A Memoir,    RING ROADS (Book III of the OCCUPATION TRILOGY),    SLEEP OF MEMORY,    SO YOU DON'T GET LOST IN THE NEIGHBORHOOD,    SUCH FINE BOYS,    SUNDAYS IN AUGUST,    SUSPENDED SENTENCES,    YOUNG ONCE
Post-Nobel Prize books:  SLEEP OF MEMORY (2017), INVISIBLE INK (2019)
(Note:  Those who have never read Modiano would do well to begin with SUSPENDED SENTENCES, a book which sets the scene for many of his other books.) 
Photos, in order:  The author's photo appears on http://www.europe1.fr/
Martin Evans's book about the war between Algeria and France is available on Amazon.  http://www.amazon.com/
The photo of Martine Carroll (1920 – 1967), by Lucienne Chevert, is from http://filmstarpostcards.blogspot.co
The Dodge Kingsway Convertible which Meinthe and Yvonne used in the Houligant Cup may be found on http://details-of-cars.com
A fountain which changes colors, outside the casino, helps Chmara to lose his sense of fear.  http://honeymoons.about.com
VILLA TRISTE

REVIEW. Coming-of-age, France, Literary, Psychological study, Nobel Prize

Written by: Patrick Modiano

Published by: Other Press

Date Published: 05/31/2016

ISBN: 978-1590517673

Available in: Ebook Paperback