Note: French author Patrick Modiano was WINNER of the Nobel Prize for Literature in 2014.  His selection came as such a surprise that there were almost no copies of his novels available in English at the time of his win.  This new translation has been published by Yale University.
"Rainwater poured onto [Pacheco] from the top of the steps, and his jacket was drenched.  But he did not move an inch…Little by little, that man melted into the wall.  Or else the rain, from falling on him so heavily, had dissolved him, the way water dilutes a fresco that hasn't had time to dry properly….No trace of him remained.  He had vanished in that sudden way that I'd later notice in other people, like my father, which leaves you so puzzled that you have no choice but to look for proofs and clues to convince yourself these people had really existed."—from "Flowers of Ruin"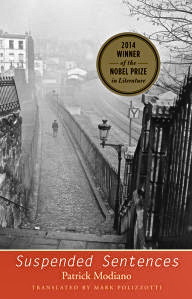 Have you ever read a book that so envelops you and feeds your imagination that you feel as if the author somehow knows every aspect of your life, even though the exotic settings and images of his story bear no resemblance at all to your own?  I hadn't.  And when it happened in the first novella of this collection of three, "Afterimage," I could hardly believe that I had lived totally, for the entire length of the novella, in French author Patrick Modiano's world, a world of uncertainties and no answers, and I had reacted to that world as if it had been my own.  Instead of feeling let down by a lack of conclusion to the plot elements, as I often do when an author does not sum up and "resolve" the action and themes, I felt energized instead, connected to the author and his alter ego/ protagonist in ways I never expected.  I saw parallels with my own life, and most surprisingly, I found myself wondering about people I have not seen in years, curious about what happened to them; pondering riddles of my own childhood; and wondering if I had misunderstood what was really going on beneath the surface of reality, as young characters do here.
Patrick Modiano is a master at evoking mysteries and riddles, not in the usual sense of popular fiction, but in his recognition of the private mysteries which infuse our own lives from childhood to adulthood and after,  enigmas we never fully understand when they are happening to us.  In fact, the author suggests, our personal realities may be mostly questions with no answers, a result of our not knowing what others, including our parents and best friends, are thinking, planning, and doing when they are not with us.  To the extent that each of these three novellas hinges on the relationship of a main character with another person whose own decisions affect him long after the relationship itself may be over, the novellas here suggest that perhaps the speaker may simply have missed his chance to find answers earlier in his life, that if he had been more alert, perceptive, or aggressive that he might have been happier – more at peace – with his inner world.
"Afterimage," the first novella, and my favorite of the three, opens in the spring of 1964, when the speaker is sixteen.  While sitting in a café with a young girl of his own age, he observes a much older man sitting beside him.  The man takes out his Rolleiflex camera and takes several quick photos of the two teens before they can even register what has happened, then asks them if he may photograph them again, as part of an article on Paris youth that he has been hired to illustrate.  They agree, and follow him to his studio, gray and almost bare, except for two black-and-white portraits, one of them of a woman named Colette Laurent, an actress, now forgotten, who appeared in only two films in 1942 and 1955, and the other showing Francis Jansen, the photographer himself, with his friend, famed war photographer Robert Capa, in 1945.  Thirty years have passed since Jansen left Paris, and the speaker never saw him again, but the few months that he did know him left an indelible mark.  As Modiano describes the nature of this teenager's fascination with Jansen and peripherally Colette, their friends, and the interactions they had, including the boy's cataloguing of all Jansen's photographs, we come to know the boy and his values and his hopes for the future.  The boy had taken on the cataloguing job "because I refused to accept that people and things could disappear without a trace."  Jansen himself didn't want to take any "excess baggage" when he left for Mexico, plans he did not share with the boy because he "thought a photographer was nothing, that he should blend into the surroundings and become invisible."  The passage of time does little to lessen the intensity of the boy's memories of Jansen, even as the specifics of those days and events fade.
In "Suspended Sentences," the second novella, the speaker is ten years old.  His mother, an actress, like the author's mother, is always traveling, as is his father.  The mother leaves Patoche, a diminutive of Patrick, and his brother Rudy, in the care of three exotic women, one of whom was an acrobat, and Patoche and Rudy, who later disappears from the novella, conclude that these women are all part of a carnival or circus.  Their surreal lives in a rural area with an abandoned and decaying chateau nearby lead the boys to spend much time living in their imaginations, with night-time forays, either real or imaginary, into the abandoned chateau to keep them totally engaged.  The reader suspects from the outset that Patoche's guardians are involved in criminal activity, and his father's visits and meetings with them inside the decrepit chateau confirm that, though Patoche has no clue.
The final novella, "Flowers of Ruin," plays with time, as the speaker moves back and forth between the early 1990s and much earlier times while walking around Paris.  Exacting descriptions allow readers to pinpoint particular places, though many of these places have changed dramatically, or in the case of buildings, may no longer exist. References to Gisele and Urbain T, real people who succumbed in a joint suicide in 1933; to the speaker and his relationship with "Jacqueline" in the 1960s; and to travels in Vienna broaden the scope, while references to the Rue Lauriston gang, which almost certainly included his father, and to the changing names of Philippe de Bellune/ Pacheco add to the mysteries of identity and memory.
Modiano's style, surprisingly clear and concise for a novel that is as vague and off-center in its focus as this one, shines in this translation by Mark Polizzotti, even as it remains cloudy and atmospheric in mood.  Characters and their alter-egos reappear among the three novellas and different time frames, as do memories and "afterimages," many of these so closely related to the author's own life that it is difficult not to regard most of this as autobiographical, at least in its inspiration.  Powerfully seductive, the three novellas here raise questions about whether readers will also seek out answers to mysteries in their own pasts and whether some of their answers will appear by accident, as they sometimes do here.  (Suspended Sentences is at the top of my Favorites list for the year.)
Note: More on Robert Capa may be found here.
ALSO by Modiano:     AFTER THE CIRCUS,    DORA BRUDER,    FAMILY RECORD,        HONEYMOON,     IN THE CAFE OF LOST YOUTH,     LA PLACE de L'ETOILE (Book 1 of the OCCUPATION TRILOGY),    (with Louis Malle–LACOMBE LUCIEN, a screenplay,    LITTLE JEWEL,    THE NIGHT WATCH (Book II of the OCCUPATION TRILOGY),    THE OCCUPATION TRILOGY (LA PLACE DE L'ETOILE, THE NIGHT WATCH, AND RING ROADS),    PARIS NOCTURNE,     PEDIGREE: A Memoir,    RING ROADS (Book III of the OCCUPATION TRILOGY),    SLEEP OF MEMORY,    SO YOU DON'T GET LOST IN THE NEIGHBORHOOD,    SUCH FINE BOYS,    SUNDAYS IN AUGUST,    VILLA TRISTE,    YOUNG ONCE   
Post-Nobel Prize books:  SLEEP OF MEMORY (2017), INVISIBLE INK (2019) 
Photos, in order: The author's photo is from http://www.independent.co.uk/
Robert Capa's photo appears on http://erickimphotography.com
Jean Montvallier-/Boulogne, age twenty-four, died during the liberation of Paris in 1944.  The plaque commemorating this death was missing when Jansen took the speaker to see it, and the speaker states that he "was no longer sure Jean Montvallier-Boulogne had ever existed."  http://en.tracesofwar.com
The speaker and his brother Rudy live near an abandoned and decaying chateau, where they envision themselves exploring at night and where they see their father arriving for meetings. http://www.messynessychic.com
Cite University, in Paris, a place where university students can reside, get meals, and have protection from seizure for their beliefs, is where the speaker  meets with the older Pacheco, who has a long history of various names and whose "crimes" are mysterious.  http://www.macite-u.com/
SUSPENDED SENTENCES

REVIEW. Photos. Experimental, Literary, Psychological study

Written by: Patrick Modiano

Published by: Yale University Press

Date Published: 11/11/2014

Edition: Margellos World Republic of Letters

ISBN: 978-0300198058

Available in: Ebook Paperback