NOTE: French author Patrick Modiano was WINNER of the Nobel Prize for Literature in 2014  and has been WINNER of many other prizes in Europe.  When his Nobel Prize was awarded, he was almost unknown in the US, and publishers have been working overtime to make his many novels available here.
"Le Tremblay.  Chantal.  Square du Graisivaudan.  These words had traveled a long way.  An insect bite, very light to begin with, but it causes you an increasingly sharp pain, and very soon a feeling of being torn apart.  The present and the past merge and that seems quite natural because they were only separated by a cellophane partition. An insect bite was all it took to pierce the cellophane.  He could not be sure of the year, but he was very young, in a room…with a girl called Chantal…"—Jean Daragane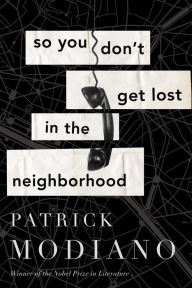 Resembling a simple, straightforward mystery story set in France as it opens, this newest novel by Nobel Prize winner Patrick Modiano gradually becomes increasingly eerie, psychological, and autobiographical, though it never loses the basic structure which makes the mystery novel so popular.  As the novel opens, Jean Daragane, a reclusive author who has not seen anybody in three months, has just received a telephone call offering to return his lost address book if he will meet with the finder.  Gilles Ottolini, an advertising man and former journalist who is researching a murder from forty years ago, has found and looked through Daragane's address book and has been excited to see a listing there for Guy Torstel, someone whose name means nothing at all to Daragane.  The next day, however, Ottolini calls Daragane back, explaining that he has read Daragane's first novel, and has discovered that Torstel is, in fact, a character in that book.  Daragane, however, not only does not remember Torstel, but does not remember anything at all about that book from many years ago.  The two agree to meet, and the mysteries increase, as "insect bites" from the depth of Darragane's memories slowly begin to pierce the "cellophane" which has protected Darragane from traumatic memories of his childhood.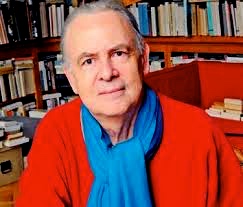 Modiano has always been interested in the vagaries of memory and identity, including his own, and his novels often draw on his own dysfunctional childhood, with all its confusions and nightmares as he revisits and perhaps rewrites his past. Though Modiano has emphasized in interviews that his novels are novels and not autobiographical records, they do, usually, recreate in some form or another, the stories which lie deep within his own memory, as confirmed by his autobiography, Pedigree.  His novels often share story lines and characters (though sometimes with different names), as the traumas of Modiano's own past get revisited and rewritten with a new approach to the same events.  What has happened to the people he knew, the people he thought he knew, and the events in which he participated, sometimes without knowing what was really happening behind the scenes, add mystery and depth to many of his plots, some of which never do seem to resolve themselves as they reappear in a new book for another try at resolution.
Almost from the beginning, this "typical mystery novel" starts to overlap with Modiano's own life.  Like Modiano, who is in his seventies, his main character, Jean Daragane, is also that age when his phone call from Gilles Ottolini inspires flashbacks about events from his childhood and a man named Torstel. His early memories resemble those of Modiano, whose own mother, like Daragane's, was an actress from whom he was always alienated.  Modiano's mother left him for years at a time with people of the demimonde – acrobats, women of the night, and gamblers – and it was a woman, barely out of her teens, named Annie who was Modiano's primary guardian for two years – a woman who ended up going to prison for illegal activities after a night-time police raid which left Modiano, a child of nine, alone in the house where they lived.  The reader learns early that the murder victim in this novel, Colette Laurent, was a friend of Daragane's mother; that Annie Astrand, his guardian in childhood, was also one of his mother's friends until she went to jail; and that two of Colette's male friends were also friends of his mother. Modiano's father, in real life, was involved in black marketeering and gambling and was often out of the country.  He was no more responsible than the mother. Daragane suspects early in the novel that Ottolini, who bears some resemblances to his father, is a blackmailer and crook.
As So You Don't Get Lost in the Neighborhood continues to develop, it delves deeply into memories both real and imagined.  The characters who introduce the novel, Gilles Ottolini and his female acquaintance, Chantal (formerly Josephine) Grippay, soon disappear, as the book begins to concentrate on other people and places which have played a role in the life of Daragane (and in most cases, Modiano).  Forgotten details begin to emerge.  Annie Astrand, the reader learns through the story, was an acrobatic dancer, much like a real woman who was guardian to Modiano in his early childhood.  When the fictional Daragane meets with Dr. Voustraat, who lives across the street from the house where Daragane grew up, a place related to the murder mystery, he learns that it is for sale, but he lacks the courage to go inside when offered the chance.  The doctor, on departure, comments that the house, "La Maladrerie and all those curious people we spoke about…The best witness could be the child that once lived there.  You would need to find him…Don't you think so?"  To which Daragane replies, "That will be very difficult, Doctor."
Though this novel stands on its own, its ending comes abruptly, and for those who have never read Modiano, it may seem more mysterious than it deserves to be.  Both Suspended Sentences, the book which some readers might enjoy as a good introduction to Modiano  (a  book that is at the top of my Favorite Books list for the year), and Pedigree: A Memoir, also newly translated into English this year, provide some of the background which perpetually creeps into Modiano's work and influences all aspects of work.  The novel follows its own narrative line and offers up its own insights into people and places, all well described, as Modiano engages in flashbacks to relive and reconsider his past.  Ultimately the reader returns to the quotation from Stendhal, with which Modiano introduces this work: "I cannot provide the reality of events,/ I can only provide their shadow."
ALSO reviewed here:    AFTER THE CIRCUS,    DORA BRUDER,   FAMILY RECORD,      HONEYMOON,     IN THE CAFE OF LOST YOUTH,     LA PLACE de L'ETOILE (Book 1 of the OCCUPATION TRILOGY),    (with Louis Malle–LACOMBE LUCIEN, a screenplay,    LITTLE JEWEL,    THE NIGHT WATCH (Book II of the OCCUPATION TRILOGY),    THE OCCUPATION TRILOGY (LA PLACE DE L'ETOILE, THE NIGHT WATCH, AND RING ROADS),    PARIS NOCTURNE,     PEDIGREE: A Memoir,    RING ROADS (Book III of the OCCUPATION TRILOGY),    SLEEP OF MEMORY,    SUCH FINE BOYS,    SUNDAYS IN AUGUST,    SUSPENDED SENTENCES,    VILLA TRISTE,    YOUNG ONCE
Post-Nobel Prize books:  SLEEP OF MEMORY (2017), INVISIBLE INK (2019)
Photos, in order: The author's photo is from http://flavorwire.com/
The Grand Casino at Forges les Eaux becomes a sudden memory for Daragane when he sees a passport photo of a seven-year-old boy.  http://www.rouentourisme.com/
Annie was a circus acrobat, just as a character in  the novella "Suspended Sentences" was.  http://www.artvalue.com/
SO YOU DON'T GET LOST IN THE NEIGHBORHOOD

Review. Fiction. Experimental, France, Literary, Psychological study

Written by: PatrickModiano

Published by: Houghton Mifflin Harcourt

ISBN: 978-0544635067

Available in: Ebook Hardcover