NOTE:  Patrick Modiano was WINNER of the Nobel Prize for Literature in 2014.
"I was watching my daughter through the glass.  She was asleep, resting on her left cheek, mouth hanging open.  She was barely two days old and you couldn't see the movement of her breathing.  I pressed my forehead against the pane.  Only a few inches separated me from her cradle and I wouldn't have wondered had it floated into the air, weightless….The nurse had pushed the cradle close to the pane so I could see her.  An expression of beatitude floated on her tiny face."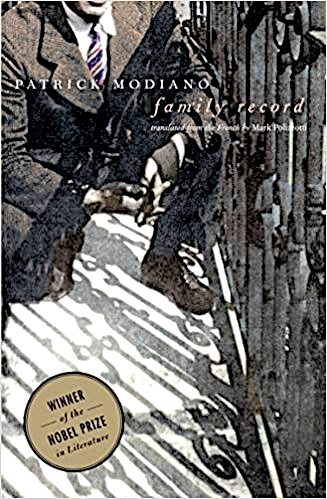 Published originally as Livret de Famille in 1977, and written when Patrick Modiano was barely thirty, this collection of stories, all of them autobiographical, provide details about his early life and his search for answers.  Nobel Prize winner Modiano had a bizarre childhood, one in which he grew up without any real supervision – and love.  As a result, virtually all of his books focus on his search for who he is, what his values are, and who he might yet become as he moves forward in life.  This book is particularly revelatory, including as it does, an opening chapter in which he sees his newborn daughter for the first time, and later the stories of his wedding day, the early life of his mother, his fraught relationship with his father, and his own friendships at various stages of his life.   Just how personal Modiano's writing is may be seen from the opening dedication of this book – "for Rudy," his little brother.  Even as he begins his thirties, Modiano is clearly still mourning his much loved brother, who had died nearly twenty years before, when Rudy was nine and he, eleven. Rudy had been away for a weekend, and Patrick had not even realized he was sick.  His death was so unexpected and had such a powerful effect on Patrick's life that Patrick dedicated all ten of his books from 1967 – 1982 to Rudy. 
As Family Record opens, Modiano's daughter has just been born, and his wife is still in hospital. He is entranced just looking at his child, so much so, that he loses all track of time until he realizes it is late. "It was nearly five o'clock and I didn't have a second to lose if I wanted to make it to town hall before the Office of Records closed" to record her birth.  He carries his marriage certificate with him, but at the registry office, he has had to leave his place of birth blank on the required forms.  "I don't know where I was born or what names my parents [were] using at the time," he tells the reader.  He has a copy of his father's marriage certificate from 1944, signed under a false name during the Occupation of France, but he has no idea what his parents were doing in Megeve, where the wedding took place.  Now, as he thinks of his baby daughter, he recognizes that "We had just participated in the beginning of something.  That little girl would in some way be our delegate to the future.  And on her very first try she had obtained the mysterious possession that had always eluded us: a civil status."
The dream-like stories here are set at various stages of his life, and they do not follow chronological order, creating a feeling for the reader that s/he is moving with the author through memories which have had continuing effects on the author's life. Throughout, Modiano recognizes that a time frame may be essential in recreating the full impact of some of these memory-narratives and that events when he was a young teen may still have after effects, even into his later years.  He often provides clues regarding time frame, and sometimes a reader need only remember that Modiano was born in 1945 in order to put an event into the context of his age if that feels relevant.  In other cases, such as the date of his daughter's birth for which the awe of seeing his child still lasts, the date in which the birth took place is actually irrelevant to the grand context. In a thematic twist here, Modiano was accompanied to the registration of his daughter's birth by a man he had not seen in ten years, a man whom he discovered completely by coincidence at a restaurant the very day of his daughter's arrival.  This man was also his father's best friend twenty years ago.  The past has found a way to intrude into Patrick's present, adding yet more mysteries into his life.
In the second story, which takes place earlier in time, Patrick meets a man in his sixties who "seems to have been one of my father's multiple incarnations." After  chatting at a bar for much of the night, they both decide they want to go to China.  Years ago, the man, Henri Marignan, had gone to Shanghai to start a daily newspaper, and he was sought after as an adviser to the Ministry of Communications under Chiang Kai-shek.  Many walks through Paris at night and many discussions of connecting with the embassy of the People's Republic to get a visa continue throughout the summer without result.  The focus then shifts to his mother's film career, which began in Antwerp, and show her participating in four films, including Willi Forst's Bel Ami, and miraculously escaping the bombing of Antwerp and Brussels.  In another story, in 1960, Patrick and his father take the train from Paris to the countryside where his father will meet Reynolde, a man his father does not trust and whom he predicts "will find himself up the creek without a paddle, and I'll see to it he makes good on his word."  He expects Reynolde to sign certain "important things," there.  Fifteen-year-old Patrick, expected to ride to the hounds in a formal hunt on horseback, rejects a meal of roasted peacock, but stays behind with the group when his father, having obtained "all the signatures," returns to Paris the next day. 
These stories and others leave questions for which Patrick does not even yet have answers, but all have left their marks on him in some significant way.  Other stories deal with Patrick's first screenplay and filming, and his much later visit with his wife to Biarritz to obtain his baptismal certificate, confirming his baptism there when he was five.  In later stories he meets a man who was responsible for several thousand deportations between 1940 and 1944, and in Rome, when he is barely twenty, he becomes a casual friend of Fats, a man who supposedly "broke the bank" in Deauville and Monte Carlo, and who turns out to be King Farouk, living in exile.  His parents' courtship, and later his own marriage in Tunisia add to collection's drama, the coincidences, the feelings of deja vu, and the incomplete memories.  Ultimately, Patrick, his wife, and baby are riding in a taxi through Nice with the driver and his friend, as the two cabbies gossip and share local news.  For Patrick, the baby has the best answer:  "She was asleep, her head resting on my shoulder.  Nothing troubled her slumber.  She didn't yet have any memory."
Note:  For those who have not yet discovered Modiano's work, the best and most accessible place to start, in my opinion, is with the Yale edition of SUSPENDED SENTENCES, which has three short novellas, including the one called SUSPENDED SENTENCES about his childhood during the early years in which he and his brother lived with a group of circus acrobats.
ALSO by Modiano, reviewed here:  AFTER THE CIRCUS,     DORA BRUDER,    HONEYMOON,    IN THE CAFE OF LOST YOUTH,    LA PLACE de L'ETOILE (Book 1 of the OCCUPATION TRILOGY),    (Patrick Modiano and Louis Malle–LACOMBE LUCIEN, a screenplay),    LITTLE JEWEL,    THE NIGHT WATCH (Book II of the OCCUPATION TRILOGY),    THE OCCUPATION TRILOGY (LA PLACE DE L'ETOILE, THE NIGHT WATCH, AND RING ROADS),   PARIS NOCTURNE,    PEDIGREE: A Memoir,    RING ROADS (Book III of the OCCUPATION TRILOGY),     SLEEP OF MEMORY,    SO YOU DON'T GET LOST IN THE NEIGHBORHOOD,   SUCH FINE BOYS,    SUNDAYS IN AUGUST,    SUSPENDED SENTENCES,    VILLA TRISTE,    YOUNG ONCE
Post-Nobel Prize books:  SLEEP OF MEMORY (2017), INVISIBLE INK (2019)
Photos. The author's photo from AFP appears on https://next.liberation.fr
Casa Montalvo in Biarritz, where Patrick and his family had an apartment for a year when he was five, is from http://plumaslatinoamericanas.blogspot.com
Modiano's mother had a part in Bel Ami, filmed by Willy Forst in Berlin in 1939.  https://www.imdb.com/

King Farouk, with whom Modiano became acquainted when he was in his late teens in Rome, died at age 45 in March, 1965.  https://www.gettyimages.com/
St. Martin's in Biarritz, where Patrick found confirmation of his baptism, is shown on https://commons.wikimedia.org
FAMILY RECORD

REVIEW. PHOTOS. Autobiography/Memoir, Literary, Psychological Study, Social and Political Issues, France, Nobel Prize

Written by: Patrick Modiano

Published by: Yale University Press

Date Published: 09/24/2019

ISBN: 978-0300238310

Available in: Ebook Paperback