"The world was an imperfect place–as the events of the last few days had demonstrated–but within that vale of tears there were many sites and times of quietude and contentment, and this place and this moment, [sitting] on the veranda, was one such."
Mma Precious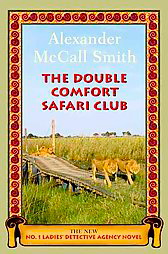 Ramotswe never changes, and that is one of her most obvious charms.  "Traditionally built," and focused on the traditional values of Gaborone, Botswana, where she runs the #1 Ladies' Detective Agency, Mma Ramotswe is genuinely "nice"–always believing in the goodness inherent in even the most challenging adversary, sympathetic without being a pushover when someone needs help, and thoughtful and intuitive in sniffing out the motives which underlie the behavior of people who consult her.  Married to Mr. J. L. B. Matakone, a kindly auto mechanic whose garage adjoins her office, she is also the devoted mother of two adopted children, both of whom need special attention, and a mentor to anyone who seeks her advice.  As relaxed and considerate as the society she appears to represent, Mma Ramotswe believes that almost any problem can be made better if it is discussed over a cup of bush tea.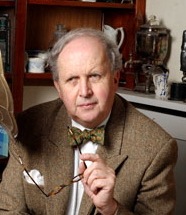 This novel, the twelfth in the series, brings several new cases (and their complications) to Mma Ramotswe's office door, and, as always, she relies on her understanding of human nature and her ability to communicate to bring about solutions.  She also relies on her coterie of friends and acquaintances–Mma Grace Makutsi, her homely assistant, still not married to furniture store owner Phuti Radiphuti;  Mr. Polopetsi, Mr. J. L. B. Matekone's "unqualified assistant," who occasionally works for her, too; and Mma Potokwami, the demanding woman who runs the orphan farm, where Mma Ramotswe's children once lived.   Once again, too, Violet Sephotho, the one character for whom it is difficult to find redeeming qualities, is creating serious problems by bewitching gullible men with her beauty and artificial charm.
For those who have not read previous novels, the author provides physical descriptions of all these repeating characters and makes references to some of the previous episodes in which the characters have participated.  Simply written, this novel, like the others in the series, stresses the "old fashioned" values and the human qualities these characters share with all of us and which make life worthwhile, regardless of where we life.
Four revolving pl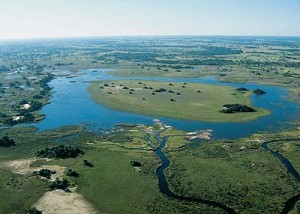 ot lines keep the reader involved and often amused as Mma Ramotswe tries to help her clients resolve their problems.  Her husband, Mr. J. L. B. Matekone, providing road service to a local woman whose car has broken down, suspects that another driver who has stopped to help her may, in fact, be her lover, but before long, that same woman appears in Mma Ramotswe's office, wanting help because she believes that her husband may be having an affair.   While this story is unfolding, Mma Ramotswe receives a letter from a lawyer in the US, telling her that an elderly woman who had been on a safari to the Okavango delta four years ago is now "late," and that in her will she has left a sizable inheritance to the camp guide who was so helpful to her.  The only problem is that the old woman could not remember the name of the guide or the name of the safari camp when she made her will.  This requires Mma Ramotswe and Mma Makutsi to take a trip to the delta for a few days, a trip neither of them has ever made.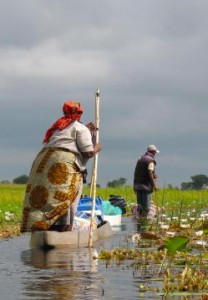 The trip will be a welcome relief for Mma Grace Makutsi whose fiance, Phuti Radiphuti, has had a serious accident which has crushed his leg.  While he is in the hospital for major surgery, his selfish aunt has refused to let Grace see him, and Grace is frantic.  "A fiancee is not a permanent person," the aunt informs Grace.  "An aunt, an uncle, they are permanent.  For ever," she declares.  In the final plot line, still another new client appears at the agency, seeking help in rebuilding his life after an encounter with the femme fatale, Violet Sephotho.
Filled with colorful detail about life in Botswana and even more colorful detail about life in the Okavango delta, the novel manages to retain the warm and endearing charm of all the previous novels even as the repeating characters continue to develop.  Author Alexander McCall Smith has ultimately created an entire community in Gaborone, one which seems somehow familiar, despite its differences from our own lives.  The coziest of "cozy" mysteries, this novel, like its predecessors will make lovers of this series feel as if they are "going home again."
Notes:  Also reviewed here:  Several other novels by McCall Smith.  See Authors tab at the top of the Home page

The author's photo by Tara Murphy appears here:  http://newsinfo.iu.edu His website is here:  www.alexandermccallsmith.co.uk.
The Okavango delta is the largest in the world.  The photo appears on http://www.whycos.org
While on their trip Mma Ramotswe and Mma Makutsi are poled to the safari camp in a mokoro, a canoe-like boat, which must be careful to avoid hippos and crocodiles.  http://journals.worldnomads.com. The poler here is a "traditionally built woman," much like Mma Ramotswe.
A 15-minute video interview with the author, in Botswana, appears here:  http://www.youtube.com
Several other novels by Smith are reviewed in this site.  See Author index.