Note: British author Andrew Miller was WINNER of the IMPAC Dublin Award, the biggest award in fiction, for Ingenious Pain in 1999. In 2001, Oxygen was SHORTLISTED for both the Booker Prize and the Whitbread Award, and in 2011, Pure was WINNER of the Costa Book of the Year Award.
"Early spring, the new millennium, a young woman walks backwards along the deck of a boat. She goes slowly, is bent almost double, holds in her left hand a ladle and in her right a pot of hot pitch. From the spout of the ladle she pours a thin ribbon of pitch into the seams where all yesterday she tapped in lengths of oakum with a mallet and bosun's chisel. So it begins, simply, with work." – opening paragraph of The Crossing.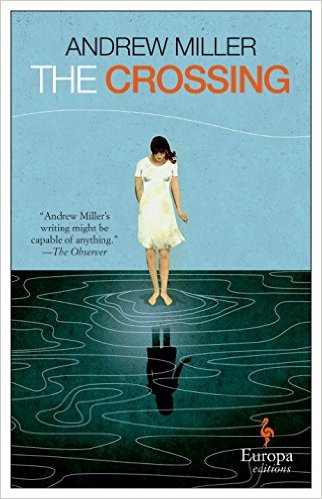 This opening paragraph about the maintenance of a boat seems informative and descriptive as it introduces Maud, who becomes the main character of this novel, yet, upon closer analysis, it should give a reader pause. What kind of woman could spend an entire day doing the arduous job of fixing the seams along the deck of a boat and then spend the next day sealing them all with pitch, without, apparently taking any breaks or turning the work into fun by listening to music, chatting with a friend, or, apparently, daydreaming? Though she is alone on deck, a young fellow student in the university's sailing club, Tim Rathbone, is working below on the hull of the boat, dipping bolts into white lead. While he is singing and wondering if he and the girl will sleep together that night, she remains totally dedicated to her job. She does not "do banter, does not seem to understand what it is," a characteristic he finds "funny and endearing."
Without warning, "there is a movement through the air, a blink of feathered shadow, that is also a movement across the surface of his eye like a thorn scratch," and then, lying beside him, face up on the ground, her eyes shut, is the girl, Maud Stamp, "newly dead," he thinks. By the time the ambulance arrives to take her for medical care, he is in shock himself, but the girl is still alive. After three days in hospital, she is released to his care, in lieu of her parents' care. When he takes her to her apartment, he is surprised to see how different it is from the rooms of his sisters: Unlike them, Maud has no pictures on the walls, no decorations, dark brown furniture, and "a carpet of the kind intended to endure all insult." Nothing personal is visible. Maud's faculty advisor has confessed to Tim that she herself had to "teach [Maud] that she had a private life…something between work and sleep. Something discussable." Tim, fascinated by Maud's remoteness, bends to the task of caring for her and eventually begins to court her, introducing her to his own life, one of privilege and casual wealth, parties, and music, his own guitar-playing sometimes performed on his nearly priceless Lacote guitar.
Because he tells the reader what he thinks, Tim seems to be the focus for the beginning of the novel, but Maud emerges as the primary interest in the middle part of the novel as British author Andrew Miller creates a unique novel, one which breaks all the "rules" of structure, character, and plot but still manages to engage and involve the reader. Miller, in fact, specializes in unique twists. In 1999, he won the IMPAC Dublin Award for his debut novel Ingenious Pain, in which the main character is unable to feel any pain. Oxygen, his second novel, manages to be both thrilling and exciting though the entire novel deals with death and the guilty feelings that the characters all feel regarding their lives. Pure, an historical novel set in pre-revolutionary France, is concerned with the removal of over fifty-thousand rotting corpses from a putrid cemetery in a heavily populated area of Paris, and yet it becomes inspiring in its revelations about the main character and the conditions that lead to revolutions. In The Crossing, Miller maintains the clean prose and stunning descriptions for which he has always been noted, but here he accomplishes the nearly impossible feat of keeping the main character herself a mystery for the entire novel, a person with seemingly no personality or observable feelings for other people and no commitment to those around her, a "heroine" who is in no way heroic.
To add to the complexity and the sense of distance from Maud, Miller illustrates her life in three sections, each told as a different genre. In the first part, a domestic drama, Maud and Tim eventually set up housekeeping in a small house near his parents, and she remains committed to her job doing medical research out of town while he works on a concerto at home. Years pass, and gradual changes occur in their lives. Then a horrific accident upsets their world. Maud's response is to take the boat which she and Tim own, a Nicholson 32, and set out to sea. This middle part of the novel is an exciting adventure story of Maud against nature as she battles huge storms at sea while heading south in the Atlantic from England, emulating a heroine, Nicolette Milnes Walker, who became the first woman to sail, non-stop, alone, across the Atlantic in 1971. When Maud is due west of Senegal, she heads across the Atlantic toward Central and South America, fighting the weather, the damage to her boat, and her own injuries and lack of sleep all the way. The third separate section, takes place when Maud lands in an unknown country, presumably in South America, and is discovered by the remnants of a religious cult who, conveniently, speak both English and Spanish. Their religious rites involve snake-handling and illustrate an idealized symbolic and religious experiment in creating a new society.
In the course of the novel Maud remains almost totally self-absorbed, and at the climax in the conclusion, when characters traditionally recognize something important about life or themselves, the reader is left wondering about Maud's final action and what that action means. Has Maud really learned something or changed? If so, what has she learned? Has she done what is "right," either for herself or for the world around her, and how is that determined? This is, perhaps, Miller's most daring novel, in that it challenges the very basis of one's expectations regarding writing and novels. The three sections give a great deal of information about Maud, but since these come without including any revelations about what she herself feels, she appears to be more like a robot, an accumulation of details, rather than an adult with feelings and commitments. Nevertheless, we find her story exciting and involving, and this makes the reader wonder, suddenly, if Miller is suggesting that when reading and interpreting an author's plot, we automatically interpret the action in terms of our own lives, experience, and values. Is my interpretation of Maud and what she will do at the end of the novel based on my own background and values? And is this the ideal regarding writing that Miller is aiming for?
Also by Andrew Miller:  INGENIOUS PAIN,       OXYGEN,      PURE,
Photos, in order:  The photo of the Lacote guitar is a still from this video:  https://www.youtube.com
The author's photo appears on https://www.toppingbooks.co.uk/
The Nicholson 32 sailboat, which Maud takes across the Atlantic, is shown here:  http://www.yachtsnet.co.uk
When I Put Out to Sea by Nicolette Milnes Walker, the first woman to sail alone, non-stop, across the Atlantic is available on https://www.amazon.com/When-I-put-out-sea/dp/B003KDHKVG  Maud admires her.
THE CROSSING

REVIEW. Book Club Suggestions, England, Exploration, Literary, Psychological study

Written by: Andrew Miller

Published by: Europa

Date Published: 01/10/2017

ISBN: 978-1609453473

Available in: Ebook Paperback