"Oh, why do I have to be ambitious?"
The fourth o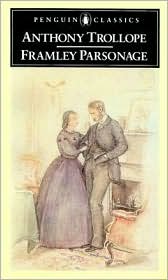 f the Chronicles of Barsetshire, Framley Parsonage (1861) is a gentle novel filled with memorable characters, including many characters from The Warden, Barchester Towers, and Doctor Thorne. Mark Robarts, a young vicar with a devoted wife, has a comfortable situation at Framley Parsonage on the estate of the indomitable Lady Lufton. Her son, now Lord Lufton, had been a friend of Mark Robarts at school, and it was their friendship which resulted in Mark's position. Mark, though conscientious in his duties and grateful for his situation, is ambitious, however, anxious to expand his horizons beyond Framley.
Lady Lufton, who rules with an iron hand, is appalled when Mark decides to spend a weekend with a "fast" crowd, one which he believes can advance his career. Young and naïve, he becomes the dupe of an aristocratic "con-man," an MP named Nathaniel Sowerby, who persuades him to help him out of a financial jam by signing a note for five hundred pounds (more than half Robarts's yearly salary), allowing Sowerby to draw funds on Robarts's name. In the meantime, Robarts's sister Lucy arrives at Framley Parsonage upon the death of their father. Lucy, a sweet ingénue in mourning, soon comes to the attention of Lord Lufton, but Lady Lufton has many more "significant" matrimonial prospects in mind for her son. As Robarts's financial miseries become more pressing, and as Lucy's disappointment in love increases, the scene is set for a final showdown.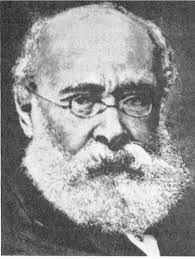 Numerous peripheral characters, many of them known to readers of the series, add to the drama of the primary action. The implacable dowager Lady Lufton, wishing to maintain her family's social position, pushes Griselda Grantly, daughter of Archdeacon Grantly, as the Duke's suitor. The competition between the (Archdeacon) Grantlys and the (Bishop) Proudies for suitors for their daughters adds great comic relief to the story, and the internecine manipulations among the clergy provide gentle satire in a novel which seems to be remarkably domestic in its focus.
Trollope provides a full picture of Victorian life, representing many aspects of society, and though his view of the clergy has in earlier novels been a bit jaded, he is sympathetic to many of its representatives in this novel, seeing them as humans, rather than as types. A sweet novel, part love story and part social commentary, Framley Parsonage is charming, memorable for its characters and picture of Victorian England.
Also reviewed here:  Six additional novels by Anthony Trollope.  The Author tab at the top of the Home page will take you to them.