"Death loves other people.  It's not concerned solely with itself.  It collects names, faces, human destinies, and gladly reads them.  Fine, I thought, I will write about myself.  And throw in a little about them; let everything be saccharine and romanticized, in the pastel shades of their underwear.  But when I got down to writing, it became clear that I didn't know how to write sappy stories.  I wrote how I thought, and my thoughts were explosive."  From "Day Trip to Durmitor."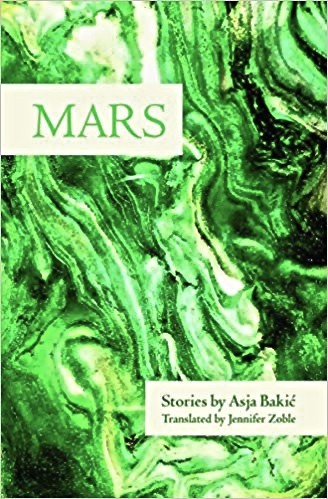 Though the thoughts in this quotation belong to the main character of "Day Trip to Durmitor," a writer, they could just as easily be those of the author, Asja Bakić, whose thoughts, as shown in this debut collection of stories, are, indeed, "explosive."  In what is the most excitingly creative and unusual group of stories I have read in many years, Bosnian author Asja Bakić not only captured my attention totally, but kept it through several readings of her ten stories – so much so that I could sit down and reread the entire collection right now and still find new ideas and new sparkle to enliven my day and my reading life.  Translator Jennifer Zoble obviously plays a strong role, too, in making these stories feel bright, lively, often humorous, always ironic, and bursting with life, however different Bakić's characters may be from anything a reader has encountered before.  Zoble's contribution is so smooth and feels so comfortable that it is as if she is channeling the author in a direct line to the reader.  It is no surprise to discover that Zoble, the translator, is also an author, and Bakić, the author, is also a translator.  Together they provide a perfect match for these unique stories.
In Bakić's first story, "Day Trip to Durmitor," for example, a young woman is greeted by identical twin secretaries, Tristesa and Zubrowska, immediately after her own death, and she is astonished that the afterlife is completely different from what she expected.  There is no "pervasive melancholy" shown by the two secretaries "who could only be distinguished by the color of their underwear.  When the speaker wants to know where God is, she is rebuked, told that she "can't champion atheism and then play cards with the Lord when you die."  In other words, "God slipped in the tub."  Soon the speaker finds that her head is growing.  Before long, it resembles an expensive egg from the era of Czar Nicholas II.  The twins want her to use her increased brain size to write a book of stories, and if they like them, they will then guide her on to "Phase II." 
Writing about herself and the writing life, the speaker gets to work on her assignment, remembering how her creative life started with an overnight school trip to Ozren, a mountain in northern Bosnia, when she was six.  She loved making the other girls scream when they were on the verge of sleep by telling stories about witches and monsters.  The speaker now recognizes that "literature is the primary link between life and death," and that the twins are collecting the best writing of all time about death, hoping to use the manuscripts for a big ceremonial fire that will "allow the dead to walk among the living."  When the speaker is magically sucked out of the celestial place where she has been writing, she lands on earth at Devil's Lake Durmitor in Montenegro and sees her own reflection – as a non-human. The sudden ending, like the endings of other stories in the collection, leave the reader wanting more, anxious to keep reading to see if some of the answers to the obvious questions will be revealed. 
Bakić, with so much content within her writing, avoids the easy labeling so common to other stories that involve the supernatural, fantasy worlds, and science fiction.  She does not belong to any of those genre, despite the superficialities her work may share with them.  Bakić keeps her intellectual focus on the philosophical aspects, but she also allows her seemingly limitless energy and spirit free rein, her abundant humor and sense of irony adding a sense of fun to what might otherwise feel like very "serious" reading.  Where else might one be reading a story about the afterlife in which the main character and a male friend argue about ancient Greek philosopher Heraclitus just before the speaker is whisked from the room and lands on earth as a whole new life form?
A long list of other topics and plot twists keep the reader engrossed and fascinated by the author's approach to life and writing.  Hidden treasure, the sexual preoccupations of children, a grandfather's collection of pornography, a well-digger who is a forest monster, a body covered in lichen, and a speaker who is also a murderer all appear in this collection.  A robot who comes to life, a character with the same name as the author, who has been cloned four times, and people who live with a green spirit add further interest.  Literary references add depth to some stories.  A writer who regards herself as Medea appears, and a starving, impoverished family who plans to "go West" – to Senegal – is forced to burn their books to stay alive, though the children particularly fear the burning of Zola's book The Belly of Paris, because the description of foods in that book has helped them through some of their hungriest times.
The final story involves a person who is in exile on Mars but who returns to her home on earth secretly for a few days to reconnect.  Those on Mars are writers who are being erased from earth's historical record, and books themselves are illegal.  Authors can be saved from exile only if they promise never to write another word. All of the earth's literature, regarded as "refuse," has been shipped to the Red Planet, and writing has been proclaimed the greatest evil to have befallen humankind."  Worst of all, the most rabid anti-literature zealots on earth are the same people who were once the world's most passionate readers.  Occasionally, the new residents of Mars are able to persuade smugglers from earth to bring in some special requests, paying them in books.  Then the speaker finds a book called Mars, which tells what happens to earth in the future, involving a magic "curved" substance and an anti-literary spirit there.  Life on Mars, lacking the Moon and its phases, which the speaker regards as responsible for "the entire weight of my humanity, my volatility, and mutable nature," not to mention her literary creativity, means that Mars, with its two tiny moons, is not a substitute for earth.  The author leaves all resolution hanging here, a suitable ending for a collection which is a never-ending source of inspiration, excitement, and thoughtful commentary about today's world, both real and literary – a collection which truly deserves the label of "unique." 
Photos.  The author's photo appears on http://www.media.ba/bs/
The picture of Ozren, where the main character goes on a school trip and terrifies her schoolmates with the stories of witches and monsters, is from https://mapcarta.com/
The Devil's Lake Durmitor in Montenegro may be found on https://www.pinterest.com
The artwork for Emile Zola's The Belly of Paris appears on the Oxford University Classics edition of Zola's book, available on Amazon and other book sites
Life on Mars, as shown in this novel, is depicted here:  https://fsmedia.imgix.net/
MARS

REVIEW. PHOTOS. Imagined Time, Literary, Social and Political Issues, Speculative Fiction

Written by: Asja Bakić

Published by: Feminist Press at CUNY

Date Published: 03/12/2019

ISBN: 978-1936932481

Available in: Ebook Paperback