"I was not really first in anybody's life.  I could so very easily be replaced."
Sly and subtle, this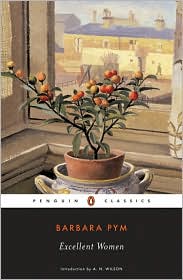 comic novel by one of England's most under-recognized novelists depicts the life of its main character so poignantly that readers will find themselves as close to tears as they may be to chuckles.  Mildred Lathbury, at thirty-one, already regards herself as a spinster, a woman who has completely repressed her inner self so that she can lead an "excellent" life.  Working for the Society for the Care for Aged Gentlewomen during the day, she also helps Fr. Julian Malory and his sister Winifred at the rectory and in church during her spare time.     Except for these activities and a few outings with similarly "excellent" single women, she has no social life, except for her once-a-year dinner date with a male friend.
Set in 1952, the novel follows the life of Mildred as it suddenly becomes a bit more "exciting," at least by Mildred's standards.  A married couple, the Napiers, move into the house where she lives, and she makes an effort to get to know them.  Rockingham Lathbury (Rocky) has been an officer (and playboy) in Italy during the war;  his wife Helena is an anthropologist who has been working on a project in Africa with a male anthropologist, Everard Bone.   It quickly becomes clear that the marriage is having problems, and Mildred gets drawn in.  At the same time, Fr. Julian Malory, whom Mildred believed that she would serve forever, announces his engagement to Allegra Gray, a clergyman's widow who is renting a room at the rectory.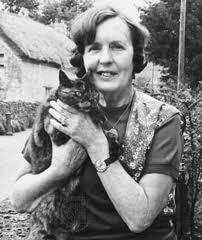 Within this simple framework, author Barbara Pym minutely examines the lives of Mildred and "excellent women" like her who believe that they "must not allow [themselves] to have feelings, but must only observe the effects of other people's."   As Mildred's life gradually expands and she begins to become just a bit more assertive (and even to have a drink), she also begins to draw some attention from Rocky Napier and Everard Bone.
Through Mildred's intentionally limited relationships,  Pym skewers the social mores of the day among the excellent women, the men who take them for granted, and the church which encourages (and benefits from) their selfless devotion.  Pym's humor is so subtle, however, that one may be tempted, at first, to take the novel at face value, but Mildred is such an extremely excellent woman that the reader sees the absurdities of her behavior and of the society which encourages the Mildreds of the world to lead the lives they do.  Mildred is living the life that she was rewarded for when she was a child.  Still childlike, however, she inspires sympathy at the same time that the reader sees that she has never made her own choices, an absurdity that Pym exploits in grand fashion.
Notes:   Also reviewed here:  Pym's  QUARTET IN AUTUMN

The author's photo is from http://www.lib.grin.edu