"Outside, the pigeons on the roof were picking at each other, presumably removing insects.  Perhaps this is all that we as human beings can do for each other, Letty thought."
The subtle

and remarkably witty novelist Barbara Pym published her debut novel in 1950 when she was thirty-seven, publishing another novel every two years from then through 1961.  In 1963, when she submitted An Unsuitable Attachment to her long-time publisher, however, the novel was rejected.  She was suddenly considered "old-fashioned,"  that novel being subsequently rejected by twenty more publishers.  Sixteen years would elapse before any more of Pym's novels saw the light of day, and it was not until 1977 that she emerged from her creative "wilderness" and succeeded in having a novel accepted for publication—Quartet in Autumn, which was subsequently shortlisted for the Booker Prize.
Filled with dry, ironic humor, Quartet in Autumn is a poignant depiction of the lives of four elderly people, who have worked together for several years.  All of them live alone, and none of them have much of a life outside of their repetitive and intellectually deadening jobs.  They treat each other only as colleagues and not as friends, both in and out of the office.  The two women consider the two men to be merely "part of the furniture," and the men have no interest in the women beyond their function in the office.  As a result, they have never socialized, visited each other's houses or apartments, shared a lunch hour together, or come to know each other as human beings.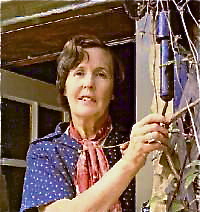 Pym develops her wonderfully unique characters separately, rotating the point of view and the narrative among them.  And just as these lonely characters keep to themselves at the office and share almost nothing about their private lives, they tell separate stories about their separate problems to the reader, and not to each other.   Letty, "fluffy and faded, a Home Counties type," is the most adventurous of them, having traveled to foreign countries.  She regrets that she never had the opportunity to marry;  by the time the war ended she was thirty and Opportunity had passed her by.  She still has dreams of her earlier days, however, when she was able to lie on the grass with "Stephen."  Marcia, by contrast, is eccentric.  She wears her dyed-too-dark hair cut almost like a helmet, and her "marmoset eyes" peer through thick glasses.  Living in the decaying house which once belonged to her dead mother, she does not maintain even a semblance of neatness, and still has not bothered to remove from a bed a hairball that was coughed up by her long-dead cat.
Edwin, a large man with a pinkish face, is a widower with a married daughter who entertains him on holidays.  He fills his free time with church activities, enjoying his "lunchtime church crawl" and his evenings filled with Masses which celebrate obscure church events.  Norman, the least developed character, "never had a Mum," and has no social skills.  He alternates spending his lunch hour at the the library, where he reads the newspaper but little else, and at the British Museum, where he is observed viewing  the mummified crocodiles.
When the two women retire, life for all of them changes dramatically.  Letty has to move, an unexpected development, and her long-time plans to move to the country with a friend change.  Marcia becomes even more of a recluse, refusing to let the social worker assigned by the hospital come into the house.  When the men decide to take the "old dears" to lunch several weeks after they retire, the four of them have their first social occasion, with mixed results.
Though the novel has little "plot," it is an extraordinarily memorable and moving novel of characters who deal with their own aging and mortality.  Pym is so good at capturing the real feelings of real people and revealing their unspoken needs that careful readers, regardless of their age, will be stunned at the amount of information Pym is able to convey within a few words, images, or sentences.  The characters' commitment to minding their own business and "not being any trouble to anyone" overwhelms their abilities to reach out.  It is the death of one of the characters which eventually draws the three survivors together again, and as they consider what kind of funeral services the person would want, what memories each of the others has of that person, and what this implies regarding their own mortality that they finally begin to interact and become truly human.
Pym is very funny, her images and description of events incomparable.  On one occasion, for example, Letty is in the Underground, where she sees an elderly woman who might have been a school contemporary slumped on a seat on the platform.  Letty, shy and reserved, hesitates to offer help, but she is concerned.  While she dithers, a caring young woman bends over the slumped woman and speaks to her.  "At once, the figure reared itself up and shouted in a loud, dangerously uncontrolled voice, 'F*ck off!"  Pym calls a spade a spade, and her ironic depiction of old age is one that no one nearing that age will ever forget.
Notes: Also reviewed here:   Pym's EXCELLENT WOMEN
The photo of Barbara Pym is from www.fantasticfiction.co.uk.
The last photo is of mummified crocodiles, which, though a small image in the novel, could on many levels be a symbol for the characters themselves, especially Marcia.  The colored photo is from http://hearstmuseum.berkeley.edu.  The second pair, in which the heads and teeth are more obvious, appears on www.athenapub.com.
The many lovers of Barbara Pym's work have formed the Barbara Pym Society: www.barbara-pym.org.
Quartet in Autumn

Review. Book Club Suggestions, England, Humor, Satire, Absurdity, Literary

Written by: Barbara Pym

Published by: Plume; Reissue edition

ISBN: 978-0452269347

Available in: Ebook Paperback Hardcover