Note:  Benjamin Black is the pseudonym used by award-winning Irish author John Banville for his mystery series.
"[Quirke] had no illusions that the world could be set to rights, at least by him, who could not even set right his own life. What drove him, he believed, was the absence of a past. When he looked back…to his earliest days, there was only a blank space. He didn't know who he was, where he came from, who had fathered him, who his mother had been. He could almost see himself, a child standing alone in the midst of a vast, bare plain, with nothing behind him but darkness and storm."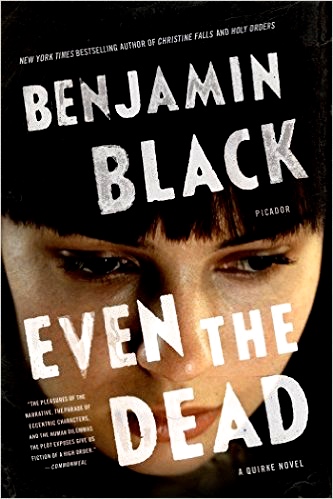 For the past ten years, award-winning Irish author John Banville has been writing crime novels under the pen name of Benjamin Black, in addition to his literary fiction under his own name. Of the nine novels he has written as Black during that time, one, The Lemur, is a stand-alone set in contemporary New York; The Black-Eyed Blonde, written in the style of Raymond Chandler, also a stand-alone, stars Philip Marlowe; and the remaining seven novels feature an alcoholic pathologist in 1950s Dublin named Quirke. Quirke has had a sad life from his earliest years, having spent time in an orphanage before he was unofficially adopted by Judge Garret Griffin, and brought into his household to live with an adoptive brother Malachi Griffin, who also became a physician in later life. In his mid-forties when he appears in Christine Falls, the first novel in the series, Quirke has never come to terms with who he is because he does not know who he is.
Though he learns some facts about his background in the first book in the series, Christine Falls (in which he must challenge his existing relationship with both Judge Griffin and his brother Malachy Griffin), and learns other details of his background in the second novel, The Silver Swan, Quirke never learns all he wants or needs to know in these or other, later novels. By Even the Dead, the seventh novel, Quirke knows that Phoebe is his really his daughter, though she has been brought up as his brother Malachy's daughter. Ten years have passed since this series started, and Quirke still has questions about his past. Now single and lonely, he has tried to take each day as it comes, sometimes relying on alcohol for help.
As this novel opens, Quirke, the chief of the pathology lab, has been on a leave of absence from the Hospital of the Holy Family, receiving treatment for his alcohol addiction and related emotional problems. Young David Sinclair, only thirty-four, also a pathologist and the boyfriend of Phoebe, has been standing in for Quirke at the hospital, and may have his eyes on Quirke's position. When Sinclair comes to visit Quirke and asks him to come to the lab to examine the body of a young man killed in a car crash, however, Quirke leaves the house for the first time in over two months. At the lab, he recognizes that the dent in the victim's skull could not have occurred from the accident itself, and he decides to call on his old friend throughout the series, Inspector Hackett of the police department, who is having lunch at the Gresham Hotel, a special treat in which Hackett occasionally indulges. The contrast between Hackett's thoughts at lunch and those of the ailing Quirke have never been more obvious, but Quirke is finally out of the house and in action for the first time in months.
Though it is easy to speed through these introductory pages in an effort to get to the plot, it is the information which Quirke reveals about himself and his condition which deserves the most attention, especially here at the beginning. "There were times when his brain clanked to a halt, like a steam train stopping, at night, in the middle of nowhere. He knew it wasn't possible not to think, that the mind was always active, even in sleep…but at the end of these blank episodes, when the poor old engine started up again, he would try to grope his way backwards to that dark halting place and find out what had been going on there, often with little success." Frequently despondent, he admits that "I seem hardly alive…I hear myself talking sometimes and think it must be someone else saying these things…I still get headaches and the odd blank second or two.…It's the fuzziness that gets me down, the sense of groping through a fog. That, and the uncertainty…that I'll ever be better than I am now." It is his friend Hackett, both a foil for him and a true friend, who encourages him to get involved now, even though Quirke's mind wanders and he loses his train of thought even while talking with Hackett. Ancient images sometimes come to him, unbidden, as he and Hackett discuss the case of the young man in the accident.
The plot develops in the same pattern as in previous novels, and with many of the same characters. Phoebe gets some attention in this novel for her work for Dr. Evelyn Blake, a psychiatrist, a job which stimulates her desire to do similar work herself. When Phoebe suddenly receives a message from "Lisa Smith," a young woman she hardly knows, she is actually energized. She meets Lisa as requested in St. Stephen's Green, and learns that the trembling Lisa is desperate to find a place to hide – and there really is no one else available to help her. With Phoebe's aid, Lisa escapes to a "safe house," and though the reasons for Lisa's fear are not clear at first, the reader soon understands that Phoebe was right in trying to help. There is a direct connection between Lisa and the young man in the accident that Quirke has just begun investigating, and when Lisa later turns up missing, many of the past themes and plots of earlier books begin to overlap here, including some of the issues of Christine Falls. The victim of the car accident, it turns out, was also investigating the issue of the adoption (for a price) of Irish children of unwed mothers and the collusion of the Catholic church, the police, and the government.
Many peripheral issues also appear:  the love lives of both Phoebe and Quirke; more information about Quirke's background; the health problems of Malachy Griffin, Quirke's adoptive brother, and the health problems of Quirke himself; the political morass of Dublin in the 1950s, with some "untouchables" working in the courts, the church, and government; and the abiding sense of guilt, created by the priesthood.  Ultimately, I began to wonder if Black might be getting ready to end the Quirke series, as he seems to be closing out some of the long-running questions that have kept this series going. By the novel's conclusion, Quirke knows much more about his own parentage, and he gets some measure of revenge for the horrors of the past.   Quirke has good reason to worry about his health, but he also appears to be looking to some new and happier directions for the future – and he is a survivor. We should know his fate before long, as there is certain to be at least one more novel.
ALSO by Benjamin Black:  BLACK-EYED BLONDE,      CHRISTINE FALLS (Quirke),       DEATH IN SUMMER (Quirke)    THE SILVER SWAN (Quirke),   VENGEANCE (Quirke),
Photos, in order:  The author's photo appears on http://www.abc.es/
The Gresham Hotel, 1950s, photo by John Hinde Item# PMK72570, http://www.playle.com
The beautiful Alvis TC108 Super Graber, a car once owned by Quirke, became one of his terrible memories when he "crashed [it] and let it topple over the side of a cliff into the sea."  http://only-carz.com
A park bench overlooking the pond at St. Stephen's Green, is the place where "Lisa" met Phoebe, begging for help in finding a place to stay where she would be safe.  https://www.pinterest.com
The "Pepper Canister Church," named for the shape of its steeple, may be found here:  http://www.dublintherapist.ie/
EVEN THE DEAD

REVIEW. Ireland and Northern Ireland, Mystery, Thriller, Noir, Psychological study, Social and Political Issues

Written by: Benjamin Black

Published by: Picador

Date Published: 01/03/2017

ISBN: 978-1250117878

Available in: Ebook Paperback Hardcover