NOTE:  This book was WINNER of the Best Novel of the Year Award at the Irish Book Awards for 2017.
Gerry, sitting with his wife in an Irish bar in Amsterdam: "Alcohol is the rubber tyres between me and the pier." He held his glass up to her. They chinked.

Stella: "What gets you by," she said and took a sip.

Gerry: "You and me."

Stella: "Me and you," she said. "I suppose we're lucky to have each other to ignore."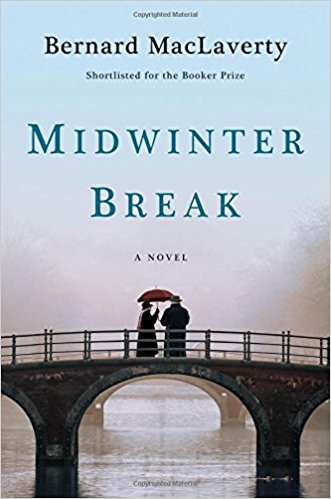 Winner of innumerable prizes in both Ireland, where he grew up and went to college, and Scotland, to which he moved permanently with his family during the Irish Troubles in 1975, Bernard MacLaverty has always had a special place in my heart. His writing is unpretentious, realistic, and often filled with ironic humor, even when he is dealing with the complexities of relationships and the honest feelings of his sometimes quirky characters. This novel, his first in sixteen years, is worth waiting for – a novel about an older, retired couple, Gerry and Stella, married for decades, who have pursued their own goals separately, while living together, and have now reached a point at which they must consider whether they are still truly in love. Wanting a brief vacation away from Scotland, to which they, like the author and his family, have moved permanently from Northern Ireland, they have decided to spend a few days in Amsterdam – or rather, the wife, Stella, has suggested the location because there is a special place there that she wishes to see. Her genuinely caring husband Gerry is amenable to whatever she wants, but he has been living recently in an alcoholic haze, and his primary concern has been hiding the physical evidence of his consumption from her.
MacLaverty, combining both subtlety and sometimes outrageous honesty, reveals the inner hearts and minds of both of these characters at a variety of times in their long relationship, from courtship through early marriage, beginning careers, heartbreaks, and on up to the present. Gracefully, he moves from one period to another, in and out of the lives of Gerry and Stella, Gerry enjoying the present, and the more spiritual Stella looking for more out of life. As their past histories unfurl, the reader is kept in suspense about some early events, one in particular, in which Stella nearly died, but the suspense is muted, not milked for artificial effect, the secret allowed instead to appear and then disappear into the characters' memories without development until the author chooses to reveal it to the reader late in the novel. Likewise, Stella's "mission" in Amsterdam, which might lead to a legal separation, is kept front and center in her point of view, though she has not shared her feelings yet with Gerry. She is still open to other alternatives for much of the developing narrative and does not want to create a crisis unnecessarily. This attitude is consistent with her personality as the reader comes to know her, just as Gerry's on-going pre-occupation with alcohol is obvious without creating overt hostility in the reader. One significant aspect of their personalities is that they have been together for so long and know each other so well that they are able to banter back and forth in their ordinary conversation, even in the midst of difficulties, as seen in the opening quotation.
Stella, a former teacher, is a born organizer, willing to accept many time-consuming responsibilities, chair of the residents' association where they live, Eucharistic minister of her church, and organizer of fund-raisers. A devout Catholic, she is concerned about living a life of joy and kindness and devoting herself to goodness on a grand scale. Amazingly, she is not sanctimonious or self-righteous, keeping her attitudes to herself, for the most part, though Gerry sometimes delights in puncturing what he considers her naïve attitudes and statements regarding the real outside world and its often negative possibilities, taking potshots and making jokes about her serious religious comments. For his part, Gerry is completely unsuspecting, and even after she suggests in fairly obvious terms what she is thinking, he is unable to process the true meaning of what she is saying because he does not want to believe it, does not imagine that she could be serious, and is too addled from drinking to understand. They have not been sharing much with each other at the end of each day over the past months, instead going to bed separately and at different times of night.
Early on, Stella describes Gerry as "a man for the daylight – better than the orange glow of a dance hall. Good-looking, rather than handsome… thoughtful, concerned, the kind of guy who would do anything for you. Above all…interesting," a former architect who treated his job with energy and enthusiasm and who speaks with wit and freshness. They have been able to travel the world as part of his job, and she has enjoyed seeing new buildings through his eyes and visiting museums, which they traverse at different paces. At the Rijksmuseum on this trip, Gerry enjoys studying the paintings of Rembrandt and Vermeer, pulling his glasses out of his pocket to get a closer look at them, once confiding to Stella that "Every time I open my glasses case nowadays, I am pleasantly surprised to find my glasses." One of the high points of the trip is their viewing of Rembrandt's "The Jewish Bride," which Stella describes as being all about the "woman's permission…. it's in the hands. He can do what he likes with them, Rembrandt can." She then goes to a different room to sit and reminisce, and doze while he stays behind studying the painting.
By the time the climax is reached, the reader is totally familiar with both characters, has come to realize that they both have flaws (even excluding Gerry's alcoholism), and understands the long-term effects of Stella's brush with death very early in their relationship. Part of MacLaverty's genius is that he makes it impossible not to like these characters allowing the reader to hope that they will survive their possible separation so late in their lives. MacLaverty's complex narrative pattern and shifting time periods reveal information about both characters at many different times in their relationship, including many family events, but he manages to juggle these times and events with no sense of artifice, leading the reader to feel free of manipulation, a participant in this involving and very real story of two lives at a turning point.
Photos.  Bernard MacLaverty accepts the Irish Best Novel Award for this book in 2017. http://www.bernardmaclaverty.com
The Begijnhof, a residential community from the Middle Ages, is part of the itinerary in Amsterdam. https://www.dreamstime.com/
Rembrandt's "The Jewish Bride," in the Rijksmuseum, leads to a serious discussion between Gerry and Stella.  https://en.wikipedia.org/
Stella faces a crisis at the Anne Frank Museum, shown here with the renovated facade from 1999.  https://www.weekendnotes.com/anne-frank-house/
The Burt Chapel, directly below the Grianan Aileach, a circular ancient fortress on the top of the hill above this, was one of Gerry's early architectural jobs.  http://www.donegalcottageholidays.com
MIDWINTER BREAK

REVIEW. PHOTOS. Book Club Suggestions, Historical, Ireland and Northern Ireland, Literary, Netherlands, Psychological study, Social and Political Issues

Written by: Bernard MacLaverty

Published by: W. W. Norton

Date Published: 08/22/2017

ISBN: 978-0393609622

Available in: Ebook Hardcover