The g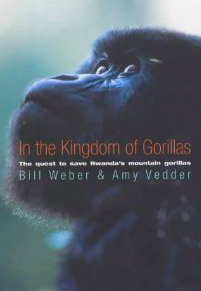 oal of the Weber-Vedder research team goes way beyond the single-minded documentation of one species: they study not only the life of the mountain gorilla, but also their changing habitat and the needy humans who share it. Amy Vedder is a biologist, her husband Bill Weber a social scientist, and their multidisciplinary approach to conservation offers a fresh look at opportunities to create win-win situations for both the animals and the humans who live near them.
In a lively and fast-paced narrative, Weber and Vedder document threats to the gorillas from 1978 – 1992, presenting graphic accounts of animals injured by snares, beheaded by poachers, exposed to diseases borne by humans, allowed to die for lack of medical care, and forced to live in ever decreasing habitats, with more and more limited food supplies.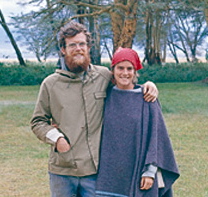 Working first with Dian Fossey, whose battles with the bottle and mental illness are well documented, they eventually establish the Mountain Gorilla Project, working with local governments and international foundations to develop educational programs, slow down the devastation of forests to create farmland, and make Rwandans proud of the unique environment they share with the animal world.
The outbreak of the Rwandan civil war in 1993, and the ensuing genocide of over a million people, which no western nation or the U.N. intervened to prevent, are depicted dramatically, emotionally, and thoroughly, as the research team returns to Rwanda to find their workers dead, missing, or in jail. Ironically, the gorillas are thriving.
As the country tries to heal its wounds and rebuild, the authors comment about values: "There are more than a few Rwandans who wonder if the Western world would have intervened more quickly and forcefully if mountain gorillas, rather than Africans, were being slaughtered in 1994." In Rwanda, it may be the humans who are the more fragile species in this dangerous land.
Notes: The photo of the authors appears on http://www.iwaswondering.org
The gorilla family was photographed by Andy Rouse:  http://www.allposters.com
The Mountain Gorilla Veterinary Project is described here on  http://mgvp.gorillacd.org/