"He was lucky, that's what they said.  Only one fracture.  His body had suffered no other injuries.  Memory loss doesn't count as a bodily injury.  He raises his eyes and looks at his face.  The face he met a week ago.  It's that new.  Hello stranger, he says.  He can tell from its lip movements that the face in the mirror is answering him with the same words.  Just like last night."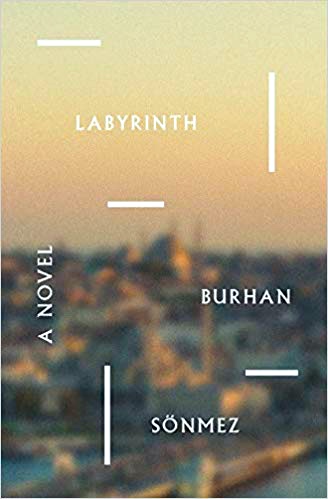 Awaking in an Istanbul hospital after jumping from the Bosphorus Bridge in a failed suicide attempt, young blues singer-musician Boratin has no memory of his life – or why he chose suicide as a way out.  The bridge is five hundred feet high, and fewer than a handful of people have survived the jump since the bridge was built in the early 1970s, but Boratin is one of the "lucky" ones – only one rib is broken.  His biggest problem is that he has total amnesia.  He does not recognize his own face in the mirror, has no memory of his own name, knows no one who visits him, and has no past.  Even his apartment seems so unfamiliar that he even questions his own taste in the furnishings.  For him, walking through the rooms, is like "exploring a museum, gingerly picking his way around the ornaments and guitars."  Addressing his memory of the doctor who released him from the hospital, he confesses that "my mind, which hasn't got a single word about myself in it, is bursting with facts about other things.  The names of ancient philosophers, the colors of soccer teams, the words of the first astronaut who went to the moon.  I can't find any clues leading to myself in my cache.  I can't even remember my name.  You told me that was my name, and I accepted it."
The ringing of the telephone leads him into a quandary.  If he answers, "an unfamiliar voice will ask me how I am," Boratin thinks, and though he wants to ask for help, he still does not understand how he ended up where he is and why.  He decides not to answer.  Feeling safer where he is, he decides to familiarize himself with his living quarters and its possessions, though he is confused because everything in the house is "elderly," and he sees the contents as belonging to death.  "Have I forgotten my house," he wonders, "or has it forgotten me?"  Not even the guitars, the record player, and the album covers, including one called "Submarine," stimulate his memory.  The arrival at his door of Bek, a friend whom he learns is a member of the band to which he belonged, starts him on his journey to recover his life.  As he does so, the reader, too, learns about Boratin's life, starting with the fact that "Submarine" is the name of his own band.
What follows is Boratin's search for himself, starting with a solitary trip to a nearby bookstore and a walk around Istanbul with Bek.  Here author Burhan Sonmez hits his stride as he recreates some of the Boratin's questions, the answers from Bek, and the stream-of-consciousness thoughts that Boratin holds privately within himself.  All these observations occur within pages of shifting dialogue between the two men, along with Boratin's personal observations and his inner conflicts.  The customary paragraphing for dialogue and changes of subjects is not observed here, as one sentence by Boratin may be followed by the comment of another speaker, with that comment followed by a recollection by Boratin, all within the same paragraph.  The changing points of view are clear and uncomplicated, however, even as they change within the packed pages.  Back home, he realizes that he recognizes the voice of blues singer Bessie Smith, that he understands English, and that a voice on the phone, which he finally answers, is that of his sister, whose name he remembers.
An appointment with his doctor encourages Boratin to think back once again as he wonders what would make someone try to end his life, but then he recalls the grocer on the corner near his apartment coming up to him on his return to squeeze his hand and thank him profusely for saving his daughter's life by helping her to pass her exams.  He remembers nothing about this.  He then tells the doctor the story of a forty-leg centipede who could do everything he wanted as he moved with consummate grace,  until someone asks it,  "Which leg do you use to take such elegant steps?  Do you use your seventh right leg first, followed by your fourteenth left leg?  And do you then raise your twenty-first right leg and place your thirty-second left leg on the ground?"  Suddenly the centipede's legs become all entangled and he cannot move, a symbol of the issues Boratin himself has been facing. 
Parallel stories that Boratin recalls include the fruitless search of a man named Serka for a fiancee, for whom he already has a ring, adding to the sense of frustration which Boratin feels.  Stories evolve of the pharaoh and the philosopher, of a child begging for food, of sadistic children killing a cat, of calling a wrong number on the phone and wondering not who, but what, he is.  Get-togethers with the band members at a tavern remind Boratin that another member of the band thought of suicide just a year ago, and he wonders if his ex-girlfriend may hold a key to some of his earlier memories.  He becomes frustrated at the fact that while he has been searching for his identity and his past, the seasons have not changed.  It is still autumn, a season which suggests that Boratin still has a lot of work to do if he is ever to regain a semblance of new life.   Ultimately, he decides to take a trip by train, only to discover that the train station has been closed for years following a fire in 2010, and that he needs to rethink his plans.
Almost plotless, this short novel recreates the ultimate crisis of identity as it happens to a twenty-eight-year-old musician, who obviously had problems before his jump off the Bosphorus Bridge.  As Boratin tries to figure out who he is so he can revisit his past and perhaps connect it to a new present, the author raises many questions about time, place, history, philosophy, psychology, life, death, and the desire of people to relate to each other in positive ways.  The novel's progress through short episodes, and the reactions of Boratin to them, allow the reader to identify with him, and through him to see some of life's grandest themes through a completely new point of view.  The extent to which the past controls the present, and the present controls the future takes on new meaning in this remarkable novel.  Or as Boratin says in one of his songs, "Wake up, bare your face to the rain on the window./ If growin' used to it is another name for death/ Don't let that bare old violet in your hair fade and wear you down."
Photos.  The Bosphorus Bridge connecting Europe and Asia, was built in 1970 – 1973 and is five hundred feet above the water.  Only a handful of people have ever survived a suicide attempt from this bridge.  https://commons.wikimedia.org
Blues singer Bessie Smith is an idol of Boratin.  Her photo is here:  https://news.allaboutjazz.com/
The Galata Tower is a landmark which Boratin recognizes as he is touring the city with Bek.  https://www.tripadvisor.com
Though it is still a tourist destination, the Haydarpasa Train Station has been closed for trains since 2010, and Boratin has not realized that he cannot take a train from there.  He must change his plans.  https://www.dailymail.co.uk/
The photo of author Burhan Sonmez appears on https://thewire.in/books
LABYRINTH

REVIEW. PHOTOS. Experimental, Exploration, Literary, Psychological study, Turkey

Written by: BURHAN SONMEZ

Published by: Other Press

Date Published: 11/19/2019

ISBN: 978-1590510988

Available in: Ebook Paperback