"We dream of chalices and Rothkos, African masks and twisting Berninis unfolding in our minds like so many fluttering pages.  Our hearts stutter with their stories, so many stories that words won't do.  We need to show you what we see, what we have woken up, right here, right now, in this shiny box." – Devoted staff member of the Metropolitan Museum.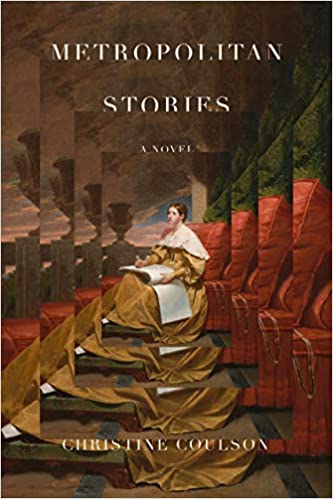 In the alternative universe of Christine Coulson's collection of stories from the Metropolitan Museum in New York, inanimate paintings and sculptures can think, feel, and speak.  These "speakers," their conflicts, and their points of view vary widely – and surprisingly – from a robust man who speaks as the invisible charcoal underdrawing on a 1545 canvas by Venetian painter Tintoretto, to an insightful chair which describes its memories of a sobbing of little eight-year-old in the Ducal Palace of Parma in 1749.  Paintings and sculptures from all time periods reveal their own thoughts as they vie to be chosen the Perfect Muse, the lucky winner of which will accompany Michel Larousse, the Director of the Museum, to an important meeting.  A variety of human characters depicted here include an assistant in the Met's Development Office who is given the task of picking up "the meat," a four-thousand-year-old "leg of lamb," which she must bring to the Egyptian Department so it can be put into a statue's basket.  Another character, who reappears throughout, is a security guard named Henry Radish who works at night and is fascinated by the ability of the Met's artwork to transfer its sentiments to his own soul, his favorite work being "Adam," a marble Renaissance sculpture in the Blumenthal Patio.  Melvin, an out-of-work insurance salesman, one of the most memorable characters, takes up residence near the top of the front steps to the museum, and has a life-changing experience when he goes inside for the first time.  Other characters reflect the elite, wealthy, and demanding collectors whose donations to the museum help to keep it running.
Some of the stories interconnect with others, providing some sense of organization and focus, though this is not a novel as it claims to be.  Its scale and scope are limited only by the museum's artwork itself, and its settings include all the galleries, many of which are created to resemble the original settings of the work displayed in them.  The basement, the tunnels, and the private work spaces where the art is repaired and special lighting is developed are also included. The Temple of Dendur, a public display, donated to the United States by Egypt in 1960 to protect it from rising water in Egypt, has been a a major exhibit at the Met since 1978.  Here it is a gathering place for patrons and visitors and the location of an elegant dinner which is held during one of the stories of this book.  A surprise secret location is discovered by Edith and revealed in the conclusion, when she investigates the museum's supply of cardboard boxes after the death of a long-time employee, known as the Rubber Band Man.
The stories are not uniformly developed, with the human characters more fully developed in the latter part of the collection when the author relies less on magic and the supernatural to affect the conclusions.  The first of the more fully developed stories is "Night Moves," featuring Henry Radish and his relationship with Maira, a young woman who also works at night and with whom he has an affair at the museum.  When it ends after three weeks, Radish wanders, fascinated, at  first, by Corot's painting of "The Letter," though the real "anchor" of his life is Adam, a marble Renaissance sculpture by Tullio Lombardo (1455-1532) in the Blumenthal Patio.  Radish feels that if he exercises vigorously during some breaks at night, that he will look more like Adam and that perhaps his romantic life will take a muscular turn in a new direction.  Working out in a service stairwell so he will not appear on a security camera, Radish strips and exercises, only to find his boss coming up the stairwell unexpectedly.  A later story, "Adam," continues the "Night Moves" story, as Adam, the Renaissance sculpture, tells his own story.  Having seen Radish's boss approaching up the stairs, Adam believes that if he could only move, he might be able to help Radish.  Adam tries hard, but his plan is a disaster – he falls off his pedestal and crashes.  When Radish runs for help in dealing with the smashed statue, the gallery is regarded, at first, as a crime scene and Radish as a suspect.
Melvin, an out-of-work insurance salesman, has his own magical experience at the Met.  After five days of sitting on the front steps in front of the museum, occasionally chatting with Walter, a custodian, he finally decides to go inside. Wandering around the Lehman Wing, he is absorbed by an overwhelming feeling of belonging, and he spends time admiring El Greco's painting of St. Jerome, a large Goya painting of a countess with her daughter, a Rembrandt, and a 14th century bronze sculpture.  He sits on the sofa in the replica of what had been Lehman's living room and realizes that he is being overwhelmed by pure beauty.  Melvin's body gradually begins to dissolve into the room, "unable to sustain its existence against the might of such splendor.  The more beauty he absorbed, the more it absorbed him…For hours he sat there," on his way into a new world.
The last story, "Paper Cuts," may be the most satisfying.  Walter, the custodian, is ending his shift when he discovers the body of the "Rubber Band Man," a tiny man, aged eighty-seven, who has worked for the museum since he was nineteen.  His job has been to manage the supply of paper shopping bags and boxes for the museum shop.  Since he has no family, the museum decides to have memorial service for him, learning that his real name is Constantine Srossic, which some workers rudely insist on mispronouncing as "Sewersick. It is not until Edith, a new employee working in the Merchandise Department, investigates the boxes that Srossic has set up to mark his "space" and his supplies, that Constantine Srossic's real impact on the museum comes to light.  For Edith, an amazing discovery cements her belief that "just beyond the museum's worn paths and daily rituals, there lies the possibility of something wholly unimaginable," a fine ending to a book which has wandered through its points of view, stories, themes, and direction until it finally arrives at a memorable conclusion.
Photos.  The Temple of Dendur appears on http://www.touregypt.net
Adam by Tullio Lombardo (1455-1532), Henry Radish's favorite museum piece is from https://commons.wikimedia.org
The Living Room from the Lehman Wing may be found on https://www.alamy.com
The Rubber Band Man recreated a miniature daybed from the 1775 room of Hotel Crillon in Wrightsman Galleries from scissors, paper, and brown boxes.  https://www.flickr.com
The author photo of Christine Coulson is from https://www.pequotlibrary.org
METROPOLITAN STORIES
REVIEW. PHOTOS. Exploration, Historical, Imagined Time, Literary, United States
Written by:
Christine Coulson
Published by:
Other Press
Date Published: 10/08/2019
Available in: Ebook Hardcover