Having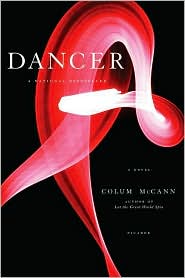 read and admired Irish author Colum McCann's earlier novel, This Side of Brightness, a powerfully imagined novel of homeless people and the bleak society they create in the subway tunnels of New York City, I approached this novel initially out of curiosity. McCann's writing style–very bold, masculine, urgent, and sometimes raw–was the perfect vehicle for that street-smart and inspired novel. I could not imagine an author with such a style succeeding in this novel, a fictionalized account of the life of Rudolf Nureyev and the rarefied world of ballet.
Dancer, however, affected me more profoundly than any other novel I have read in a long time. Vivid and hard-edged, it fuses fact and fiction seamlessly, successfully recreating the essence of a larger-than-life star like Nureyev and illuminating the many secret worlds he inhabited. At the same time, Dancer also manages to capture the heart, making an unlikable egomaniac into an understandable human and his rise to stardom a goal the reader both shares and celebrates.
As a five-year-old, Rudik first found his audience in a hospital in Ufa, where soldiers recuperating from wounds suffered during World War II delighted in his exuberant dancing. A former professional dancer soon became his mentor, and he began practicing every day, finding in the spirit of dance his escape from the hardships of poverty, the mockery of his classmates, and the resistance of his father to his artistic inclinations. His teacher Anna noted from the outset that he was "born within dance, [but] he was unlettered in it. Yet he knew it intimately, it was a grammar for him, deep and untutored."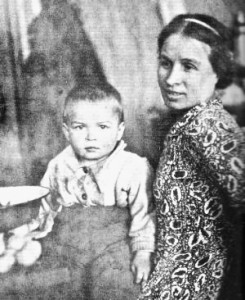 His legs were the source of "more violence than grace," and there was "more intuition in him than intellect, more spirit than knowledge." In his first brief recital, he was filled with "kinetic fury," and even when he reached the height of his powers, when much of the world regarded his dance partnership with famed ballerina Margot Fonteyn as both intimate and elegant, his style was also described by others as "ferocious." Nureyev's "wild and feral" style of dance meshes perfectly with McCann's prose. Befitting the athleticism and drive of Nureyev, McCann's writing is bold and straightforward, characterized by short, powerful, descriptive sentences, often in a simple subject-verb-object pattern. Avoiding all frills and sentimentality, McCann favors strength over lyricism, and power over prettiness.
Through the first person observations of almost two dozen characters who touched Nureyev's life in some way, McCann shines light on Nureyev's personality and his development as a dancer. His family, his teachers, his acquaintances, his lovers, his employees, a schoolboy bully, a stilt-walker, and the captain of an airplane, who filed an "incident report" about his atrocious behavior aboard a plane, all comment on his actions and the choices he makes, personally and professionally. The deprivation and sadness experienced by most of these sensitive observers in their own lives contrasts vividly with the excesses and hedonism of Nureyev's adult life and illuminate, without need for authorial comment, his arrogance and boorishness. At the same time, however, these multiple viewpoints also humanize Nureyev in many ways by showing the extent to which these other characters are connected by love to others and to their history, while Nureyev becomes a "living myth…cared for and coddled and protected by the mythmakers, a life not lived with any reason in mind, just an obeyance to light, or the lack of it…needing constant motion."
Part III (of four part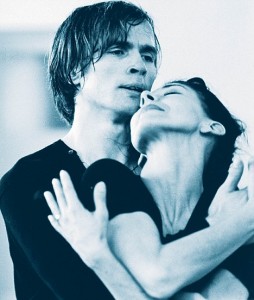 s) in this novel introduces Victor Pareci, Nureyev's only real friend, a character with whom Nureyev shares a flambuoyantly gay, often cocaine-enhanced social life and with whom he haunts the baths in New York City. Some readers may find the point of view, the language, and the graphic descriptions offensive, but McCann is presenting this star and his lifestyle as they really were, and he is too direct and uncompromising a writer to pull any punches here. The description of Victor's ostentatious walk through the neighborhood at the beginning of this section is one of the most intense and fully realized pieces of descriptive writing in the novel, a brilliant interlude and change of focus, which, though vulgar, perhaps, epitomizes Victor's attitude, complements that of Rudi, and ultimately makes the ending of the novel particularly poignant.
Filled with intriguing characters, ranging from simple Russian peasants to Andy Warhol, Tennessee Williams, John Lennon, Truman Capote, Mick Jagger, Jimi Hendrix, and the stars of ballet, the novel is a monument to the power of the creative spirit and a testament to the dangers inherent in a life from which all other controls have been removed. Rudi always "tore [a] role open, not so much by how he danced, but by the manner in which he presented himself, a sort of hunger turned human." McCann brings this voracious human to life. Nureyev leaps off these pages in a huge and stunning grand jete.  (The top of my Favorites List for 2003.)
ALSO by McCann: LET THE GREAT WORLD SPIN, WINNER of the IMPAC Dublin Award for 2011,         TRANSATLANTIC,       THIRTEEN WAYS OF LOOKING
Notes: The author's photo is from http://www.nypress.com/
The photo of Rudik and his mother is from http://nureyev.livejournal.com/
Dancing with Margot Fonteyn, who has been credited with revitalizing his career:  http://www.dailymail.co.uk
A video of Nureyev and Margot Fonteyn in Swan Lake may be seen here:
DANCER
Novel. Review. Biographical, Literary, Russia/Soviet Union, United States
Published by:
Picador Modern Classics
Date Published: 06/02/2015
Edition:
Modern Classics Reprint
Available in: Ebook Paperback Hardcover