Note: Much lauded author Edmundo Paz Soldan has twice been WINNER of the National Bolivian Book Award, most recently for Turing's Delirium.
"[Sometimes] he'd break in to burgle, but the robbery was a mere excuse for what really attracted him: the women who ignored him when they saw him loitering in a train station or a supermarket. Gringas who couldn't stand the act that he was alive. How easy it would be to get rid of them. It was a powerful temptation, but he kept it in check. He didn't want to get into any trouble."—description of Jesus from Villa Ahumada in northern Mexico, 1984.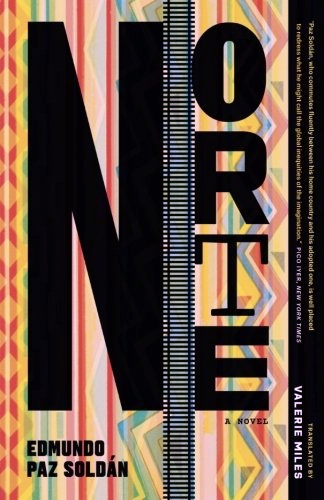 In this dramatic and provocative novel, Edmundo Paz Soldan, a Bolivian writer now teaching at Cornell University, displays his enormous gifts for both narrative and character development while also examining serious themes and social and psychological problems. Creating three characters from three different time periods, all of whom are native to Mexico or South America and all of whom are in the US for various reasons and for various periods in time, Paz Soldan explores their lives and creates comparisons and contrasts before making connections among them. Wasting no time in starting the action, he boldly introduces Jesus, a young man from Northern Mexico in 1984, depicting him in Part One as a boy/man who responds instantly – impulsively – to situations as they arise in his life. Jesus has little recognition of the usual unwritten rules of civilized society. Hanging out with petty drug users and prostitutes, Jesus quickly demonstrates for the reader that in matters of sex, he does not hesitate to be violent if a woman tries to thwart him. Within the first ten pages, Jesus commits a murder and heads across the border into the US, having agreed to work for a group of criminals who bring stolen American cars across the border into Mexico, where they are sold.
In contrast to Jesus, Michelle, the second main character, is a graduate student in South Texas, working hard to establish herself as a writer/cartoonist. It is 2008, and she is currently working on a comic book about a librarian with special powers who is bent on revenge after zombies kill her boyfriend. Michelle works hard at school and at Taco Hut to earn money for her education, and she has been drawn into an affair with Fabian, her middle-aged professor. She regards the US as her home, though her parents are immigrants.
The third main character is Martin Ramirez, living illegally in Stockton, California, in 1931, trying to pay off some debts and help his family back in Mexico. An almost illiterate man who has great difficulty with all language, he understands almost no English. What Martin really wants is to draw. "Such a fine thing to do, made stuff so easy. Why use words when you can just draw." Having worked "laying tracks," picking crops, and digging in the mines, he is now hanging out at the train station hoping for more work. Mexico is having major political and social problems, and his wife is collaborating with the Federales, so "Now there is no way back" for him, and his chances of seeing his daughters are nil.
Paz Soldan rotates the action through these three characters' lives, developing themes as he goes, and the reader cannot help but become involved both in the action of their lives and in the psychological crises they face. It gives nothing away to say that Jesus, who is crafty and knows how to create false identities so he can go back and forth across the border at will, becomes a serial killer. Having killed two women in the first fifty pages, he continues this behavior, eventually developing a reputation as the "Railroad Killer," a character based a real murderer of women who lived near railway lines in the 1990s. Michelle's affair with the professor develops predictably and not to her advantage. Martin becomes hospitalized, unable to stay in touch with reality, though he now has all the time he has dreamed of to draw and paint. Art of all kinds, in fact, permeates the lives of all these characters. Even Jesus, whose life seems dedicated to impulse and action, becomes fascinated with the chance to tell about his crimes when he is arrested, and at one point he fills a fifty-page notebook with grotesque descriptions of his killings. Michelle, meanwhile, meets with a researcher who is studying schizophrenic art and is planning to show the art of Martin Ramirez, a real person, thereby connecting Michelle and Martin Ramirez from two different time periods.
Throughout the novel, the author shows the inner conflicts of people who are from one country but live in another, exploring their personal predicaments, their sense of displacement or their sense of hope. Jesus's father left his family for the US when an emergency arose, leaving the family at loose ends, and leaving Jesus without guidance. For Jesus, leaving Mexico was no problem. It was not much of a home, except for his distorted love for his sister. Michelle and her mother live in the US, but while Michelle has become completely acculturated,  her father longs to return to Bolivia, a desire which creates emotional conflicts with his wife and daughter. Martin cannot speak English, and the US has never been a home for him, yet he finds himself hospitalized permanently in the US with serious mental illness. Ironically, it is his hospitalization which makes it possible for him to pursue his dream of drawing and painting, finding some sort of outlet for his frustrations and giving him a sense, not of belonging, but of being able to be different on his own terms. In that sense, perhaps the hospital becomes a sort of home for him.
Paz Soldan's style is bold and realistic, and while this is effective for most of the book, some readers may find his depictions of Jesus's violent acts to be far too graphic. Many other aspects of the book are quite subtle, and the characterizations of Martin and Michelle develop naturally without such sensationalism. Translator Valerie Miles, who adds a long "Translator's Note" at the end of the novel, provides great insight into the many different "voices" of the characters here and the difficulty of translating these into English when they are so different from each other in Spanish. As she points out, she has translated "a Spanish-language novel written by a Bolivian author about Mexicans and Argentineans lost in the US, over several decades and with myriad characters speaking and writing in native or broken English." And she has done a masterful job.
ALSO by Edmundo Paz Soldan:  TURING'S DELIRIUM  and  A MATTER OF DESIRE
Photos, in order:  The author's photos appears on http://www.memoriacultural.com/
The photo of Angel Maturino Resendiz, on whom Jesus is modeled, is found here:  https://en.wikipedia.org/
The real-life Martin Ramirez is shown at work on his art at DeWitt State Hospital, California, 1954:  http://spyhollywood.com
An untitled work in pencil, colored pencil, and collage, from ca. 1952, is from http://folkartmuseum.org/      Adolf Wölfli Foundation, Museum of Fine Arts, Bern, Switzerland, A1988.25  Click and scroll down to enlarge.
NORTE

REVIEW. Literary, Bolivia, Historical, Mexico, Social and Political Issues, United States border

Written by: Edmundo Paz Soldan

Published by: University of Chicago Press

Date Published: 10/26/2016

Edition: Translation

ISBN: 978-0226207209

Available in: Ebook Paperback