"If you have any young friends who aspire to become writers, the second greatest favor you can do for them is to present them with copies of [Strunk and White's] The Elements of Style. The first greatest, of course, is to shoot them now, while they're happy." ― Dorothy Parker, The Collected Dorothy Parker

"The gun's not loaded.  I don't even have bullets…Go see for yourself.  It's in the night table under my copy of Strunk and White."  Audrey, in Dorothy Parker Drank Here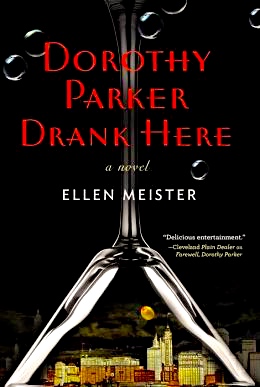 With a recommendation from Dorothy Parker, Strunk and White's The Elements of Style may never have had it so good in terms of publicity.  Standing the test of time from its earliest edition in 1918 to its latest (fourth) edition as a "paperback picture book" in 1999, it remains a standard in English classrooms around the country.  Parker herself, of course, used the English language to perfection, bending it to her will and molding it with her ascerbic humor, sarcasm, and caustic wit, often flicking it like a switchblade in her satiric commentaries.  Parker, a charter member of the Round Table, was part of a group of about a dozen novelists, dramatists, and critics who met for lunch almost daily at New York's Algonquin Hotel, where many of them had apartments or studios throughout the 1920s.  Robert Benchley, George S. Kaufman, Robert Sherwood, and Alexander Woollcott, among the regulars, were often joined by guests like Edna Ferber, Harpo Marx, and Tallulah Bankhead.  All of them prized the written and spoken word, had no tolerance for verbal laziness, and gave no quarter when it came to saying exactly what they thought in unequivocal terms.
Playing with reality vs. the world of imagination, Ellen Meister, author of Dorothy Parker Drank Here, the second novel in a series in which the ghost of Dorothy Parker (1893 – 1967) is a main character, has set this novel at the Algonquin Hotel, where Parker's spirit resides, thanks to the fact that Parker once signed an old guest book on display in the Algonquin's Blue Bar.  Her signature, like those of other Round Table members, guarantees that her spirit will not leave the earth until it has decided it wants to go.  If the guest book remains open to the page on which she has signed, Parker's spirit, like those of other signers, may appear and reappear at will.  If the book is closed, her spirit disappears, and if the book is moved, her spirit goes with it.  Within this context, the author tells a story in which the main earth-bound character – in this case, Norah Wolfe, a young assistant producer of a TV talk show – is trying to contact Ted Shriver, a writer whom she believes is currently staying at the  Algonquin.  Shriver, a successful writer, vanished from the literary scene twenty years ago because three paragraphs of plagiarized material appeared in his last published book, and he could never explain how those alien paragraphs appeared.  He has withdrawn from the world and lived as a recluse ever since. Since one of Shriver's books saved Norah's emotional life when she was a teenager, however, she wants desperately to contact him and, if she is lucky, get an interview for her TV program.
Dorothy Parker, lonely in her ghostly life, wants to persuade Ted Shriver, who is dying, to sign the special guest book and keep her company at the Algonquin after his death.  All the others from the Round Table who have signed the guest book have eventually followed the white light to meet family and friends on the other side, something Parker refuses to do. When Norah, by accident, ends up with this guest book in her own room at the Algonquin, Dorothy Parker materializes there to offer advice, and when asked about what it is like to be in the kind of limbo in which she lives, Parker replies, characteristically, "It's like sleeping, except I never wake up next to a man I regret taking to bed.  On the other hand, I never wake up with a hangover."  Eventually, the two join forces – both need Ted Shriver's help.  A third plot line concerns Audrey Hudson, Ted's wife at the time of the plagiarism and the person most likely to have planted the plagiarized paragraphs in Ted's manuscript.  When Norah calls on her, however, she discovers that Audrey's fragility is much like her own, and as Norah's past is revealed, her need to connect with Ted Shriver, author of the book which dominated her teen years, becomes clearer.
Writing this as pure entertainment, the author pulls out all the stops, juggling these plot lines and keeping them moving in surprising ways.  She plays on the reader's interest in the characters and their connections to books and writing as she also develops an atmosphere which crosses timelines.  With a light, sure touch, she puts together some hilarious visual scenes which beg to be filmed, and it is easy to imagine her sitting at her computer with a grin on her face as she writes.  Meister's "Dorothy Parker" feels true to what we know about Parker, not a caricature created for the sake of amusement, and Parker's interactions with other literary characters and their often hilarious patter, bring the whole literary scene to life.  Her scenes with Tallulah Bankhead, Groucho Marx, and Lillian Hellman, and her opinions of Alexander Woollcott and Dashiell Hammett made me wish I could have been there, too.
Tallulah Bankhead, in talking about her own death, for example, comments, "It's been ages since I've been able to enjoy a smoke, and even longer since a drink could offer me any sort of pleasure.  Do you know what my last word was?  'Bourbon!'  Couldn't get a breath of air and all I wanted was a belt of Wild Turkey."  To which Parker responds:  "Not a bad parting line.  I'm sure they'll quote it in your obituary."  The Groucho Marx scene, filled with the kinds of puns and word play for which he became famous on TV, and the Lillian Hellman scene both give insights into their relationships with Parker:  Hellman, despite being made the executor of Parker's will, was left no money, and she is furious. Parker's criticism of Hellman for writing a memoir that is mostly fiction, and her opinion of Hellman's lover Dashiell Hammett ("a hell of a writer, but a brutal son of a bitch") are pointed.
Filled with literary nuggets which show that the author "did her homework" and had fun doing it, Dorothy Parker Drank Here will delight readers looking for a fast-moving and  amusing change of pace which includes some memorable sketches of early- and middle- twentieth century American authors.  For any reader who may also be familiar with the Algonquin Hotel, its dining room, Blue Bar, narrow halls, and quiet rooms, the novel becomes a must-read.  The Algonquin should put this book on display at the sign-in desk.
ALSO by Meister: FAREWELL, DOROTHY PARKER
Photos, in order: The author's photo, by Hy Goldberg, is from her website:  http://ellenmeister.com/
The Algonquin hotel, 59 West 44th Street, New York, NY 10036, is shown on http://www.hauntworld.com
The Blue Bar at the Algonquin may be found on http://www.yelp.com/
The painting of the Algonquin Round Table is seen here: http://www.pbs.org Double click to enlarge.
The newly restored lobby of the Algonquin is from http://www.booked.net/
ARC: Putnam
DOROTHY PARKER DRANK HERE

REVIEW. Book Club Suggestions, Humor, Satire, Absurdity, Literary, United States, US Regional, New York, Algonquin Hotel

Written by: Dorothy Meister

Published by: G. P. Putnam's Sons

Date Published: 02/24/2015

ISBN: 978-0399166877

Available in: Ebook Paperback Hardcover