Note: Gerard Woodward was SHORTLISTED for the Whitbread Award for August in 2001 and SHORTLISTED for the Booker Prize for I'll Go To Bed at Noon in 2004.
"I suffered with a vision…of my mother and father standing on the lawn before Swan's Rest, in the shade of the walnut tree.  But it is not the house that crumbles.  It is them.  They fall apart slowly before my eyes, as if they are made of sandstone.  Small cracks appear across their bodies, which widen until large fissures open up, then pieces fall away, and there is nothing left of husband and wife but a little heap of dust."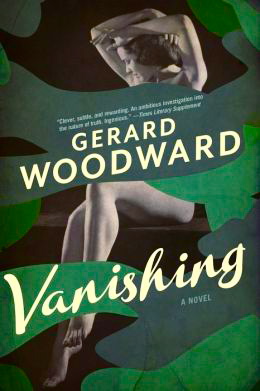 Despite his shortlisting for the Whitbread Award for August (2001), the first of his trilogy about the Aldous Jones family, and his Booker shortlisting for I'll Go to Bed at Noon (2004), the second book, British author  Gerard Woodward's novels remain almost unknown to readers in the United States.  A Curious Earth (2007), my own favorite, completes the trilogy, set during the 1970s and 1980s.  With his poetic vision and his wickedly wry humor, Woodward creates in these three novels a picture of the lives of ordinary but often dysfunctional people trying to find some sort of resolution to the conflicts in their lives.  His dark humor and irony, combined with a poet's understanding of the vicissitudes of life, make his novels both insightful and compassionate.
In this new, stand-alone novel, Vanishing, Woodward dramatically expands his scope and broadens his themes while narrowing his narrative focus to one main character whose life the reader follows from childhood through his arrest for espionage in the late days of World War II.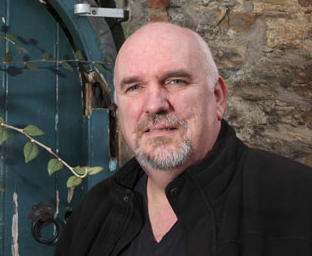 Kenneth Brill, the main character, is in a military prison in an unidentified location as the novel opens, feigning sleep as Davies, his interrogator from the Air Ministry, arrives to interview him in preparation for his trial for espionage. Brill emphasizes that he has served with honor during the war and has been almost single-handedly responsible for the camouflaging of the British airbase at El Alamein in order to protect it from Nazi bombs.  His background as a former art student from the Slade, one of the best art schools in the world, had helped him create a "stage set" of a similar base in the North African desert, attracting Nazi bombers away from the real base in Egypt, near Libya.  As the novel opens, however, Brill has been caught painting a large number of landscapes of the farm area where he grew up, a few miles outside of London.   While a reader might find this a seemingly innocent activity for someone who has been recovering from a gunshot wound for months, Davies quickly disabuses him. The farm area in the Heath, which Brill's family has farmed for generations, is "shortly to become one of the biggest military air bases in Europe. That land has all been requisitioned by the Air Ministry" for a new aerodrome at "Heathrow."  Evidence from Brill's past suggests to the Air Ministry that he may be using the paintings to send coded messages to the Nazis.
Within a few more pages, Davies lets Brill know that he is completely familiar with the rest of Brill's "record" – "arrested in London in 1937, and charged with giving false information to the police.  And again in 1939 – for an act of trespass in a royal household, the Palace, no less."  Like his father, who enjoyed doing conjuring tricks, Brill is an expert at making things (and sometimes people) disappear, and Davies accuses him of  having an "unstickable," even slippery, quality, having been expelled from a series of schools as both a student and a teacher.  During the war, Brill was wounded and spent nine months in the hospital in Alexandria, then was moved to a sanatorium in Palestine, then spent six months recuperating in Oxfordshire before being invalided home.  He was never in any one place for very long.  As for his injuries, he was once impaled on a sword, and Davies questions him about that and about how he happened to be shot, presumably in battle – two days before the actual battle began.  His whole life seems to have been a series of "vanishings," through disguise, camouflage, costuming, or staged events, and Davies now wants the whole story.
The "whole story" evolves through a series of complex flashbacks which may be the real story of Brill (or may not be) from his childhood to the start of his trial.  By toggling the scenes back and forth among several different places and times, Woodward keeps the suspense about Brill high while also developing aspects of his themes.  Several of Brill's friends vanish for periods of time, buildings and landscapes vanish during the war, and some of Brill's own carefully constructed self-images crumble.  His sexuality is called into question, and the scope broadens as his friends expose him to people and ideas which he is unprepared to evaluate with any kind of intellectual skill or interest.   He "floats," moving from place to place making no reasoned commitment on any level, an almost ghostly character who himself seems to vanish into the scenery.  Gradually, the reader learns more about the charges against Brill, most of which seem be the result of his not paying attention to events, not being engaged, and not thinking beyond the moment.
Woodward's structure of flashbacks through the many different phases of Brill's life makes this novel work.  Had he simply presented Brill's background in straight chronological order, there would have been little or no mystery about Brill himself, and the reader might have tired of Brill's lack of engagement with the forces at play in his life.  War as a series of "vanishings" gives a new slant to that well-worn subject, however horrific it may be, and a big picture emerges for the reader, even as it eludes Brill's own grasp.  His unreliability as a narrator can be both frustrating and annoying, yet he emerges as a character for whom one feels a certain amount of sympathy.  At one point, he sums up his experience in North Africa:  "What seemed to be the most useful role for camouflage in the desert was not so much the concealment of what existed, but the display of that which didn't exist," and one cannot help but see how much that statement reveals about Brill himself, a virtual ghost.
As the narrative unfolds, Woodward incorporates some dark humor and ironies, though these are milder, less outrageous than what are found in his earlier books, especially A Curious Earth.  His father's rise to prominence in the community as an entrepreneur of sludgecakes is one such example of obvious, dark humor, as are Brill's stabbing with a sword and the ironies on a grand scale which one sees in the conclusion.  Ultimately, the novel trades the intensity and surprises of his shorter novels for the broader scope of the narrative and themes here, making this novel more panoramic and more fully developed but less wildly eccentric.
ALSO by Woodward:  LETTERS FROM AN UNKNOWN WOMAN (NOURISHMENT),     A CURIOUS EARTH, and       AUGUST (Amazon link)
Photos, in order: The author's photo is from http://www.theguardian.com
Hobbema's picture of "Avenue at MIddelharnis"  is shwon on http://en.wikipedia.org. Brill felt that Hobbema captured the spirit of the Heath in his paintings from the early 1700s of Holland.
Brill believes that the Slade, one of the most important art schools in the world,  has given him insights into art and life which he would not have achieved elsewhere and which he may apply to his life after school.  http://www.victorianweb.org/
When Brill and his cohorts arrive at Halfaya Pass, they have just seen the horrors of an earlier battle, in which  the corpses are charred, their clothing gone.  http://www.ibiblio.org/
The 99th annual ploughing match held on the Heath where Brill grew up, was held in 1937. This was held on the site of what became the northern runway of Heathrow Aerodrome a few years later.  http://www.getwestlondon.co.uk/
VANISHING

REVIEW. England, Historical, Literary, Psychological Study, Social and Political Issues, Dark Humor

Written by: Gerard Woodwad

Published by: Pegasus

ISBN: 978-1605987828

Available in: Ebook Hardcover