Note: This novel was WINNER of a PEN/Faulkner Award in 2008.
"We all felt ashamed of becoming POWs because we should have died rather than submit to capture. Many even believed our captivity had impaired our country's image. I often heard some men say they had 'smeared soot on Chairman Mao's face.' "
Author Ha J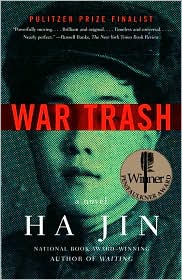 in, who was born in the People's Republic and lived there until he left to attend college in the United States in 1985, offers a unique perspective on Chinese culture, different from that which appears in most "Chinese" novels written for an American audience. Setting this novel primarily in a POW camp in South Korea, where Chinese and North Korean troops, captured by US and South Korean soldiers, have been separately interned during the 1950s war, Ha Jin focuses on the different attitudes each group has toward home, country, and each other. Through Yu Yuan, a young soldier from the Chinese Communist army, Ha Jin shows how differently Yuan evaluates his life and his obligations but how similarly he holds to ideals of friendship, justice, honor, and love.
The only son of an elderly mother, Yu Yuan is engaged to Julan and hopes to be married the following year. Life is full of hope—until, as a member of the Chinese army, he is moved to the border of Manchuria, and then directed to enter Korea to aid the North Koreans. The Chinese army, he discovers, is not a "well-oiled machine." Their weapons are Russian, but no one can read the instruction manual. Lines of communication are so long that one group of men can get orders to march in two different directions from two different officers on two different days. No officer is allowed to make his own decision, so troops are moved around almost randomly as officers await final instructions coming from great distances away, by which time the circumstances and the imminent dangers have changed. Units are often many miles apart, and supplies are low to non-existent.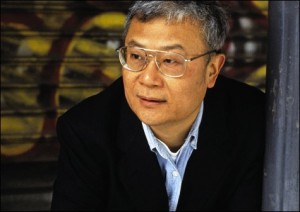 In vivid battle scenes from the front lines, the author describes the bombings of Chinese lines by the Americans, the atrocious casualties, the Chinese lack of basic medical equipment, the starvation conditions which force men to subsist on flour and water for weeks, and their sense of abandonment by their government. When Yuan is wounded, falls unconscious, and is captured, he is assigned to a POW camp, in which mainland Chinese and North Korean officers control their own sections, though the camp itself is under the control of the Americans.
The POW camp comes alive in Ha Jin's hands, as officers try to keep order and everyone tries to hide his own identity. Being captured is a crime for these Chinese, and no one wants to return to China as an outcast. Abominable camp conditions, vividly described, are especially challenging for Chinese like Yuan and his mates who want to r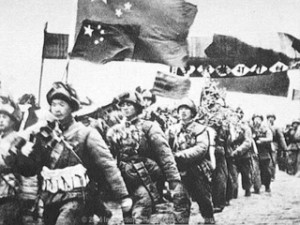 eturn to their families on the mainland after the war. The Nationalist Chinese, allies of the Americans, have been given almost free rein to try to bully the mainland Chinese to go to Taiwan, instead of returning home. Those who agree not to be repatriated to their homes in China get twice as much food, better clothing, and more blankets. Those who still insist on returning home are subjected to fully described water tortures, murders, unremitting beatings, the tattooing of anti-Communist statements on their bellies, and the (even worse) cutting out of the flesh containing these slogans if the men continue to refuse to go to Taiwan.
Yuan, like so many of his compatriots who are not officers and not members of the Communist party, is helplessly buffeted by the forces of fate, always trying to stay alive, always trying to obey their officers (even when these officers abuse their troops to protect their own reputations), and always yearning to return home to their families. The end of the war brings its own set of problems, as Yuan, now faced with the immediacy of repatriation, also discovers a series of betrayals by his own officers.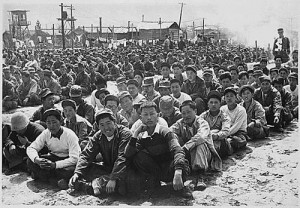 Ha Jin's writing is efficient and precise, his narrative bringing to life horrific battles, constant privation of the worst sort, and abusive behavior by the Nationalists, mainland Chinese officers, and even the Americans. Yu Yuan epitomizes the helpless individual who is part of a system in which individualism is not valued. Though he yearns to return home to his mother and his fiancée with honor, he does not yearn for personal freedom, which he does not miss because he has never known it. Like several other Chinese in the novel, Yu Yuan is clearly drawn and the reader empathizes with him, though his personal uniqueness stems from his inherent personality, rather than from any quest for individuality. A strong novel which depicts a whole culture, War Trash lacks a love story, which often unites other war novels and provides a connection with the reader, but it remains fascinating and rewarding for readers interested in seeing how culture determines behavior.
Notes: The author's photo appears on http://thephoenix.com/boston/arts/89626-tall-tales/
The Chinese enter Korea in 1950:  http://www.cosmeo.com
The prisoner of war camp for North Korean and Chinese prisoners, run by the UN, appears on http://asianhistory.about.com