If ever if ever a wiz there was
The Wizard of Oz was one because
Because because because because because
….
But Dorothy? I don't BELIEVE Judy Garland could fake it.
I think she was glad Technicolor was only a dream
Glad to find she had never left home
Glad to wake up in grey black and white.
Because because because because because"–epigraph to Some Trick.
I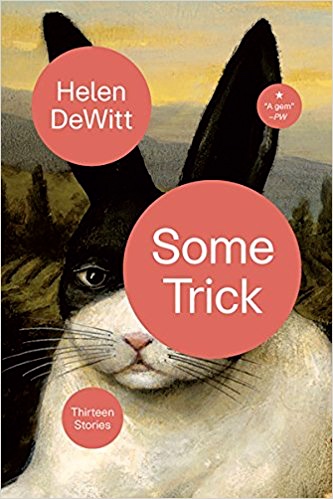 n "Here is Somewhere," the poetic epigraph to Some Trick, her collection of thirteen thoughtful and challenging stories, author Helen DeWitt calls to mind a mood similar to that of her first published novel, The Last Samurai, published in 2000.  Short-listed for the prestigious IMPAC Dublin Award, The Last Samurai tells the story of a single mother, Sybilla, as she brings up her genius son Ludo.  Ludo could speak English, Greek, and French by the age of four, and as he grows in that novel, his interest expands into other esoteric subjects – Japanese language, Icelandic verse, Fourier's analysis, Arabic, astrophysics, and tournament chess, bridge, and piquet, among other challenging pursuits.  His mother home-schools him and also pursues these favorite subjects on her own.  A reader seeking entertainment within the intellectually exotic subject areas of this book will be charmed by the engaging personality of Ludo, who feels like a "typical" boy, sharing a warm and protective relationship with his mother.  Despite the many layers of academic study here, the novel is very much a story of two people and their personal issues.
DeWitt had written fifty novels before she felt comfortable enough with The Last Samurai to submit it for publication, and it was a ground-breaking literary success when it was published in 2000.  Lightning Rods, her second novel, eleven years later, was a similar critical success, though less popular.  In that novel DeWitt writes a dark satire in which a businessman develops a way to deal with issues of sexual harassment in the workplace.  He simply contracts with the female employees to have anonymous sex with the male employees as part of their jobs.  Jennifer Szalai, in the New York Times, noted "the novel's brusque disregard for any depth of feeling," at the the time of the novel's publication, but she also said that "To find fault in DeWitt's broad strokes…would be like denouncing Mel Brooks for having made 'The Producers' instead of "The Pawnbroker."  Some Trick, DeWitt's new story collection seven years after Lightning Rods, is yet another level removed from Lightning Rods in terms of feeling and the reader's ability to identify with the characters.  Though a few of the characters repeat throughout the collection, and many of the themes and areas of academic reference are similar to those of The Last Samurai, the stories overall lack the warmth and charm of The Last Samurai and the earthy satire of Lightning Rods. 
Instead, Some Trick examines difficult issues about writing, publishing, an artist's relationships with the public, the involvement of agents and representatives who sometimes distort an artist's goals in the name of sales, the dependence of creative scholars on outsiders for professional survival, and the lonely life of a creative artist who will never be fully understood.  The stories are often darkly satiric and sometimes eerie or bizarre as the author exaggerates problems that creative geniuses have in dealing with the real world, even in their everyday lives.  The stories convey the feeling that the author herself has been confronting problems like these for virtually all her creative life, and the critical response to the book confirms that others can also identify with these problems. 
"Brutto" (meaning "ugly"), the first story, tells the tale of Nuala, a struggling artist who is forty-nine as the story opens.   She is two months behind in her rent and she is owed five thousand pounds by a Serge, a male friend. People visit her studio on certain days to see her "goopy,"  all-white paintings, some of them so heavy with white pigment they take a year to dry.  When Adalberto, an Italian, visits, he discovers a suit she made for her dressmaking apprenticeship years ago – an ugly suit – and he wants twenty copies of it to display in his gallery in Milan.  With hopes high, she makes the  twenty identical suits for a high price so that he can display them.  He also wants samples of her bodily fluids for display; again, she complies.  Eventually, she becomes much more "canny," and she takes action on her own.  The second story, "My Heart Belongs to Bertie," is the tale of an author who has written a book of robot tales and  is negotiating for a second book.  He ends up involved in complex issues of probability, the distribution of heads, and the Gaussian curve as these issues may affect the future of the book.
"On the Town" takes place in New York, and features an innocent young Iowan named Gil who is so besotted with New York that he spends all his time exploring its possibilities.  He becomes friends with Benny Bergsma who has already "arrived," and slowly begins to imitate him and his friends. The story becomes a wicked satire of New York behavior, life, goals, and even speech patterns, as they pertain to the creative world.  Carefully planned on all levels, like the other stories in this series, the satire works its way to a grand climax on all levels.  "The French Style of Mlle Matsumoto" is the tale of a pianist famous for having the world's finest sensibility in interpreting Chopin. "Climbers" tells of Peter Dijkstra, a Dutch novelist who has spent time in an asylum.  Several characters from other stories reappear here as the machinations within the current literary publishing world begin to resemble games, with elements of chance part of the equation.
The stories are heady, intense, concentrated, and often difficult, as intellectual concepts of special interest to the author dominate the lives of the characters.  While the stories are unquestionably unique, offering new and thoughtful visions of the creative life, and a number of the odd characters are intriguing, the overall intellectualism of the collection is so weighty that readers unfamiliar with DeWitt would do well to read the more charming and character-driven The Last Samurai first.  Some Trick, read leisurely, is a fascinating encore for those who crave more.
ALSO by DeWitt:  THE LAST SAMURAI
Photos.  The author's photo appears on http://www.vulture.com
The all-white, "goopy" painting by Robert Ryman, from 1961, is owned by the Museum of Modern Art.  https://www.moma.org/
Muccia Prada is interviewed here:  http://www.alainelkanninterviews.com/
The Gaussian Curve is from https://ned.ipac.caltech.edu/
Asuka Matsumoto may be the subject of the story "The French Style of Mlle Matsumoto," in which her sensitivity to the work of Chopin is discussed.  Her photo is here:  https://www.theaudiodb.com
SOME TRICK

REVIEW. PHOTOS. Experimental, Satire, Absurdity, Literary, Psychological study, Social and Political Issues, United States

Written by: Helen DeWitt

Published by: New Directions

Date Published: 05/29/2018

ISBN: 978-08112

Available in: Ebook Hardcover