Note: Hilary Mantel was WINNER of the Man Booker Prize for this novel in 2009.
"Thomas Cromwell…is an ingenious man…He is the very man if an argument about God breaks out; he is the very man for telling your tenants why their rents are fair.  He is the man to cut through some legal entanglement that's ensnared you for three generations, or talk your sniffling little daughter into the marriage she swears she will never make.  With animals, women and timid litigants, his manner is gentle and easy; but he makes your creditors weep."
Hilary Mantel ha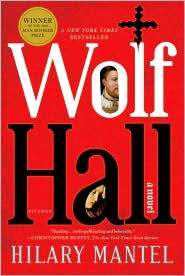 s never "written the same book twice," a writer of literary fiction who is so versatile and original that she defies genre.  Though this novel is a thorough and detailed look at the British court and its players from 1529 – 1535, it is so different from the traditional "historical novel" in its themes, massive scope, detailed character development, careful research, and lack of romance that it becomes its own genre, closer to fictionalized biography than to the blood and thunder bodice-rippers that sometimes characterize "historical fiction."  This novel is realistic, with no compromises of actual history for the sake of story, but it succeeds in being lively, often humorous, filled with exciting scenes, and peopled with fascinating characters from Henry VIII to Sir Thomas More and Thomas Cromwell.
In an unusual twist, Mantel turns history as it has been depicted in other literature of this period on its head.  Sir Thomas More, the saintly subject of A Man For All Seasons, is shown here to be rigid and hard;  Thomas Cromwell, often depicted as the evil scourge of More, is, instead, something of a hero here.  There is no sense that Mantel is at all concerned with revisionist history, just that she, on the basis of her own reading and research sees the lives of these characters through an equally clear but different prism , reading their characters and motivations based on their actions as she interprets them.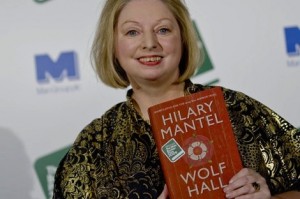 The novel opens in 1500, with the brutal beating of Thomas Cromwell, then fifteen, by his father, a blacksmith and brewer, who has abused him severely just "because he can."  The action then moves forward immediately to 1527. Thomas is now a lawyer in his forties working for Cardinal Thomas Wolsey, the Lord Chancellor, having spent many years working in Europe, where he came into contact with the banking establishment of Florence and the workings of the papacy.  Wolsey's primary duty, assigned to him by King Henry VIII, is to find a way to annul his marriage to Katherine of Aragon, who has lost six sons and is now too old to give him a male heir.  Henry has already had a number of mistresses and has settled on the young Anne Boleyn, sister of one of his previous mistresses, as a future bride, someone who might produce a son for him.  The machinations of the court, the clergy, the kings of Europe, and Henry and his advisors are complex as they vie for power on an international scale, try to manipulate Pope Clement and his papacy, outmaneuver each other, form the most influential alliances, and try to stay in power in their own lands as the Reformation looms.
Mantel manages to create int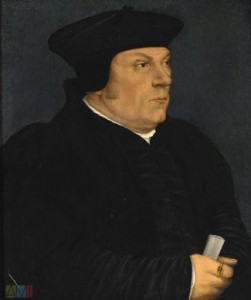 imate stories within this grand scale, making Cromwell a sympathetic hero for much of the novel as he loses most of his family to the "sweating sickness," informally adopts several young men, non-family members, who need a patron and guide, tries to do well by Cardinal Wolsey and acts to protect him as much as possible when he is dismissed by the king.  "How did it come to this?" Cromwell wonders.  "My lord [Cardinal Wolsey] kneeling in the dirt.  How could it happen?  How in the world?"  The reader soon sees the reasons in detail, participating in the trial details regarding Katherine's marriage to Henry VIII as Wolsey argues unsuccessfully on behalf of Henry before the papal legate, Cardinal Campeggio.  The seriousness of the loss is obvious from the fate of Wolsey, and Cromwell, whose fate has been tied to Wolsey's, must scramble to preserve his own place in Parliament where he might be able to argue against any actions they might introduce there against Wolsey.  When Cromwell eventually becomes the king's chief minister in 1532, he manages to find a way to get Henry's marriage annulled, and the rest, of course, is history.  The novel ends while Cromwell is still acting for Henry, helping in the dissolution of monasteries and does not suggest his eventual fate.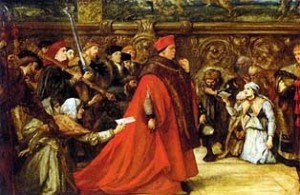 A novel dealing with issues as complex as these cannot be dealt with in any small way, and Mantel takes the time and space she needs to develop the issues clearly while also giving depth to her characters.  The list of chapters at the beginning gives the dates of the actions and helps prevent confusion, and a cast of characters, organized by the places in which the characters live or work, clearly identifies their alliances and allegiances.  A genealogical table of the Tudors and of the Yorkist claimants to the throne helps keep the royal succession in perspective.  A serious analysis of British history, as well as a novel of immense scope and detail, Wolf Hall is a monumental achievement on every level.
ALSO by Hilary Mantel:  BRING UP THE BODIES , a continuation of Thomas Cromwell's story,      and     THE ASSASSINATION OF MARGARET THATCHER
Photos, in order: The author's photo is from http://cheltenhamfestivals.com
The image of Thomas Cromwell is from http://tudorswiki.sho.com
Thomas Wolsey's portrait appears on http://www.hrp.org.uk