"He hated these old gangsters. On intimate terms with the cops and the judges.   Never done time. Thought they were better than anyone else. Zucca had a face like Brando in The Godfather. They all had faces like that. Here, in Palermo, in Chicago. Everywhere you went. And now he had one of them in his sights. He was going to take one of them out. For friendship's sake. And to give vent to his hatred." – speaker of the Prologue.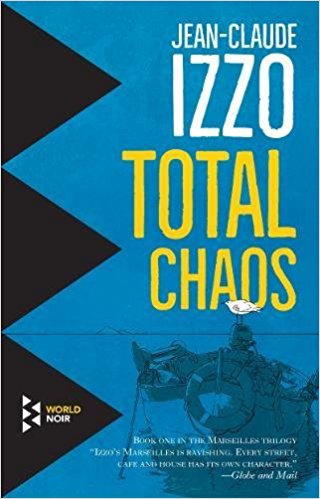 When Jean-Claude Izzo published Total Chaos in France in 1995, he had no way of knowing that this and the two sequels he published shortly afterward would come to be known as the Marseilles Trilogy. Nor would he know that these three books would wait twenty years to be translated and re-published in the US and the UK. A consummately noir author at a time in which hard-boiled noir writing was more generally associated with film than with novels, Izzo, the son of an Italian father who emigrated to France, sets his novels in Marseilles, a city very different from the settings of other noir writers, such as William McIlhenny's Glasgow, home of the Laidlaw novels in the 1970s, and more recently, Massimo Carlotto's Padua, Maurizio de Giovanni's Naples, and Henning Mankell and Jo Nesbo's Scandinavia.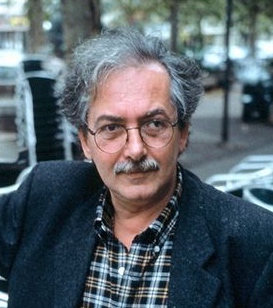 Marseilles, unlike these other noir settings, has always had a large number of culturally diverse populations within the city, each with its own special characteristics, values, and relationships with the French people, the police, and the political establishment. This cultural variety comes into play in this complex novel involving French criminals, Italian criminals who have moved to Marseilles, Algerian immigrants who believe they have been driven to crime for economic reasons, and other criminal elements who cross international borders with their influence. As a result, this novel feels broader, darker, and more challenging than most other noir novels. Main character Fabio Montale, the child of immigrants, grew up in an under-populated seaside area in the north of Marseilles, and chose ultimately, to avoid the life of an outsider by becoming a Marseilles police detective, a job he has held for twenty years. When Fabio's two closest friends from childhood are murdered, however, he decides that his own honor demands that he investigate and avenge these deaths himself. He recognizes that he "needed boundaries, rules, codes. Something to hold on to. Every step I was about to take would move me farther away from the law…[and] I knew that when it came to [my friends], I wasn't thinking like a cop. I was being swept along by my lost youth."
During that youth, Fabio Montale, Manu, and Ugo, while still in their late teens, had broken up and gone in different directions following a holdup gone wrong involving all three of them. During the robbery, Manu had shot and nearly killed the victim, an event so traumatic for Fabio that he eventually enlisted in the Colonial Army for three years and later became a policeman with the Neighborhood Surveillance Squad in northern Marseilles. Most of his work over the years has been with teenage "punks, junkies, and dropouts," along with "a whole mass of kids who have no story other than that they were born here. And that they're Arabs. Or blacks, or gypsies, or Comorans. High school kids, temporary workers, the unemployed, public nuisances, the sports fans."  Out of the loop with the police inner circle which has been investigating organized crime, Fabio is not attuned to the subtleties of allegiances inside and outside his department, and he trusts no one. The disappearance of Leila, a smart and studious young woman from the neighborhood where Fabio works, and with whom Fabio has been having a flirtation, draws him into a new case, while he is also investigating Ugo's death.   Soon he is wondering whether there is a connection between Ugo's death and that of Manu, three months earlier, and he still had no idea who would have abducted Leila or why.
As the organized crime investigation which underlies the killings of Manu and Ugo continues to occupy Fabio's time, the novel becomes increasingly complex, with a large number of characters whose roles are small but important. One of the crime bosses in Marseilles has financial connections to Germany and Switzerland, while being protected by the Camorra in Naples, which controls heroin and cocaine trafficking. An Arab mafia has taken over some of the gambling, prostitution, and night clubs, and a route for laundering money also involves a connection between Naples and the Dutch part of the island of Saint-Martin in the West Indies. Throughout the novel, the city of Djibouti in the tiny country of the same name also appears and reappears. When Manu, Ugo, and Fabio were involved in the robbery and shooting as teenagers, they had regarded Djibouti as an escape, not just from their potential legal problems if they were to be caught, but as a place where they could start over. Fabio had gone there briefly with his two friends, only to return home, join the Colonial Army, and later the police force. Ugo had stayed there permanently, only recently returning to Marseilles after twenty years because he wanted to investigate and avenge the death of Manu. He also wanted to see a woman whom he and Manu had both loved, a woman whom Fabio loves also.
In the course of the action of this novel, Fabio, in fact, has relationships with at least four women, and these relationships seem to start at will and stop when Fabio realizes that he cannot commit to anyone. None of the women who appear in the novel seem to have anything much on their minds, except for the thoughtful and educated Leila, with whom Fabio eventually declines to pursue a relationship, just before her disappearance. The others all seem ready to restart with him if he is interested, the surest way for a woman in this novel to waste time. The conclusion comes after a grand climax involving many characters, many killings, and many complications – financial, political, and personal – as relationships often cross national borders on one level and ethical boundaries on another. Some aspects of the conclusion involving Fabio feel artificial – and convenient – as he decides to explain to one of the women what motivated Manu and Ugo in their criminal careers, and then describe what is happening with his own life. Though the novel has little warmth or real romance in its structure and main plot, the last page is over the top emotionally, saved only by the fact that there are two more novels which will undoubtedly continue Fabio's story – thereby giving the lie to the excessive sentimentality and expectations of the last hundred or so words of this novel.
Photos.  The author's photo appears on http://partageonsnoslectures.over-blog.com
Les Goudes, the underpopulated northern area of Marseilles, where Fabio lives in a house he inherited from his parents.    http://www.weloveprovence.fr

The Roucas Blanc area of Marseilles, where Fabio was tailing one of the organized crime leaders of the novel.  http://www.tourisme-marseille.com
Notre Dame de la Garde, on the harbor to Marseilles, perhaps the ocean view where the conclusion takes place. https://www.notrehistoireavecmarie.com
The main street of Djibouti, the capital city of Djibouti, at the junction of the Gulf of Aden and the Red Sea, a place regarded as a refuge for the three young men – Fabio, Manu and Ugo – after the robbery and shooting of a victim when they were teenagers.  https://www.travelthewholeworld.com