"Reading was a problem the meds made it hard and also certain words were not as they appeared.  Light for example was girl and Kick was House but Kick was also Bed.  Up was Down and Hot was Cold et cetera.  Clocks were in degrees instead of hours.  I told time from the ice on the East River."
John Wray's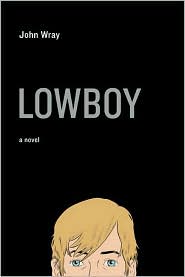 third novel is completely different from both of his past novels.  The Right Hand of Sleep (2001), his debut novel, was set in Austria in the years leading up to World War II and was the personal story of a man who had gone to the Ukraine to escape the horrors of World War I and then returned after twenty years to reconnect with his family in Austria, as Hitler was coming to power.  Canaan's Tongue (2005) is set along the Mississippi River in 1863, the story of a Messianic preacher and others who engage in The Trade, selling slaves and then, with their collusion, recapturing them and reselling them, a novel of epic themes.  Lowboy is different still, the powerful and moving story of a paranoid schizophrenic teenager who is hospitalized for almost two years, and then goes off his meds and escapes back to New York City's subways in an effort to spread his "message" and prevent global warming from destroying life as we have known it.  Highly praised for both his imagination and his careful structuring, John Wray is one of the most exciting young novelists in the country today.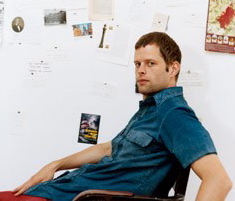 Will Heller, known as Lowboy, reveals in the opening sentences of Wray's latest novel  that he is overly sensitive to sense impressions,  he hearing the closing of the door of a subway car as "C# first, then A.  Sharp against both ears, like the tip of a pencil."   Tall (5' 10") and slim, he thinks his mother as he first rides the subway but believes that "he will never see his mother's house again."  Feeling a sense of urgency, because "the world's going to die in ten hours, by fire," Will is determined to do whatever he can to prevent this.  He believes that the only way he can accomplish his mission is to stay out of the "school" he has been attending for two years—and lose his virginity.  He seems almost logical, though odd, as he first begins to move through the subway system, gradually yielding to more and more bizarre behavior as time passes and his medications wear off.
Ali Lateef, a New York City detective whose area of expertise is "Special Category Missing," is hoping that Will's mother, "Miss Heller," sometimes known as Violet, can provide enough information to allow him to find Will in the seven or eight hours before his lack of medication pushes him into violence, but she, too, has her problems.  Ironically, it is Will's meds, as they wear off, which may be responsible for the hot flashes which convince him that global warming is an increasingly dire issue.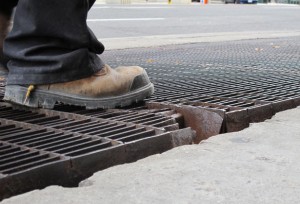 As Will travels the subways, he recalls stories his grandfather told him about an underground city beside the Musaquantas River, and, in fact, he finds a whole city beneath the streets when he follows a homeless woman named "Heather Covington" through the tunnels and into a "room" beneath a grate on the street.  There he tries, unsuccessfully, to connect with her.  He fixates on his former "love," Emily, who has good reason to want to avoid him.
Wray writes an intense and moving novel which moves inexorably to its conclusion, one which even the most hopeful reader knows is inevitable.  Will's eight-hour decline into obvious psychosis is reflected gradually through Wray's prose style, becoming more and more fragmented, lacking in punctuation and transitions, and less and less predictable.  Will's relationships with his therapist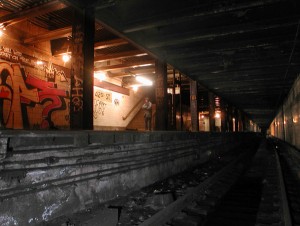 and his teachers, with his mother, with Emily, and with a prostitute who shows up when he leaves the subway all confirm his inability to deal with the real world, yet the reader cares for him, and hopes for him, despite his increasingly distorted "logic" and the reader's own inability to know how much to believe and how much may be hallucination.
The power of the novel increases exponentially as Will comes closer and closer to violence, however much he may desire to remain in control.  Carefully researched (and actually written while the author rode the subway every day), John Wray's Lowboy is another milestone for Wray, a finely structured, beautifully composed novel of extreme psychological illness presented in a way which will touch the hearts of all readers.  (On my Favorites List for 2009)
Notes: The author's photo by Christina Paige is from http://www.esquire.com/features/best-and-brightest-2008/john-wray-1208
Steve Duncan on Heyoka Magazine, has a series of stunning photos of the New York subway system and underground tunnels.  The photo here shows the abandoned 42nd St. lower level station. http://www.heyokamagazine.com. See also the photos on http://www.undercity.org/.
The area beneath a subway grate plays a role in the opening of this novel.  Photo by Jack Lakey of the Toronto Star.  http://www.thestar.com