Note: Jon McGregor was WINNER of the IMPAC Dublin Award for EVEN THE DOGS (2012), at age thirty-six. He is also WINNER of the Costa Award for 2017 for this novel, the Somerset Maugham Prize, and the Betty Trask Award.
"The missing girl's name was Rebecca Shaw. When last seen she'd been wearing a white hooded top. A mist hung low across the moor and the ground was frozen hard. [Searchers] were given instructions and then they moved off, their boots crunching on the stiffened ground and their tracks fading behind them as the heather sprang back into shape. She was five feet tall, with dark blond hair. She had been missing for hours."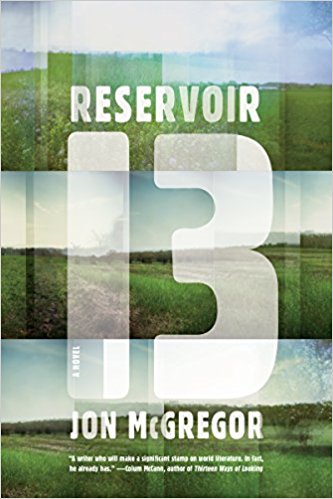 On a New Year's Eve in rural England, one would expect the cold to keep most people inside doing their celebrating, but Becky Shaw, a thirteen-year-old whose family has come to town for the holiday, has decided to go out. Leaving one of the "barn conversions" in the village, where she is staying, she suddenly vanishes. At dusk, her family comes running into town, shouting for help, and by the time the New Year is ushered in, a helicopter has been out searching for hours. The mountain-rescue teams, the cave teams, much of the village, and the police have found nothing, and a "thick band of rain [i]s coming in." No one stands outside to watch the fireworks going up from nearby towns, and on the moor "there are flags [already] marking where the parents said they'd walked." Divers are already searching the nearby reservoirs, and journalists and television crews have arrived. Within a week "the first snowdrops emerged along the verges past the cricket ground, though it seemed winter yet had a way to go." No trace of Becky Shaw has been found.
With this dramatic opening, British/Bermudian author Jon McGregor paves the way for his primary story – the more internal, domestic activity which accompanies the search for Becky Shaw. The whole town is involved in trying to find her, but as time passes without any clues, her disappearance gradually becomes a backstory to the life which continues within the community, a story which features many characters each of whom is trying to make a living and find happiness, despite sometimes ominous odds. The vicar asks the police to keep the media away from the special service that she plans to hold for Becky and the community, reminding parishioners that there is really no comfort for anyone directly affected by the disappearance, that the goal of the service is instead to allow them to be uplifted by faith and enabled to help Becky's family. The longer Becky is missing, the more involved the community becomes in their own lives. The local school children, Becky's age, react as thirteen-year-olds might be expected to act, thinking first about their own needs and regarding Becky's disappearance as a sad "story," not quite real.
Month by month, the investigation proceeds, including reconstructions with actors, a search for a red LDV Pilot van, and continued general searches, to no avail. Gradually, the townspeople return to their own problems. The owner of the van, once discovered, has a shady background, leading some to fear that he might be connected with big crime, and that any statements they make regarding the van's owner might leave them subject to serious reprisals. Several people see Becky in dreams. Her father is constantly searching for her, and her mother is out walking the moors regularly, until the father decides to return to London, while the mother remains in the village. Some of the teenagers themselves decide one night to do their own search inside a mine, only to get lost on the way out and arrive home very late, to the fury of their frightened parents.
Nature and the life of a farm community become the major focus of the novel, as the lambing season gets underway and the cattle is taken out to pasture. Everyday life has its demands and responsibilities, and everyday observations are included in paragraphs which casually juxtapose ominous notes about characters against the ordinary: "Dawn was a way off yet, and wet when it arrived. Jackson had a stroke and was taken to the hospital and for weeks it was assumed he wouldn't be coming home." Strokes, of course, are also part of life, not even deserving a separate paragraph here. Still, each year on New Year's Eve, Becky's plight surges back into the community's consciousness, as everyone speculates about what she would look like, where she may have been, whether or not she is still alive, and even whether anyone in town might be holding secrets.
Love stories blossom: Sally Fletcher, married to Brian Fletcher, finds herself drawn to National Park Ranger Graham Thorpe after a "butterfly safari" on which she is the only participant. A couple, long barren, suddenly find themselves pregnant with twins, their care eventually creating personal problems regarding the mother's work at the BBC. A local man, long absent from the community, returns to spend some time with his mother and wants to reconnect with his girlfriend from high school, now a widow. One couple separates, moves, then reconnects. Another woman returns to live with her brother, hiding from the world, for unknown reasons. A new resident arrives with mysteries accompanying her, vague about where she is from and why she is moving in during the winter. One boy confesses to his parents that he knew Becky Shaw much better than anyone suspected. In the midst of events like these, a white top with hood, identical to what Becky was wearing when she disappeared, is found "in a clough on the top of the moor."
Glorious descriptions of nature provide both irony and context for the lives of the characters here, as McGregor refuses to elevate humans and their lives above animals and their instincts. All animal life, he shows, is subject to unpredictable forces of nature, and no real symbolism is seen in his choice of animal imagery. American readers of this review will note that the buzzards mentioned several times here are quite different from those death-seekers with which we are familiar, resembling the red-tailed hawk more than the vulture-like creatures of the American west, and McGregor does not single them out as symbols any more than he does the pretty, little fieldfare, a bird resembling a more colorful sparrow. The badger has its own community, its sett, which may not be very different on the surface from any other small community including the town in which this action takes place. We are all connected, McGregor asserts. Some of us are just luckier than others. Sensitive and filled with the magnificence of nature, Reservoir 13 puts humans in their place within the animal kingdom while also showing how love can make our lives more bearable.
Photos, in order:  The author's photo is from https://alchetron.com/
A pair of nesting buzzards is an image of renewal during one spring.  http://www.davidchapman.org.uk/
The little fieldfare plays its own role in the imagery here.  http://www.discoverwildlife.com
The badger in its sett lives a communal life and is featured in several scenes here.  http://www.davidchapman.org.uk/
An elixir made from rosehips is supposed to protect from colds during the winter due to its richness in Vitamin C. http://www.whatdadcooked.com
RESERVOIR 13

REVIEW. Bermuda, England, Literary, Social and Political Issues

Written by: Jon McGregor

Published by: Catapult

Date Published: 10/03/2017

ISBN: 978-1936787708

Available in: Ebook Paperback