Exhausting!
Do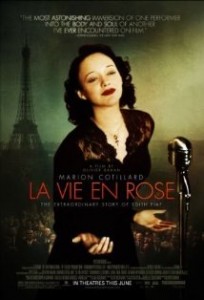 n't plan to see this film and then go out for a lively night on the town. You will be so spent after the one hundred forty-one minutes of this gut-wrenching film that when the lights come on at the end, you'll need a minute to figure out where you are, and then additional downtime to process all you've seen. Days later, you'll still be thinking about this slice of life–and Edith Piaf.
Piaf's story is well known to her long-time fans–brought up in a brothel, wrested from the only life she knew by her father so they could join the circus, her teen years on the streets, her "rescue" by a crime figure who gave her the start to her career, and, ultimately, her international success and final illness. She was always frail, sickly, malnourished, and wildly temperamental. She was often on drugs or alcohol, and she was always in search of true love (not finding it till late in her life). All this is depicted here with its horrors and its rare moments of tenderness, the cinematography (Tetsuo Nagata) so brilliant that the realistic, dark settings invite the reader's emotional entry into them and exploration of them.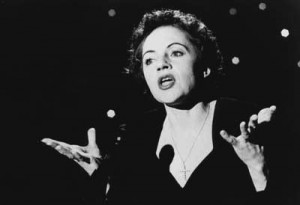 Marion Cotillard becomes Piaf, a physical likeness that is uncanny in its realism (one wonders if she can ever play another part without conjuring up Piaf's image), and her emotional connection to Piaf's music is total. Her song performances are absolutely flawless, as are her gestures, and the only clue that she is lip-synching is the unmistakable Piaf voice the emerges from her mouth. Louis Leplee (Gerard Depardieu) as the nightclub owner whose murder by organized crime draws Edith in for questioning, shows the genuine care he has for Edith and the tough face of a man who has seen and done it all.
Marcel Cerdan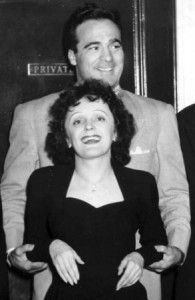 , the middleweight boxer who captures her heart (Jean-Pierre Martins), gives her something to live for, besides her music–at least for a while–and it is genuinely affecting here to see how earthy and unaffected he is in her presence. The supporting actors, all French, are outstanding, and few viewers will forget Emmanuelle Seigner, playing prostitute Titine, who cared for Edith as a child.
The film belongs to Cotillard, however, and all aspects of the film, from the brilliant writing of Olivier Dahan (who also directed) and Isabelle Sobelman, to film editing (especially the lip-synching to Piaf's songs), and the sets, costuming, and makeup, are designed to enhance her performance. The film follows no chronology, jumping from her childhood to her old age and then to some of the high points of her career, creating an impressionistic film of some of the signal moments in her life. It is difficult to imagine any biopic that will ever come close to this one in its power, but then, again, it's difficult to imagine any singer who will ever capture the world's imagination in quite the way that Piaf did.
Notes: The photo of Piaf comes from http://idastrondheim.blogspot.com
The photo of Piaf with Marcel Cerdan is from http://arindabo.blogspot.com