Note: This novel was WINNER of the Crime Writers' Association International Dagger Award for 2017, WINNER of the Glass Key Award for Best Scandinavian Crime Novel, WINNER of the Danish Academy of Crime Writers' Palle Rosenkrantz Prize, and NAMED Best Crime Novel of the Year by both the Swedish Academy of Crime Writers and the Finnish Academy of Crime Writers.
"In his prime, Lars Martin Johansson was known among his colleagues as 'the man who could see around corners,' as well as a walking encyclopaedia when it came to violent crime….He also had an uncanny ability to remember numbers and was often able to recall the case numbers of the investigation a colleague in need was looking for. Now something had happened inside his head…and he was unable to remember the murder of Yasmine, apparently only nine years old when she was raped and strangled…."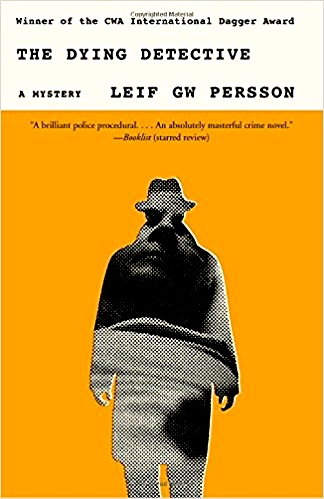 Few other recent mystery thrillers have accumulated anything like the number of prizes and awards as The Dying Detective by Swedish author Leif GW Persson, a former adviser to the Swedish Ministry of Justice, a renowned psychological profiler, and currently a professor at the Swedish National Police Board. This novel, recently released in English, attests not only to Persson's knowledge of criminal behavior and criminal justice, but also to his ability to create intriguing but decidedly "normal" characters and show them in situations which challenge all their abilities. By using characters who are not exotic, however clever and talented they may be in their knowledge of police procedure, Persson allows the reader to identify with them in a series of conundrums which continue without letup for the entire novel as the main character and his associates try to catch a terrible killer. The author obviously recognizes that many horrific, bloody crimes do occur and that many good people are hurt or killed, but he does not describe events likely to horrify the reader with their violence or to ratchet up the fear and suspense for its own sake. His plots and his characters are tough. They make mistakes, and the reader will often become angry with them for their flawed decisions and their easy reliance on bureaucracy to delay or justify decisions they may not want to make, but even the worst of the worst characters here feel more human than many of the characters in over-the-top thrillers by Jo Nesbo and Henning Mankell.
As the novel opens, Persson's main character, Lars Martin Johansson, recently retired, has just ordered a high-fat, high-calorie meal at a favorite local hot-dog kiosk, when suddenly he feels that "someone must have driven an ice-pick into the back of his neck. No rumbling forewarning of an ordinary headache, but a sharp, searing pain that tore through the back of his head…Then nothing but darkness and silence." When he regains consciousness in the hospital, two days later, he finds that his right hand and arm are numb, and that he has had a stroke. His young neurologist, Dr. Ulrika Stenholm, tells him that though his stroke may be one health problem, his real problem is his heart, and that he will need medications and a complete change of lifestyle to survive – he must lose weight, eat less, avoid stress, and start exercising, all behaviors alien to Johansson.
While Stenholm and Johansson are talking, she asks him some questions about the past – twenty-five years ago – revealing in conversation that her father was a vicar and her older sister a prosecutor who always considered Johansson her idol. Her father has died recently, and near the end of his life, he revealed something that had tormented him for over twenty years. One of his elderly parishioners had confessed back then that she knew the identity of the person who had raped and murdered a little neighbor girl, age nine, named Yasmine Ermegan.  As a clergyman, her father was unable to reveal any of this to the police or anyone else. The murder, in 1985, now twenty-five years later, has just reached the end of the statute of limitations, and though the law has been changed for later cases, the murderer of Yasmine will always be beyond trial, even if the murderer can be identified.
As Johannson recuperates and investigates this cold case, it is put into context in time and place, noting the reasons that it was not investigated seriously or for long.  When he asks Ulrika Stenholm if her father left any papers behind, she offers to bring them to him, and he gets started on the case. He soon learns that his best friend, Bo Jarnebring, worked on that investigation, and that the officer in charge of the case, Evert Backstrom, was, according to Jarnebring, a "cretinous moron" who messed it up. Gradually, officials from all the different police departments and boards which investigated the death of Yasmine twenty-five years ago connect with Johansson, some on their own and on their own time, at the same time that Yasmine's family and her neighbors are also re-investigated. Details of the crime and the evidence, both existing and new, slowly emerge. A red VW Golf was seen in the area where Yasmine lived, but its owner was never identified. The exact place of the murder was unknown, and the relationships, many of them overlapping, among Yasmine's family, neighbors, friends, and employees quickly expand the reader's interest in the case and dramatically increase its complexity. New evidence is uncovered, even as overlaps also occur among Johansson, his family and friends, and their relationships.
This is the best organized and developed mystery novel I have read in years. It is complex enough that I found it helpful to create a character list, but each character has a clear place in the action, which develops in meticulous order. Persson is careful to include identification clues for the reader, as these characters reappear, and he is particularly good at distributing character sketches and summaries which reveal additional information about some of these characters throughout the novel. The image of an intricate puzzle, though trite, is unavoidable, as Persson adds little piece to little piece, developing and filling in the story of Yasmine and her murder, along with the people in her life who have survived her. No detail is too small to be important here, and all are tied up and connected, eventually. The conclusion is a classic, resolving some of the questions still left with only three pages to go, while also, importantly, leaving some questions without direct answers. Persson trusts that his readers have paid attention. The final scene is not open to question if that is the case.
Photos.  The author's photo appears on https://sv.stories.newsner.com
The police headquarters in Stockholm, now replaced, are from:  http://www.gpsmycity.com/
A VW Golf was seen in the neighborhood where Yasmine was killed, and it was never identified at the time of the killing.  http://www.autocarbase.com/
A Monchichi hair grip, discovered in the modern investigation, offered some clues about the killing.  https://www.pinterest.co.uk/crazymariamlr/fuzzy-wuzzy-monchichi/
THE DYING DETECTIVE

REVIEW. PHOTOS. Mystery, Thriller, Noir, Nordic Noir, Psychological study, Social and Political Issues, Sweden

Written by: Leif GW Persson

Published by: Vintage Crime, Black Lizard

Date Published: 04/17/2018

ISBN: 978-0307950369

Available in: Ebook Paperback Hardcover