Note:  Author Lily King is WINNER of the Kirkus Prize for Fiction, WINNER of the National Book Critics Circle Award, and twice WINNER of the New England Book Award for Fiction.
"I have never understood why a person who is not a genius bothers with art.  What's the point?  You'll never have the satisfaction of having created something indispensable.  You've got your little scenes, your pretty images, but that desperate exhilaration of blowing past all the fixed boundaries of art, of life – that will forever elude you." – from "The Man at the Door."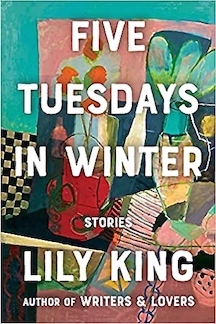 Author Lily King, a widely honored author of novels, has just published her first collection of stories, Five Tuesdays in Winter, and what a collection it is.  Filled with references to famous writers and their writing, the collection also features the writing of her own characters, such as a young teen writing diary entries and imagining life events, and a young mother trying to find time to examine life and write while taking care of a toddler. Throughout, King herself conveys the urgency of creation through stories so intense and so genuine that this book makes her own creations "blow past all the fixed boundaries of art – of life."  There is an intimacy to her stories which brings them to life in new ways, whether they be stories featuring a teenage babysitter, a shy older man who begins to experience real love for the first time, an attentive mother spoiling her selfish daughter, or characters both gay and straight as they realize who they are.  Some characters here are disturbed, some are fun-loving, and at least one is a ghost, but virtually all the main characters are appealing as they deal with life's twists and turns, and Lily King allows the reader to connect with them all.
Fans of the author will recognize settings, characters, and themes which sometimes dominate her novels.  Many of the settings are the homes of wealthy people, some of whom have serious problems with alcohol and the inability to understand that there is a larger world of which they are only a small part.  Parents are often absent from children.  A comfortable life inherited by children of successful parents leads some of them to take for granted the whole concept of "privilege" and to be naive to the real world. Carol, the main character of the opening story, "Creature," is a fourteen-year-old babysitter for friends at Widow's Point, a summer resort in southern Massachusetts, near Buzzards Bay.  For the two weeks she is there, she will have her own room in a turret in the stone mansion which the Pike family enjoys in the summer.  When she is not busy with the children, she has time to write to her friend Gina, telling real and imagined stories about the family and about her reactions to them.  Carol is especially drawn to Hugh, a young man married less than a year ago and visiting his family while Carol is there.  Hugh's wife, whom the family calls "Molly Bloom," from Ulysses, soon reveals that she is unsatisfied in her brief marriage and wants to end it.  Later, When Hugh reads some of Carol's private writings, in which she imagines making love with Hugh, the whole babysitting experience changes.
"When in the Dordogne," is unique, in that the main character is a teenage boy, about to enter ninth grade, whose parents are going to be gone for the summer while the father recovers from a nervous breakdown and alcoholism.  The family hires two male high school sophomores to house-sit and take care of their "martini baby" son, conceived when the father was fifty-one and mother aged forty-seven.  The boy-guardians are busy, as both have part-time jobs, in addition to being a companion for the speaker.  The action turns on the fact that these boys, Grant and Ed, are hard-working boys from hard-working families, taking care of the young teen child of a wealthy family who is naive about the real world.  This boy has belonged to a private club for his whole life and has attended private schools, but his companions have not.  They don't understand the rule requiring white dress on the private tennis courts.  In addition, they have always played basketball in public parks, a very different game.  All this, and a growing friendship with a local girl, a counselor at a nearby camp,  become part of the action in this sensitive story in which the young teen grows emotionally over the summer and comes to understand some of the elements of true friendship.
"The Man at the Door" focuses on a young mother who has written three books, all of them still private and never submitted for publication because she believes that they are not good enough.  She has not written anything lately, but suddenly on this day, she writes a sentence that she likes, and without warning, other sentences begin to come to her in its wake.  She is interrupted in her writing when someone comes to the door, claiming to work for a publishing house.  He wants to talk with her about her novel, a book that is still in her notebook in the kitchen.  Before he does, however, he wants a gin martini.  Confused because no one else knows about her book project, the woman becomes even more confused when she notices that the copyright date of her book is two years hence. Ignoring her objections, the man uses his red pen on virtually everything in the book.  The man is insulting about female writers, referring to their books as "fairy tales written by hound-faced spinsters who never got asked to dance."  Throughout the visit, which she seems helpless to end, even as the markups on her manuscripts become more and more difficult to read, her uninvited critic continues to drink, until the mother/writer has had enough and acts.
For those who enjoy books which reveal an author's thoughts and attitudes toward her own writing, this collection is a gem.  Fun to read, thoughtful without being ponderous, and filled with contrasts between social groups and the stifling attitudes which often prevail within them, Lily King has created a gem.  More daring with some of its depictions of physical love than what is found in the average novel, this collection gives further proof that Lily King is in charge of her writing and her characters and that she has gained, without question, "the satisfaction of having created something indispensable….[achieving] that desperate exhilaration of blowing past all fixed boundaries of art, of life."
Photos.  The photo of the Whaling Museum in New Bedford, MA, appears on https://en.tripadvisor.com
The club tennis players are from https://www.masterfile.com
More information on Deilah Smith's painting of "Martini and Books," may be found on https://pixels.com
Lily King's photo appears on https://www.byrneholics.com
 

FIVE TUESDAYS IN WINTER

REVIEW. PHOTOS. Book Club Suggestions, Coming-of-Age, Literary, Short Stories, United States, US Regional

Written by: Lily King

Published by: Grove Press

Date Published: 11/09/2021

ISBN: 978-0802158765

Available in: Ebook Hardcover