Note: Mario Vargas Llosa was WINNER of the Nobel Prize for Literature in 2010.
"They kill our fathers, our brothers, our friends. And now they're killing our women. And here we sit, resigned, waiting our turn."
In prose whic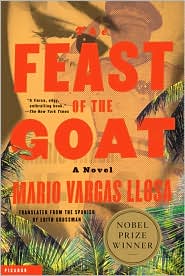 h is dense, dramatic, and saturated with images of violence of all kinds, Vargas Llosa reconstructs the final, tumultuous years of Rafael Trujillo's despotism in the Dominican Republic.
Using three points of view to give breadth to the portrait of the country in 1961, the author cycles the chapters through three distinct viewpoints: that of Urania Cabral, a contemporary 49-year-old woman who has returned to the Dominican Republic for the first time in 35 years, and who shares her reminiscences of her life there in 1961, when her father was President of the Senate; that of Trujillo himself as he reflects on his declining health, his 31 years in power, and his relationships with subordinates, the church, and the U.S.; and that of four conspirators waiting to ambush and assassinate "The Goat," as they individually recall the events which have driven them to take this final step.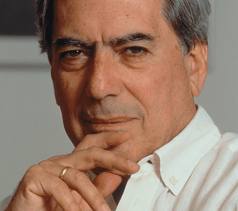 The heavily masculine atmosphere, redolent of whiskey and sex, and full of dramatic scenes of intrigue, sudden violence, graphically depicted torture, and casual murder, reflects the realities of life under Trujillo–nothing is gratuitous or irrelevant, however ugly it may be. In fact, the book's only "soft" feelings are elicited by Urania's story and her long-term rejection of her father after his betrayal of her, thirty-five years ago, when she was fourteen. While this is the least "important," and perhaps least effective, of the story lines, it gives a necessary feminine perspective on the violence and on Trujillo's government, and it keeps the reader from becoming overwhelmed by the sheer weight of the violence in the other stories.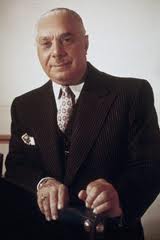 The scope of this novel is large, and it is well worth the reader's effort to concentrate, during the first hundred pages, on the large cast of characters and their interrelationships. All these characters are integral to the final outcome, and as they rotate among the three story lines, the reader benefits from increasingly broader and more subtle portraits which emerge from the new points of view, making the conclusion and the political aftermath of the assassination especially intriguing. This is a beautifully developed novel of power and its excesses, presented lucidly and unambiguously. I was stunned by its power.
ALSO reviewed here:  Vargas Llosa's THE BAD GIRL,     THE DREAM OF THE CELT, DEATH IN THE ANDES, THE DISCREET HERO

The author's photo appears in http://www.jacktimes.com
The photograph of Rafael Trujillo is from http://mopupduty.com