Note:  Author Maryse Condé was WINNER of the Alternative Nobel Prize for Literature for 2018, also known as the New Academy Prize.  This prize was granted by an independent group after the Nobel Prize Committee was unable to select a winner that year due to its internal conflicts.
"The life that you are about to embark on, and from which you will not get out alive, is not a bowl of arrowroot.  Some even call it wicked…But who cares!  I'll grab a pillow of clouds that I'll put under your heads and I'll fill them with dreams." –  Simone Némélé, new mother of twins.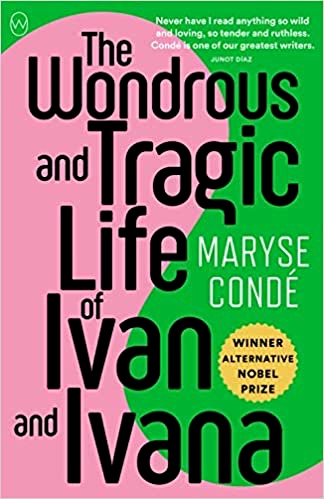 Giving birth alone in Guadeloupe after her lover, Lansana Diarra, returned to his home in Mali, Simone Némélé waited in vain for the ticket he had promised to send her so that she and their newborn twins, Ivan and Ivana, could join him in Mali.  Poor, but with a supportive family, Simone works in the sugarcane fields, but she tries hard to ensure that her children will have an education and be able to pursue their own interests during their lives.  Though they are very different in personality, Ivan and Ivana dearly love each other – to the point of having incestuous feelings which they have to fight constantly – but as they grow up, responding to the political and philosophical movements to which they are exposed, they begin to move in different directions.  As author Maryse Condé tells their stories, she creates two young people and their friends who feel real to the reader – characters who have many unique personal characteristics – but she clearly wants to tell a bigger story than a simple family saga set in exotic parts of the world.  Here Ivan and Ivana ultimately become examples of a broader population of twenty-first century youth who must deal with displacement, racial and gender issues, and political and social issues.  Some disaffected youth, as we see here, are often open to radicalization to solve social problems, while some others remain open to change and are willing to help bring it about through more peaceful means.
From the outset, Ivan and Ivana are in many ways opposites.  Ivana, a dreamer and romantic, loves nature, and everyone adores her, a student at the top of her class.  Ivan, named for the Ivan who was Czar of all the Russias, is called a "hoodlum," and by his teen years he is stealing and pilfering.  An activist school teacher begins to "plant strange ideas" into Ivan's head, inspiring the Deputy Mayor to warn Simone about him, and she sets out to find Ivan a job to keep him busy.  It is not enough.  Soon afterward Ivan, in a rage, leaves a male friend of Ivana so badly stabbed on the beach that he is barely alive.  Ivan is sentenced to two years imprisonment, during which time he is exposed to more radical ideas.  As their lives become more fraught, Ivan and Ivana plan to leave Guadeloupe for Paris. Then, unexpectedly, two tickets from Mali arrive at the house for Ivan and Ivana, and they take off to stay with their father.
From this point on, the action picks up dramatically, as Ivan becomes a member of the militia in Mali.  When Madiou, "El Cobra," becomes chief of the national militia, he chooses Ivan for the most dangerous and singular missions.  While Ivana loves her work at an orphanage where she takes care of twenty children, Ivan is ready to leave.  A new terrorist attack which kills thirty men, women, and children, leads to the arrest of Ivan's only friend, and El Cobra insists that Ivan be intimately involved in claiming the friend's body after he watches his friend being been tortured to death. A trip to Timbuktu for a concert involving Lansana, Ivan's father, leads to another disaster, and Ivan ends up running for his life as he tries to get out of Mali and into France. 
Ivan becomes even more radicalized in France. While Ivana is chosen for the municipal police force, Ivan decides not to work in the chocolate factory where he was supposed to work, instead becoming involved in drug sales and gambling.  Eventually, he is chosen by jihadists to participate in a particularly dangerous, large-scale attack.  Ivan and Ivana meet during this event, and as the two opposite sides contend with each other, there can be no compromise. 
Filled with many characters, changing locations, and the gradual radicalization of Ivan, the first half of the book moves slowly, but once the characters get to Mali the action picks up.  The author was apparently aware of this difficulty, as she inserts herself into the narrative unexpectedly with messages to the reader on several occasions.  At one point, for example, she comments that the reader might be wondering why so much time is being spent on the life of Ivan, instead of Ivana, then corrects that by adding a section on Ivana.  At another point, she comments that a new chapter of the book is not reliable because there is no proof of what really happened – that someone has died but how is not certain, listing all the possibilities but no conclusions.
Author of fourteen novels and many plays, Maryse Condé is a feminist and a self-described radical activist, but as her characters' deal with major social issues, there is no sense that the author is being propagandistic or pushing an agenda.  Instead, she depicts, through the lives of her characters, some of the movements in which she herself may have participated (or not) during her teaching career in Guinea, Ghana, Senegal, Paris, and the US, providing great realism for the reader.  Her insights into some of the forces at work in Mali, after Ivan and Ivana finish school and go there to live with their father, make Mali's political situation come alive.  The conclusion of the book, in which issues of immigration and religious extremism overlap in Paris, is particularly powerful, as a jihadist attack draws in all the characters and permanently affects them and their families.  The Epilogue gives the author's commentary on the book:  "We have done the best we can and have verified the exactitude of the facts down to the slightest detail."   Ultimately, she addresses the love between the brother and sister, declaring "Love is pureness of the heart which does not necessarily imply physical consummation.  We have decided not to change a single word of [the] story.  You can take it or leave it."
Photos.  The statue of marine biologist Jacques Cousteau, an underwater site, is from https://kineticsail.com
The Mosque of Djenné in Timbuktu is the largest mud building in the world.  https://www.trover.com
Ivan was not interested in the job he had as a chocolate maker and quickly found something else, much riskier and more profitable for  him.  https://www.funkidslive.com
The author's photo may be found on https://repeatingislands.com
THE WONDROUS AND TRAGIC LIFE OF IVAN AND IVANA

REVIEW. PHOTOS. Coming-of-age, France, Guadeloupe, Literary, Mali, Social and Political Issues

Written by: Maryse Conde

Published by: World Editions

Date Published: 05/05/2020

ISBN: 978-1642860696

Available in: Ebook Paperback