"Wealding [was] the perfect village in aspic, at the sight of which motorists applied their brakes, artists happily set up easels, cyclists dismounted and purchased picture postcards to send to their little nieces….Its perfect peace was, [however], a sham."

In much the same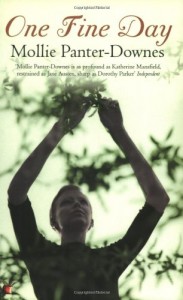 way that Virginia Woolf focuses on one day in the life of Mrs. Dalloway, in the aftermath of World War I, to show the dramatic changes in everyday British life as a result of the war, author Mollie Panter-Downes shows the equally dramatic changes which have occurred in Wealding, near Portsmouth in the south of England, in 1946, in the aftermath of World War II.   Panter-Downes lived in the picturesque village of Haslemere, and she uses her own experience to create sensitive, often unique, images about everyday life in her town (which becomes Wealding).  Here she creates a vibrant portrait of ordinary people coping, or not coping, with a whole new way of life.  In lush, often musical prose, she appeals to the reader's senses, as well as the heart, as the Marshall family–wife Laura, husband Stephen, and daughter Victoria–go about their business in a world which no longer resembles anything they have known before. The village, the author tells us, "had very slightly curdled and changed colour."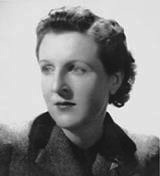 Laura Marshall, a relaxed woman who lives every moment, has found herself with a large house and virtually no staff to help her run it.  The young women from the village, who went to the cities to work in factories during the war, prefer their lives there, and Laura has been trying unsuccessfully to care for the house herself.  Husband Stephen, a neat, conscientious, and uptight man, who had prized his roses and their carefully manicured grounds, has been away at war for seven years and has just returned to a place he hardly recognizes, a house which is "slowly giving up" and a garden so overgrown "it seems almost to bear a grudge."   Working in London, Stephen is gone most of the day, and Laura worries that "Ulysses has returned to a Penelope grown boring, commonplace, grey."
After Stephen goes to work and daughter Victoria goes to school, Laura begins her day, visiting people she knows, reminiscing about Philip Drayton, whom she once almost married; and visiting the Cranmers, the family which owned the largest estate in the village.  They have decided to move into a new apartment in the stable of their former house while the house is used for a holiday hotel and an agricultural training school for boys.  She remembers the sewing circles at the Cranmers' house; visits people who have lost sons, wives, and husbands during the war; and contemplates a visit from her own impossibly demanding and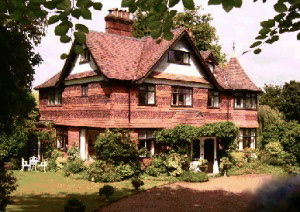 aristocratic mother.  Eventually she climbs Barrow Downs on this beautiful day so she can survey the village from a height, coming to new conclusions about her own life, her family, and the new direction she will take when she returns.  Ironically, Stephen, on his way home, is also contemplating changes in his own life.
If the novel sounds as if nothing happens, that is correct as far as a "plot" is concerned, but Panter-Downes renders the little, "unimportant" events in the lives of Laura and her family so sensitively, and she reveals the feelings and the nature of real people dealing with real changes so vibrantly, that the images and characters leap off the page and stick permanently in the reader's own memory.  Capturing the small details through which all people remember the past and, one hopes, prepare for a future, the author involves the reader completely in one ordinary day from 1946, the success of her novel a testament to the universality of her themes and the ability of human beings to adapt to changes over which they have little control.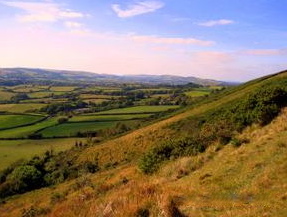 The profound honesty and psychological realism of her characters make them "modern," even though they "lived" over sixty years ago, and the author's own awareness of the "world writ small" makes this novel with its unique images and descriptions one to savor.  Not just a memento of a time gone by, One Fine Day fills post-war England with living, breathing characters, as relevant to the present as they must have been sixty years ago when this novel was first published.  Virago Press has done literature an enormous service by reprinting this almost-forgotten novel by one of the great observers of post-war England.
Photos: The house in Haslemere, depicted here, which might have been similar to that of Laura Marshall, is actually a B and B:  www.haslemere.org.uk
Barrow Downs, which features in the novel's most important scenes, is a favorite of hikers and may be found here:  www.ukholidays.org