"Tell me the truth," I said.
 "What truth?" he echoed.  He was making a rapid sketch
in his notebook and now he showed me what it was: a long,
long train with a big cloud of black smoke swirling over it,
and himself leaning out of a window to wave a handkerchief.
    I shot him between the eyes. – Opening lines of this book.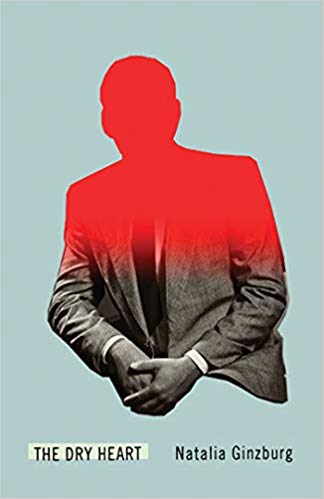 When she died in 1991 at the age of seventy-five, Italian author Natalia Ginzburg was described in her New York Times obituary as "an author commonly ranked with Umberto Eco as one of Italy's most important writers of fiction."  Few English-speaking readers will recognize her name, however, despite the fact that she was published from an early age by Italian publisher Giulio Einaudi, who was also the publisher of Italo Calvino, Cesare Pavese, Primo Levi and other world famous Italian authors.  Now two of Ginzburg's works, The Dry Heart, originally published in 1947, when she was thirty-one, and Happiness, As Such (originally entitled Caro Michele), published in 1973, have just been reprinted in English by New Directions Publishing, giving American readers a new opportunity to experience the fine, understated writing of this neglected author. 
The Dry Heart shows little trace of the agonies which Ginzburg must have faced in her personal life in the years immediately preceding the book's publication.  During World War II, she had escaped military arrest and imprisonment by using a pen name while she and her husband ran an anti-Fascist newspaper. Her husband, however, was arrested and tortured to death in 1944, leaving her to care for their three children. In The Dry Heart, her first novel after the war, she shows no resentments, however.  Instead she deals with the "world writ small" telling the story of the marriage of an uncommunicative and unnamed woman married to an even more uncommunicative man.  Less than a hundred words after the novel opens, the conclusion is revealed:  "I shot him between the eyes," a statement of great drama because of the context's lack of drama.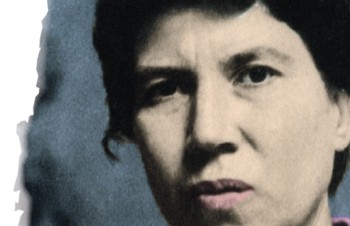 Using the woman's point of view, the author carefully shifts back and forth in time, illustrating what happens, and more importantly, what often does not happen, in this marriage.  Matching her realistic style to the undramatic nature of the marriage, Ginzburg slowly builds the tensions, eventually revealing everything the reader needs to know about the past which will explain the bold admission of murder in the first few words.   On the night of the murder, the woman's husband Alberto had asked her to give him something hot to take on a trip, and she had dutifully made tea with milk and sugar, taking it back to his study.  When he shows her the sketch he has been working on, however, she shoots him with the revolver from his desk drawer: "For a long time already I had known that sooner or later I should do something of the sort."  Unperturbed, she puts on her raincoat and gloves, goes out, drinks a cup of coffee at a cafe, and walks "haphazardly" throughout the city.  The couple had been married for four years, and he had threatened to leave her many times, but they had never officially ended the relationship until she ended it with murder.
Sitting on a bench in the deserted park, the woman reviews her marriage, knowing that if she goes to the police, she will have to go back to the beginning of their relationship to explain the circumstances leading up to the murder. Instead she reviews it for herself – and the reader. Daughter of a country doctor, the woman is a twenty-six-year-old teacher from Maona, who has been introduced to forty-year-old Alberto at the home of a doctor she knows in Rome, where she is living.  She is attracted to Alberto's "gay and sparkling" eyes, and she begins to think he is attracted to her, but she has no romantic interest in him, thinking instead that she might meet someone she really likes through him if they become friends.  While she shares her feelings throughout their contacts with each other, Alberto shares nothing, saying only that he lives with his mother, who is "old and failing."  Summer vacation arrives, and the woman returns to the country to stay with her family.  He does not write to her, except for a single postcard, but when she returns to the city at the end of summer, she is still expecting Alberto to visit.  Obsessed with the uncertainty after several days, she consoles herself by imagining a relationship, and when Alberto does finally see her, "I looked at him and tried to recognize in this little man with the curly black hair the cause of all my anguish and torment.  I felt cold and humiliated by his failure to call or to stop by."  Still, she soon convinces herself that she is in love with him, and confesses that to him.  He never says that he loves her in return, though they do marry.
Alberto lies continuously during their marriage, and a month after they marry, he disappears for ten days, insisting, upon his return, that he has been alone.  A few months later, he disappears again, and again, and again, each time for a couple of weeks, while his wife keeps herself functioning during his absences during those the months, and eventually years, by reminding herself of his declaration, not of love, but that "You're all I've got.  Just remember that." Eventually, however, these words "lost their sweetness, like a prune stone that has been sucked too long." Ultimately, it is one of Alberto's friends who tells her about a woman with whom Alberto has been having an affair, off and on for over ten years.  Still the wife refuses to give up on the marriage, and even on the day of Alberto's death, she is still serving him his tea.
The novella, which benefits from being read in one sitting, feels "ordinary" and familiar in terms of its characters as they deal with their stories of frustrated love, however extreme their behavior, and those who enjoy carefully crafted, often subtle, and deliberate writing will especially enjoy the pacing of this novel and its structure.  Though none of the critics I have read have suggested any satire here, I cannot help but wonder how much of this novella may be slyly satiric, especially considering the commitment of the author to freedom from Fascism during World War II.  Here a decidedly unliberated female finally takes action against a husband who has betrayed her for four years, deciding murder is the only answer. The control the author exerts over the pacing and atmosphere is deliberate, and the ultimate outcome for the wife is never stated outright, though the unstated ultimate result is clear. 
ALSO by Ginzburg:  HAPPINESS, AS SUCH   and   VOICES IN THE EVENING
Photos.  The author's photo appears on https://www.pinterest.com/
The female speaker grew up in a rural hill town, Maona, perhaps similar to this one:  https://www.alamy.com/
Throughout the novel, characters refer to the Duino Elegies by Rainer Maria Rilke.  This edition is part of by the European Poetry Classics series by Northwestern University.  http://www.nupress.northwestern.edu/
THE DRY HEART

REVIEW. PHOTOS. Historical, Italy, Literary, Psychological study, Social and Political Issues

Written by: Natalia Ginzburg

Published by: New Directions.

Date Published: 06/25/2019

ISBN: 978-0811228787

Available in: Ebook Paperback