"I don't know if you know the meaning of the word 'agley,' but that is the way things have ganged."
With this play on line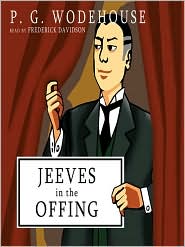 s from Robert Burns, Bertie Wooster, the aristocratic and dithery protagonist of P. G. Wodehouse's "Jeeves" novels, expresses his dismay at the way matters of love and quiet country life have "ganged" since his arrival at his aunt Dahlia's country estate. Shortly after his arrival, he is surprised to read in the newspaper that Roberta "Bobby" Wickham is engaged to marry him. Bobby, upon her arrival, quickly sets him straight–she is in love with his best friend Reginald "Kipper" Herring, and because she knows her parents find Herring unsuitable, has made them believe she will marry Bertie, whom they dislike even more. She believes that their discovery of the truth will be a relief.
At the same time, Aunt Dahlia persuades Bertie to try to break up the budding romance between Phyllis Mills and the American Willie Cream, also staying at the estate. Phyllis's mother, Aunt Dahlia's friend, does not like "Broadway Willie." Tact is necessary in dealing with this matter since Willie's father is a wealthy man negotiating important business deals with others at Aunt Dahlia's country estate. Jeeves is on vacation, and Aunt Dahlia, needing a butler of her own, hires Sir Roderick Glossop, a well known psychiatrist, to act as butler, his real job being to spy, purportedly, on Willie Cream to uncover unsavory details which can be used to break up his romance with Phyllis. During Bertie's stay, a piece of valuable antique silver, a creamer in the shape of a cow, disappears–perhaps a result of Willie Cream's "kleptomania."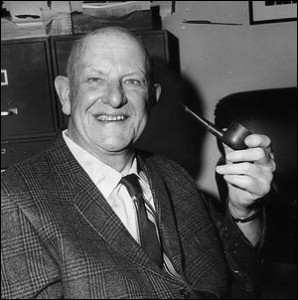 As always, Bertie engages in word play and puns, the coining of new words, and quotations from well known works. He sometimes massacres English words, and he delights in misquoting in foreign languages. As always, he must rely on Jeeves, called back from a fishing vacation, to rescue him from the complications which result from his meddling.
The intricacy of the plot, the overlapping relationships of the characters, the use of irony and gentle satire, and the sparkling dialogue keep the reader engaged, despite the predictable outcome of the plot. First published in 1960, this type of mannered novel is now dated, and many readers will expect more from the novel than "just" entertainment. Wodehouse, however, is as good as it gets in providing clever, light entertainment, with delightful wordplay–while poking fun at the English countryhouse life which has now largely disappeared.
Notes: The author's photo is from http://www.telegraph.co.uk/
Also reviewed here:   SUMMER LIGHTNING,  GALAHAD AT BLANDINGS,