A hymn of praise to celebrate Maori values and victory
I can't recall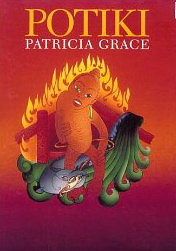 when I've ever felt so strongly the musical rhythm of an author's style, or the extent to which it changes to suit the tempo of the action and themes. In the first third of this wonderful book by a very talented writer, conversations between the simple Mary and Granny Tamihana, the guardian of Maori traditions, echo and sound like chants; between Roimata and Hemi, a happily married couple, they resemble duets with complimentary themes. The scene in which Mary gives birth is a grand, complex chorus with the several family members singing over, around, and above each other as they fight for the narrative line. Toko's story of his big fish is a soaring aria which ventures into a mystical realm, for Toko is a seer. And all this music seems totally appropriate to the lives of these Maori characters living in harmony with the land and their ancestors.
The middle third of the book changes, as Hemi, the father of the family, abruptly introduces the harsh notes of reality which occur when "the works" closes down, and he and his friends find themselves unemployed. In mournful tones he comments on the loss of tradition, language, and connection to the land which are coming about as education is imposed on their children by outside authorities, and people such as himself accept outside jobs. Their very existence as a group is also threatened by developers who want to buy their land to put up hotels, build seaside parks where visitors can play with the dolphins and whales, and commercialize the lifestyle these Maori have enjoyed all their lives.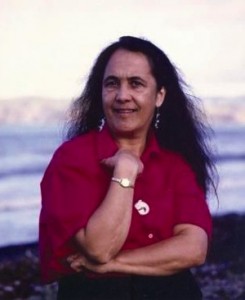 In the final third of the book, as the Maoris fight for their land, the staccato, simple language is like the harsh beat of a war drum, and the songs disappear from the language, not returning until the rebuilding of the sacred house and the funeral of a key character bring about harmony and poetry once again.
It is hard to imagine that Patricia Grace did not deliberately tailor her prose style to her subject matter, yet this seems so completely natural–so totally without artifice–that one wonders if this harmony of words and subject might be the ultimate, triumphant example of the unity of story and life which she so vividly celebrates in this memorable and touching novel.
Notes: The author's photo comes from http://www.belletrista.com