"Looked at from outside, [the] guests—in this dead-and-alive dining room, of this dead-and-alive house, of this dead-and-alive street, of this dead-and-alive little town—in the grey, dead winter of the deadliest part of the most deadly war in history—thus seen from a detached point of view, they presented an extraordinary spectacle."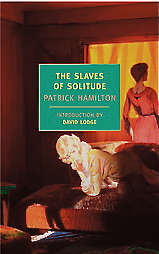 Described by the [London] Daily Telegraph as "a criminally neglected British author," Patrick Hamilton wrote nine novels from the 1920s through the early 1950s, along with the famous dramas of ROPE and GASLIGHT, and though he earned the admiration of a host of famous authors, from Graham Greene and Doris Lessing to Nick Hornby, he never achieved the popular success he deserved, either in his own time or throughout the twentieth century.  In this decade, however, virtually all his novels have been reprinted in both Europe and in the US, and he is finally beginning to be recognized for his astute observations about his times and for his insights into the minds of his characters.  Though TWENTY THOUSAND STREETS UNDER THE SKY is the most recognized of his books (thanks to a BBC mini-series), and HANGOVER SQUARE is often considered his masterpiece, my personal favorite is SLAVES OF SOLITUDE.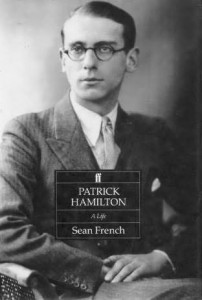 During the Blitz, the setting of this novel, many Londoners cleared out of the city at night, taking daily trains to temporary quarters in the countryside for safety.  Timid Miss Roach, a woman of thirty-nine who is a secretary for a London publisher by day, lives at the Rosamund Tea Room, now a boarding house, in Thames Lockdon.  Here, she and her fellow boarders take their meals and try to live "normal," peaceful lives during the night-time bombing of 1943.  Some of the long-time residents of the house, however, subject newcomers to psychological warfare, similar to the real war they are trying to escape—with skirmishes, sneak attacks, and deliberate sabotage of each other's personal space.
Miss Roach, who does not use her first name, is new to the residence, and she has become the focus of an ongoing attack by Mr. Thwaites, a man in his sixties, "a lifelong trampler on the emotions of others" who regards mealtimes as "torturing time."  For him, the Rosamund Tea Room is "a sort of compulsory indoor game in which he perpetually held the bank and dealt the cards."  As a result, Miss Roach lives in "plain fear, fear of life, of herself, of Mr. Thwaites, of the times and the things into which she has been born, and which boomed about her and encircled her everywhere."
When Miss Roach,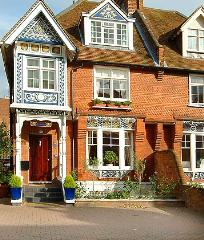 in frustration, escapes the house to the movies one night, she meets American lieutenant Dayton Pike, who, with a friend, has recently had dinner at the Rosamund Tea Room.  Within three weeks, she and he become friendly, and her life changes.  The arrival of Vicki Kugelmann, a German-born friend, turns her life upside down.  Vicki "plays" on Mr. Thwaites, teaches him card games and flirts, and he loves it, regarding her as an ally.  Unfortunately, she behaves the same way with Miss Roach's lieutenant, being far more aggressive, drinking to excess, joining them at the bar, using slang that Miss Roach finds coarse and common, and even calling Miss Roach not-so-joking names to her face.
Patrick Hamilton's sense of satire and natural wit turn the Rosamund Tea House into an ironically depicted microcosm of 1943 life.  Here he lays bare the inner lives of his characters, not through interior monologues but through their behavior, their revealing conversations, and their interactions with others.  No character recognizes that any other character might inhabit a completely different inner world from the world that is visible in day-to-day behavior.  All of them are seen as "slaves of their own solitude," and in their lonely lives, shown in poignant detail, they become sympathetic—and human—rather than truly laughable.  Stiff upper-lip-ishness may be the watchword for "ladies" like Miss Roach and "gentlemen" like Mr. Prest, another of the boarding house residents, but that characteristic, while "civilized" or "polite," simply adds to their sense of isolation.
Hamilton can do virtually anything with prose.  His ability to create sympathetic characters, while also conveying sense impressions, moments in time, and unique, visual observations about ordinary life is unparalleled.  His description of the "bench companionship" which arises among elderly denizens of parks, for example, includes references to "the semi-tottering parade of death-in-life in the winter sun."  Mr. Thwaites has "that steady look with which as a child he would have torn off a butterfly's wing, [or] with which as a boy he would have twisted another boy's wrist."  And Mr. Prest, playing golf, "having the treacherous faculty at certain intervals of being able to hit the ball squarely off the middle of the club-head four or five times in succession…would exhibit the curious caution… of packing up his clubs and going home only when such an interval had just occurred and remained unmarred by disaster."  Hamilton has finally found his audience in England, thanks, in part, to the BBC series based on TWENTY THOUSAND STREETS UNDER THE SKY.  Here's hoping that more Americans who love brilliant prose and memorable characters will soon join them.  (On my All-Time Favorites List)
Notes: Also by Hamilton:   TWENTY THOUSAND STREETS UNDER THE SKY and  HANGOVER SQUARE
The author photo appears on the cover of his biography by Sean French, published by Granta in 1995.
Though Hamilton says that the Rosamund Tea Room is not based on any particular boarding house or former tea room, it might have resembled the Alushta Guest House: http://www.lodging-world.com
That house is in Henley-on-Thames (http://www.thames-path.org.uk)  also pictured, which was the town on which Thames Lockdon was modeled.
SLAVES OF SOLITUDE

REVIEW. Classic, Book Club Suggestions, England, Historical, Humor, Satire, Absurdity, Literary, Psychological study

Written by: Patrick Hamilton

Published by: NYRB Classics

Date Published: 02/20/2007

ISBN: 978-1590172209

Available in: Ebook Paperback Hardcover