"While the director of the sanitarium was performing [a] demonstration, my eyes had fallen once more upon that ponderous book…WITCHCRAFT AND MEDICINE.  The title had given me an idea, an idea which, like the key piece in a jig-saw puzzle, suddenly made clear in my mind the pattern behind the whole bewildering series of events.  It had been a puzzle for fools, and I saw now that it was its very foolishness which had saved it from being absurdly obvious." – Peter Duluth, main character.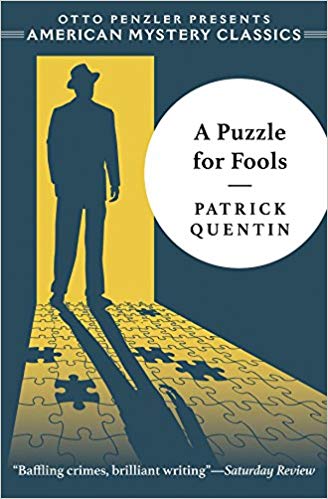 Written in 1936 and out of print for thirty years, A Puzzle for Fools has now been resurrected as part of Otto Penzler's American Mystery Classics series – and what a classic it is!  The novel, hugely successful when it was initially published, established "Patrick Quentin" as a popular writer, quite different from some of his contemporaries in that he was more interested in the psychology of his characters than many of his contemporaries, who were still following a predictable formula for their plots.  For Quentin, a pseudonym for Hugh Callingham Wheeler, in collaboration with Richard Wilson Webb, this is the first of nine novels featuring Peter Duluth, a main character who is not a genius and is not perfect.  Duluth is a man who has had a Broadway career, and he is still mourning the horrific death of his wife in a fire at the theatre two years ago.  For two years he has attempted to escape his memories of her death through alcohol, ultimately admitting himself to a psychiatric institution where he is attempting to get his life back under control.  Relatively normal when he is not drinking, he gets to know everyone at the institution, from the male patients in his wing and the women who gather with them for activities on weekends, to the employees and officials who make the institution successful.  He is about to get a workout on all levels as mysterious events begin to take a more ominous turn.
In some very obvious foreshadowing, Duluth tells the reader that he "had no idea then of the fantastic and horrible things which were so soon to happen in Doctor Lenz's sanitarium…I did have a distinct impression that something was vitally wrong.  Even then I felt that behind all this madness there was method, [but it was] a problem far too intricate for my post-alcoholic brain." As he establishes the atmosphere of the institution and its patients, he is obviously describing a place far different from the "insane asylums" that have deservedly achieved reputations for being more like prisons and penitentiaries at the time of this novel's writing.  As Duluth puts it, "It wasn't a sanitarium really.  It was just an expensive nuthouse for people like me who had lost control."  Here, the patients involved in the story are people who are not insane but have difficulties with one or more aspects of their personalities.  One man is "one of the greatest conductors of our age," but  has been frightened so badly by something that he cannot function.  Still another has narcolepsy, falling asleep without warning.  One hears spirit voices and even sees spirits.  A young woman suffers from melancholia, and another woman from kleptomania, able to pick someone's pocket without their feeling anything.  In an interesting twist, the male and female patients socialize on Saturday nights, under the direction of the medical staff, their interactions affecting their perceptions and those of the staff. 
The action begins when Duluth, trying to sleep one night without "sleeping powders," hears a voice.  Three times it tells him "You've got to get away, Peter Duluth," and it sounds like his own voice coming from the window.  When it then tells him that there is going to be a murder, Duluth panics and runs, finding his way to a nurse's room where help is summoned.  It is Doctor Lenz, owner of the sanitarium, who decides to trust him with the fact that "there may be at this moment someone in the sanitarium who ought not to be here….[and] I do not doubt that there was something definite and actual behind your experience…This is not the first disturbing thing which has been reported to me recently….one of the patients [may be] deliberately causing this trouble for some crazy reason of his own."  His best (terse) advice to Duluth is "Do not let anyone or anything persuade you that you are suffering under a delusion.  Good night."  Duluth's spirits are soon improved, of course, when he meets Iris Pattison, a beautiful young woman whose father lost all his money and then threw himself off the penthouse roof garden in front of her.  She's been at the sanitarium ever since.  As Duluth suddenly finds himself feeling sorry for her, he also realizes that it is the first time in two years that he has felt sorry for anyone but himself, and he is determined to help Iris regain her spirits.
The night-time voices warning of murder become more frequent, and before long, a particularly grisly murder does take place.  A patient skilled in martial arts is found tied up in a strait-jacket, with a cord running from his neck to his ankles – forced to lie face down on his arms for hours before finally expiring on the premises.  Other threats, accompanied by significant and obvious foreshadowing, occur, as Duluth and the sanitarium owner team up and try to find the killer before he strikes again.  What results is one of the cleverest plots I've read in ages.  The reader does not know anything about the murderer's motivations, and the only real clues are what the author has provided and what appears in the night-time messages given by the mysterious voices. While this novel does use psychology more ingeniously than was common for the period of its writing, the characterizations are relatively simple compared to what one normally sees in contemporary writing, and the reader has little to go on, even if one has kept a character list (highly recommended here).  I did find the detailed lead-up to the conclusion a bit too long, and perhaps that feeling distracted me.  As a result, I was totally blind-sided by the clever conclusion when it occurred, one of the best I've read in a long time!  The book may be a bit clumsy with its obvious foreshadowing and limited by what was known about psychology at that time, but it is a gem of plot design, one that lovers of traditional mysteries will not want to miss!  As the author tells us in the quotation at the beginning of this review, "it had been a puzzle for fools," and I was certainly one of them.
Photos.  The author's photo appears on http://www.junglekey.co.uk
The man found dead in the straitjacket in the novel was forced to lie on his arms in pain for hours before he died. In this photo, the man in the straitjacket is Houdini.   https://www.ripleys.com
The mental institution which Duluth lived in may have resembled this one, at Worcester State (MA), formerly the Kirkbride Ruins.  https://www.danverslibrary.org
A PUZZLE FOR FOOLS

REVIEW. PHOTOS. Book Club Suggestions, Historical, Mystery, Thriller, Noir, Classic, United States, US Regional

Written by: Patrick Quentin

Published by: Penzler Publishers

Date Published: 03/05/2019

ISBN: 978-1613161258

Available in: Ebook Paperback Hardcover