"Her movements were rhythmic and slick. Her voice distinctive, lending every word a seductive, breathy lisp. Her face was instantly familiar. I remembered her from "Oklahoma!" as the funny girl who couldn't say no, and as the soft-hearted bitch, the one who didn't get the man, in "The Greatest Show on Earth"….She wasn't wearing fancy clothes, just her usual T-shirt and a pair of jeans…I was captivated. Dazzled by her style." – Peter Turner, upon first meeting Gloria Grahame in England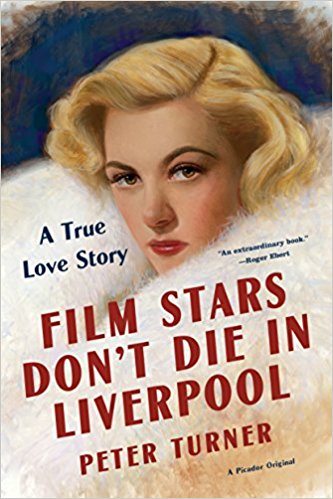 Peter Turner, who befriended Hollywood Oscar winner Gloria Grahame in 1979, was then a twenty-seven-year-old budding actor in England, and Grahame was fifty-five, a four times married American actress who had won the Academy Award for Best Supporting Actress in 1952 for "The Bad and the Beautiful." Their twenty-eight-year age difference became irrelevant as they came to know each other and Turner found he was able to keep Grahame on an even keel and to inspire her to perform her acting duties. Eventually, the two traveled and explored New York, a place new to Turner, a resident of Liverpool, as Grahame showed him the places to go and the things to do there. When, after two years, she suddenly ended all contact with him, refusing to explain anything or answer any of his messages by phone or mail, he was forced to go on with his life, his relationship with Grahame just a memory. As the novel opens, Turner is suddenly contacted by Grahame months later about getting together, and he soon discovers that she broke off her relationship with him and ended all contact because she was seriously ill and did not want to be a burden. Now, however, he realizes that she needs help – and quickly. A physician is recommending that she seek hospitalization, but she is adamantly opposed to it. Instead she wants to visit with his large family in Liverpool and stay with them until she feels better.
For those too young to remember Gloria Grahame, she was a striking, blonde actress, resembling Lana Turner without the hardness, a vulnerable woman who looked younger than her years. In 1946, when she was twenty-three, she appeared in "It's a Wonderful Life" produced and directed by Frank Capra and starring James Stewart, Donna Reed, and Lionel Barrymore. Though she appeared in the film in the role of Violet Bick, Gloria Grahame's name did not appear on the marquee or even in most of the lists of characters, and MGM, believing that she would not become a major star, sold her contract to RKO after this film. In 1952, she had a major role in "The Bad and the Beautiful," starring Lana Turner, Kirk Douglas, Dick Powell, and Barry Sullivan, and surprised everyone by winning the Best Supporting Actress Award. Five more films in the early 1950s – including "Human Desire," "The Big Heat," and "Not as a Stranger" made her famous and established her role as a femme fatale.
Grahame was a surprise pick in 1955 for the role of Ado Annie in "Oklahoma," which gave her much publicity even as her career began to taper off, perhaps as a result of her tempestuous personal relationships during this time – her four marriages, including one to the stepson of a husband she divorced, and the births of her four children. Her career never really recovered from her personal life.  By 1979, when she, now aged fifty-five, met Peter Turner, her film career was essentially over, while his career was just beginning. Despite the age difference, they cared for each other, and Peter was particularly protective. As he says of Gloria: "For someone who had been in over thirty Hollywood films alongside great actors like Joan Crawford and Humphrey Bogart, and worked with brilliant directors like Fritz Lang and Vincent Minnelli, Gloria gave me the impression that she had no real sense of achievement."
Turner's narrative about Gloria Grahame feels very much like a screenplay, heavy on dialogue with quick scene changes from different time periods adding background and filling in needed details. As the meeting of Gloria Grahame with Peter Turner's large working class family is set up, the reader comes to know and like them – especially his kindly mother, who cares for them all. His mother wants to help Gloria, too – as long as that responsibility does not interfere with the trip to Australia she and Peter's father have planned, their first trip there to visit a son they have not seen for sixteen years. Gloria finally settles into a fairly quiet room in the Turners' Liverpool house as life goes on all around her. She does not want her own family, including her children, to know about her illness, as she plans to leave the Turner house as soon as she gets her energy back.
In the meantime, Peter Turner has a job in a stage play and is not in a position to quit, though he often appears late to the theatre and just barely makes his entrances because of the delays involving Gloria. Arguments about Gloria, but not including her, erupt within the family as they try to decide what is really in her best interests. When a doctor tells them that Gloria has only a few days left to live, they wonder what kind of arrangements regarding her family makes sense for this woman whom they hardly know and who is overturning their lives? The hiring of a nurse to make life easier for Peter's mother adds humor to what might have been a maudlin story, and Peter Turner's own caring attention, while reluctant at first, keeps the sentiment honest.
Originally published in 1986, the book was reissued on May 2, 2017, aimed at an audience largely unfamiliar with Gloria Grahame and the films of her day. A new film has just been produced about these events from thirty years ago, and the book is a lead-in to that.  Listed on IMDB, the film itself appears to have stellar credits. Directed by Paul McGuigan, with Matt Greenhalgh and Peter Turner as the screenwriters, the film stars Annette Bening as Gloria Grahame, Jamie Bell as Peter Turner, and Vanessa Redgrave as Jeanne McDougall. The film, according to press releases, will be released on December 15, 2017.  Since the book is thin and can be read easily in one sitting, I hope that the film will be broader in its themes, more universal in its approach, and more sensitive to some of the issues of the day.
Photos, in order:  The author's photo appears on the back cover of the 1986 hardback edition of this book.  Credit: The Lester Glassner Collection.
The photo credit for "It's a Wonderful Life," 1946, is http://theredlist.com/
Grahame's photo with the Oscar, 1952, may be found on https://www.pinterest.com
Grahame as Ado Annie from "Oklahoma," 1955, is from http://shebloggedbynight.com
The poster of "Not as a Stranger," 1955, features Olivia de Haviland, Robert Mitchum, Frank Sinatra, Gloria Grahame, Broderick Crawford, and Charles Bickford.  https://alchetron.com/
FILM STARS DON'T DIE IN LIVERPOOL

REVIEW. Biography, England, Film connection, Historical, US Regional

Written by: Peter Turner

Published by: Picador

Date Published: 05/02/2017

Edition: Reprint

ISBN: 978-1250136855

Available in: Ebook Paperback Hardcover