Note: This book won the Novel of the Year Award at the Irish Book Awards.  (11/27/13, Irish Times).
–Well, said his da now in the pub.  –Facebook. Yeh know it, yeah?

–I do, yeah, said Jimmy.

–What d'you make of it?

–I don't know.

–Yeh don't know?

–No, said Jimmy. –Not really.

–But you've kids.

–I know tha', said Jimmy. –I've four of them.

–Is it the four you have?  said his da.  –I thought it was three.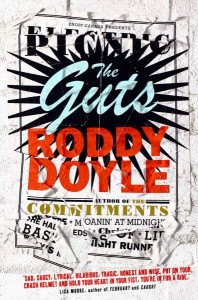 Twenty-five years ago Jimmy Rabbitte and his mates in the working class Barrytown section of Dublin decided that the best way to change their economic situation for the better was to form a rock band.  In the first novel of author Roddy Doyle's Barrytown Trilogy (1988), named The Commitments for the rock group they formed, Jimmy and his hopeful friends tried for big-time success, and in the trilogy's subsequent novels (The Snapper and The Van), they continued their earnest and energetic, though unsophisticated, plans to improve their lives.  Now, after twenty-five years and four children, Jimmy has achieved modest success in the music business, though not as a performer, and in his new novel, The Guts, he revisits many aspects of his life, his family, and his friendships as he evaluates where he is in the Grand Scheme of his own grand schemes over the years – ever since he first dreamed of success with a rock band.  Like the earlier novels, The Commitments and The Van,  Doyle's The Guts is hilarious, filled with humor that ranges from the dark to the most boisterous and profane, but it also shows an older, more thoughtful Jimmy whose life has taken a sudden turn in a new direction:  Jimmy has just learned that he has cancer, and he has not yet told anyone.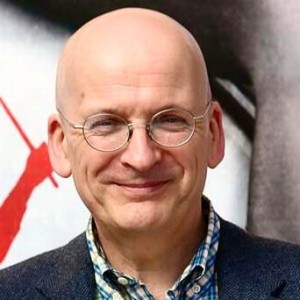 When Jimmy and his father meet at the pub after work, the reader sees a different culture from that of Jimmy and his family twenty-five years earlier.  His father, despite his playacting about his ignorance of the internet, now texts friends about "going for a pint," and he wants to know about Facebook and websites on which older women (cougars) chase young boys.  Soon Da is in his cups and discussing aspects of his own sexuality with Jimmy, treating him as an equal in a new way.  Without warning, Jimmy tells his father about his diagnosis, a shock which his father first tries to pass off, and then tries unsuccessfully to share.  Though his father is not a demonstrative person, Jimmy notices that he "was trying to get nearer to Jimmy without actually moving.  Without making a show.  He leaned across the table and put his hand on Jimmy's arm.  He kept it there."
Here, as in most of his other novels, Doyle's characters are so clearly conceived that his dialogue and the subtle actions of the characters often take the place of real narrative.  The language of the streets pervades the novel, just as it does the lives of the characters, and the jokes and humorous byplay that friends and family enjoy with each other, like the da's "inability" to remember how many children Jimmy has, keep the reader entertained at the same time that s/he is learning much about individuals and their attitudes.  Jimmy's announcement about his cancer, his da's basic questions about it, and his da's wish to be closer to his son all reveal the relationship between the two, and as they walk toward the exit of the pub, after the big announcement, "Jimmy let his da lead the way." Later, Jimmy creates a list of the people he needs to tell about his cancer in person, fussing over the order in which he will tell them about his planned surgery and chemo so that no one is offended by learning the news late.
As the novel progresses over the next six months, Jimmy tries to reconnect with some family members who have moved on and had no contact with him or his parents for years.  Typically, he also comes up with a new scheme to make money, this time from the Eucharistic Congress and the possibility that Pope Benedict will be coming to Dublin for the first time since 1932.  He also creates a new kind of music business to take the place of his previous one, which has become dated and is now unprofitable.  Throughout, music forms the bridge allowing Jimmy to communicate with many people without becoming more personal than he is able to deal with.
At times, when Jimmy wearies and becomes fearful, not knowing whether the outcome of his surgery and his chemo will be successful, the author, with his own boundless energy, picks him up and sets him aright as he continues on his journey.   This is the Jimmy Rabbitte that those who loved The Barrytown Trilogy, both in book form and in film and the theater, will remember and love.  This Jimmy, however, is now a grownup, and, like the rest of us as we have aged, he has begun to move beyond the immediate to think about bigger and more "gutsy" subjects than he did as a teenager and young adult.  Though it is not perfect in its structure, and does, sometimes, wander off under its own steam, the novel is  funny and thoughtful and sensitive, a worthy successor to the earlier Barrytown books, despite its limitations, which feel minor compared to the book's dauntless, ebullient spirit.
Note: Also reviewed here:  THE DEAD REPUBLIC,     A STAR CALLED HENRY,       SMILE.       LOVE,      LIFE WITHOUT CHILDREN
Photos, in order: The author's photo appears on http://www.independent.ie
The photo from the musical version of The Commitments, which opened in London in October, 2013, appears on http://www.cheaptheatretickets.com
Chemotherapy and Radiation for Dummies is a real book by Alan P. Lyss, et. al., available on Amazon.http://www.amazon.com/
The photo of Christy Moore, part of a rave review of one of his concerts in 2012, appears on http://www.telegraph.co.uk/
THE GUTS

REVIEW. Book Club Suggestions, Humor, Satire, Absurdity, Ireland and Northern Ireland, Literary

Written by: Roddy Doyle

Published by: Viking (January 23, 2014)

Date Published: 01/23/2014

ISBN: 978-0670016433

Available in: Ebook Paperback Hardcover