"Though I was from the North of England, I stayed on in Barcelona….The quality of the light first thing in the morning, so bright and clear that the buildings seemed to have black edges.  The green parrots that flashed from one palm tree to another.  Long walks in the Collserola in April, to gather wild asparagus, or in September, to hunt for mushrooms… a city whose pleasures were simple and constant."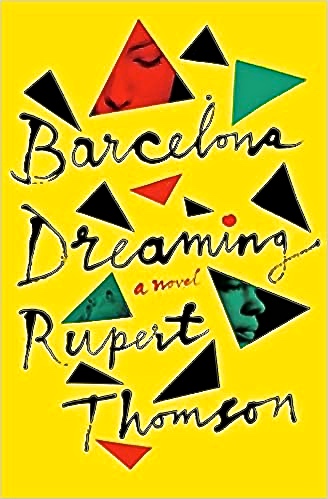 In this unusual ode to Barcelona, author Rupert Thomson, who lived in Barcelona from 2004 – 2010, creates three intersecting stories with overlapping characters, each of whom gives a unique perspective on life in this city on the northeast coast of Spain.  In the first section, "The Giant of Sarrià," Amy, a British woman in her forties, owns a shop which she describes as resembling "Aladdin's cave of unexpected treasures," a shop she has named "Trinket." With her daughter at school in England, the divorced Amy has the freedom to explore the city and get to know its people, respond to the subjects that interest her, and create her own life.  One night she is awakened by the sound of sobbing coming from the car park below her apartment.  Surprised that the sounds appear to be coming from a man, she investigates and is immediately impressed by the urgency of the man's problem.  The man is young – perhaps nineteen or twenty – and he appears to be from North Africa, probably Morocco.   She invites him to come into her apartment to get cleaned up, and afterward gives him some money to take a taxi to wherever his home is.  The next morning two of her friends are horrified by her actions. Three days later, the Moroccan man appears again outside her building, waiting for her to return from work.  He, known as Abdel ben Tajah, has come to cook her a meal as thanks.
In a break from her narrative about Abdel, Amy also reveals her relationship with her ex-husband Pol, and when her friend Montse, also divorced, talks about her ex-husband Nacho and his infidelity, they set the scene for a broader discussion of marriage, love, and the past.  Amy soon becomes physically attracted to the Moroccan boy-man who has visited her at her apartment, and when she learns his address, she travels by metro to meet him. The difficulties of a woman alone in the city arise, however, when Amy is robbed and assaulted by a man on a motorbike as she travels through the city.  Another disaster strikes later when the old man who is her neighbor adamantly refuses to let Abdel enter her apartment with her, attacking him with his walking stick and lashing him across the face.  The issues of racism are obvious, and when Amy gets involved to stop the abuse, the situation escalates, eventually involving the police.  A seven-foot tall giant, Baltasar Gallego Magallon, from the neighborhood, was a witness and comes to her aid, and she soon becomes friendly with him, a man who is so shy that he rarely goes out except late at night.  This man, too, reappears later in the book, adding to the characters, further developing the setting, and expanding themes regarding love, how one defines it, and how one responds to it.
The second novella, "The King of Castelldefels," features a jazz pianist named Nacho, her friend Montse's ex-husband, a man currently unmarried but living with a woman twenty-five years his junior and her seven-year-old son.  Alcohol plays a major role in his life, and it is not unusual for him to pass out and remember nothing about his last hours, who he was with, and how he got to where he eventually finds himself.  It is Ari, the son, who gets Nacho interested in Barça football, but when Ronaldinho, a major Brazilian football star, signs with Barcelona, Ari is interested but not excited.  Ronaldinho, Ari believes, is a "show pony," famous for his tricks and inconsistency.  Soon Ronaldinho is celebrating life at the bar Nacho owns, where the alcohol flows freely, drugs are omnipresent, and women are available to attend to the drunks.  Nacho is passing out frequently, and his seven-year-relationship with Cristiani and young Ari are in danger.

Nacho even finds himself inexplicably naked when stopped while driving one night, and when playing Keith Jarrett's song  "Lalene" on the piano, he goes into such a deep trance that he plays for three hours and does not realize it.  When Ronaldinho learns that his family is returning to Brazil and also learns that he is being traded to Milan, Nacho feels totally abandoned – with good reason – yet he still expects he will see Ronaldinho again. "After all, he still has a key."
The third novella, "The carpenter of Montjuic," a bizarre story of the supernatural, is told on several levels by a narrator named Jordi Ferrer, a man who translates books. His love interest, Mireia, is the manager of a boutique hotel whom he has known since his schooldays, though the love is not enthusiastically returned. When they meet for drinks, she confesses that she keeps finding keys belonging to her friends.  The narrative becomes more complicated when Jordi summarizes the story he is working on: one in which a mysterious person leaves presents for others, noticing their positive and negative effects, especially when the effects change dramatically.  A pig's heart, a live bullet and a dead bird raise the tension to palpable levels. Another of Jordi's friends has become obsessed with wooden furniture handmade by Daniel Federmann, furniture which exerts a strong pull of its own, appearing to come to life and moving around by itself. 
Author Rupert Thomson lets his imagination go in all directions over the course of the three novellas, and his ability to describe what he sees and feels makes his work come alive, even when a character may be so under the influence that nothing in his reality makes much sense.  His ability to include social issues is so natural to his writing that the reader accepts his commentary without feeling that he is "padding" to broaden his scope and his themes.  His depiction of characters who are living on the periphery is sensitive to time and place – and to the issues which have made these characters who they are.  Thomson is a writer who fascinates with his originality and his unique insights, a man whose writing is stimulating at the same time that it is thematically honest and exciting – and even sometimes confounding.
ALSO by Thomson:  NEVER ANYONE BUT YOU
Photos:  The author photo appears on https://www.allenandunwin.com
Ronaldinho's photo is from https://www.the-sun.com
Keith Jarrett's photo may be found on  https://www.dw.com
While on a walk with Mireia, Jordi is inspired by this 200-year-old tree, and determines to "Remember this, remember everything." https://www.totsantcugat.cat
BARCELONA DREAMING

REVIEW. PHOTOS. Historical, Literary, Social and Political Issues, Spain, Barcelona

Written by: Rupert Thomson

Published by: Other Press

Date Published: 06/01/2021

ISBN: 978-1635420425

Available in: Ebook Paperback