"Hortensia hoped the women [at the Community Association meeting] were there for the same reason she was, even if secretly…for the promise of something non-threatening and happily boring with which to pass the time, get nearer to death, get closer to being done with it all. After so many years of living – too many – Hortensia wanted to die. She had no intention of taking her life, but at least there were the Katterijn committee meetings, slowly ticking the hours off her sheet."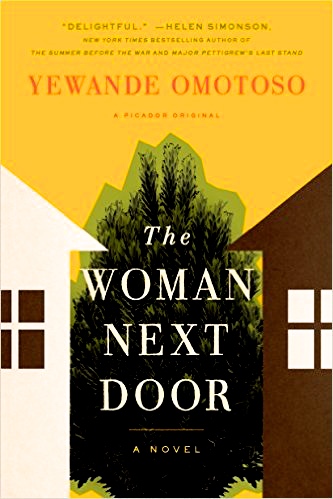 Born in Barbados, brought up in Nigeria, and now living in South Africa, author Yewande Omotoso may soon have to give up her profession. Trained as an architect and still working in that field, she has recently won the South African Literary Award for First Time Author and has been nominated for three other major South African prizes in the past four years. Her first novel, Bom Boy, was a popular, as well as literary, success, and this new novel looks as if it will appeal to the same kind of audience, readers looking for an escape from some of the doom and gloom of contemporary life but not an escape into mindlessness, a story with some realistic grit. In The Woman Next Door, her second novel, Omotoso's vivid characters and devotion to telling a good story provide charm and the kind of humor which reveals her characters' attitudes and states of mind, drawing in the reader and making the novel's conflicts feel more like those that many of us face in our own lives. Setting the novel in Cape Town, South Africa, Omotoso depicts Katterijn, an upscale enclave which has not yet escaped the country's past history of apartheid, however much the professionally successful neighbors might want to pretend that it no longer exists, but she is not a "message novelist." For her, the story and its characters come first, her themes being revealed through their conflicts and the empathy she creates among her readers.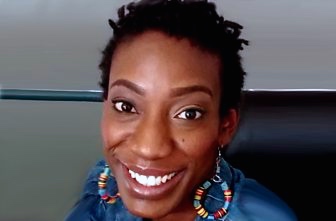 In what may be a unique twist, main characters Hortensia James and Marion Agostino are both over eighty years old – neighbors, with a hedge separating their properties. Both women are independent and often aggressive, and they have learned from experience to hold fast to what they believe and to be willing to say anything in their own defense. From their first meeting they have hated each other. Hortensia, a black woman, age eighty-five, is a former fabric designer and entrepreneur with a successful career, owning and operating boutiques which sell unique fabrics from all over Africa. Having met and married her white husband Peter in 1950s London, she then moved to Nigeria before moving to Cape Town, where she is the only black owner of property in Katterijn where they live. Her husband Peter is now dying, and she is his sometimes resentful caretaker, their relationship having suffered from his bad behavior in the past.
Marion, a white widow, was the architect of the forty-home development of Katterijn, where she and Hortensia live, and part of the tension between Hortensia and Marion has resulted from the fact that Hortensia is now living in the first house that Marion ever designed on her own, her favorite project, the one she herself would like to own. Marion's own house is built on the land occupied by the slave quarters of the former estate on which Hortensia's house is built, an irony which does not escape her. To complicate things even more on an emotional level, Marion has just discovered that her husband spent their entire savings before his recent death, and she has no idea how she will live when the bank begins to take action. She owns only one treasure, which she is determined to save from any seizure by the bank – a painting by landscape artist Jacobus Hendrik Pierneef, still regarded as one of the masters of landscape painting in South Africa.
In the meantime, Marion stays busy, having appointed herself to be in charge of the community association and its business, the most pressing issue of which is a recent land claim against the development. With apartheid abolished legally in 1991, a Land Claims Commission was set up in the Nineties "to restore land to the disenfranchised," and though the time for application for redress has passed, a recent new claim has emerged. A large, extended black family now claims land owned and operated by a wealthy white family which bought it at auction and operates a vineyard on it. Of less import, financially, is the request by another person whose grandparents were slaves living in the slave quarters of the estate that originally existed on the site of the development. This woman is asking permission to bury the ashes of her grandmother where several of her children were buried, at a "silver tree" on the development's property. This tree has writing on it listing the names of those black slaves buried beneath it, and it belongs to Hortensia.
Within this general sketch of the circumstances under which the all the action takes place, Omotoso develops the conflicts, the complications, and the conclusions to many issues, large and small. The point of view rotates among the characters and their pasts, creating many individualized scenes, and at times I could not help thinking of this story as the basis for a film comparing and contrasting the marriages, issues with children, career decisions, and dealings with their husbands' infidelities faced by both Hortensia and Marion.  Their skirmishes, insults, and hissy fits will keep smiles on the faces of readers for much of the novel, but circumstances arise in which both women must co-operate, despite their hatred for each other. As Hortensia declares, "Hating is a drier form of drowning."
At times, the novel does get bogged down somewhat in domestic issues with sudden coincidences used to resolve some of the issues between Hortensia and Marion. Occasionally, Omotoso also becomes sentimental, using imagery designed to pull at the reader's heart strings. The author's ability to deal with her thematic message regarding racism without becoming preachy or trite is remarkable, however, and her occasional artistic references, such as Picasso's response to African art and its influence on his French paintings, expand the imagery of cultural inclusion and connection beyond the borders of this novel. A novel that has something to say on a universal scale, The Woman Next Door is also a fast-paced tale of two women in their eighties who give new meaning to the term "nasty women."
Photos, in order:  The author's photo appears on http://www.bbc.co.uk/
Landscape by (Jacobus Hendrik) Pierneef (1886 – 1957).  Pierneef, considered one of the greatest of the South African masters of landscape, produced paintings which "reduced and simplified the landscape to geometric structures, using flat planes, lines and colour to present the harmony and order in nature."  See https://en.wikipedia.org/
The Silver Tree from South Africa, an endangered species,  and where a family wants to bury the grandmother of her dead children, is located on the border between the houses of Hortensia and Marion. Photo by Andrew Massyn:  https://commons.wikimedia.org
Picasso was influenced by artwork from sub-Saharan Africa from 1906 – 1909, his African Period, following the expansion of French influence there. Hortensia went to Abeokuta, a place said to have influenced Picasso's work, when she had her boutiques.  This portrait is from that period:  https://www.tripadvisor.com.sg/
Hortensia was particularly interested in the Yoruba adire fabric which she sold in her boutiques.  This photo is from a video on the making of this fabric:  http://artthreads.blogspot.com/2012/03/friday-inspiration-indigo.html
THE WOMAN NEXT DOOR

REVIEW. Book Club Suggestions, Historical, South Africa, Nigeria, Social and Political Issues, Apartheid|

Written by: Yewande Omotoso

Published by: Picador

Date Published: 02/07/2017

ISBN: 978-1250124579

Available in: Ebook Paperback Hardcover