Note:  Zhou Haohui is regarded as one of the top three suspense authors in China today, and  The Death Notice Trilogy is China's best selling and most popular work of suspense fiction to date. The online series based on these novels has received more than 2.4 billion views and achieved almost legendary status among Chinese online dramas.—Penguin Random House
"Won't you join me, my old friend?
I know you've been looking forward to this for far too long.  
I can see you reading this letter.  You're trembling with excitement, aren't you?  Your blood burns and an unstoppable pressure is building up inside you.  I feel it, too.  
I smell your eagerness.  Your anger. Even your fear.  
Hurry.  I'm waiting." – Eumenides to victim.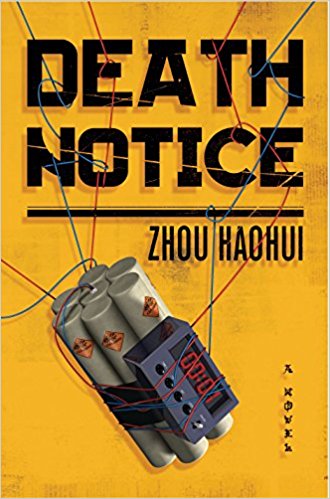 In this complex mystery, Chinese author Zhou Haohui creates main characters who are so surprisingly human that their behavior crosses the usual political, geographical, and cultural boundaries which often limit mysteries from other nations.  Exploring crimes which are among the worst and most vicious behaviors of which man is capable, the author describes two impeccably planned murder sprees attributed to the same criminal mind – that of Eumenides – a name chosen to recall the Furies, the gods of vengeance in Greek mythology.  Eumenides committed his first murders on April 18, 1984, crimes which resulted in several grotesque deaths.  The Chengdu Criminal Police established the 4/18 Task Force at that time to try to deal with these crimes on several levels and within several different police departments, but the crimes stopped before the police concluded their investigations.  Eighteen years later, many of those police officers are still working within the department when the murders begin again.  The police are more experienced now, and they know they are dealing with the same person when his unique modus operandi reappears.  In every case, past and present, Eumenides has sent a Death Notice to his intended victim, detailing the person's crimes, stating the date of punishment (that day or the next day), and identifying himself as the executioner.
Eumenides has always been successful in executing those he decides are guilty of particular crimes, no matter how much advance notice he has provided them or how many police have been involved trying to protect the intended victim.  One person, Zheng Haoming, a Chengdu police officer from the 4/18 Task Force, knew some of the victims well, and he has never felt comfortable as long as these deaths have remained unresolved.  Investigating on his own for years, he finally gets some real clues and decides to seek out a man with horrific scars from a bombing years ago to ask for help.  He hopes this man can identify people in some photos he has recently obtained.  Zheng is disappointed when the man cannot help, but the maimed bombing victim is equally disappointed.  Later that day, a mutilated body is discovered.  A man has been killed with a razor-like weapon, and further investigation indicates that the killer is Eumenides.
As each of the eight members of the newly reconstituted 4/18 Task Force begins to become more individualized for the reader, the relationships become clear, along with the rivalries, the private motivations, and the past histories. Eumenides is clearly playing a highly specialized game with the police, and as the murders increase –  and include members of the police – the tension increases dramatically.  Everyone has secrets, and Eumenides plays on these to bring about his own sense of perverted justice, always escaping capture.  As the new investigation begins, Pei Tao from Longzhou, an outsider on the new 4/18 Task Force, comes to the fore. He not only knew the first two victims killed in Chengdu in the same explosion, but he also played a dangerous game with one of them when they were students together in Chengdu.  Personally annoyed because he believes that two of the Task Force members have been wasting time conducting an internal investigation of him, he has angrily approached Captain Han, leader of the group, to demand answers as to why. Ultimately, he requests that the 4/18 cases from the past be declassified so that the new Task Force members will have additional information, currently unavailable.  The Captain complies.
Corruption here seems common – and it was surprising to see in this novel – and one of the leaders of the city appears to be more like an organized crime boss than an important leader.  Most of the police officers have secret histories, and a number of civilians with whom the main characters are in contact clearly cannot be trusted.  The gap between those in charge and those who are virtually anonymous in this city seems almost insurmountable.  A frantic pace evolves as deadly events begin to pile up.  Various police officials distrust one another, several begin to come to conclusions of their own, and at times no one really knows what any of the others are doing behind the scenes.  This depiction of police behavior made the novel seem a bit more like a typical crime thriller than some of the other novels I have read from China, but while this activity shows the main characters acting like the flawed humans they are, they do not actually "come alive" to the degree that most western readers expect.  Almost nothing is shown of the characters' private, personal lives, for example, or about their inner thoughts and feelings, or the personal values guiding their lives.  While these characters may be more fully revealed than what is often the case in novels from China, they are still more limited than what is seen in a typical thriller from western countries.   This  creates some identification problems for the reader as the novel moves toward its conclusion, since the fictional "hooks" and quirks which allow the reader to keep the characters separate and clearly identified are missing.  Keeping a character list that goes beyond the very limited list on the first pages of the book will help with this problem.
Fun to read, the novel has excitement and many surprises, one of which comes at the end of the novel when readers unfamiliar with this novel's past history discover that this is just the first novel of a trilogy.  Though many of the issues are settled to some degree of satisfaction, other key issues are left for the future.  A second and third novel will need to include a significant review of the character list if the reader is to bring past knowledge to bear on the new narratives and keep from confusing Zeng with Zheng, Peng and Deng.
Photos:  The author's photo appears in https://www.wsj.com/
Tianfu Square, of which this picture is only part, is shown in more detail here:  http://www.discoversichuan.com
The story of the Pere David's deer, which had been extinct in the wild and were recreated from
DNA, may be found here:  https://en.wikipedia.org/
Winner of the international LEAF Prize for architecture in 2013, this mixed use building features offices and a hotel.  http://www.nehow.com/
DEATH NOTICE

REVIEW. PHOTOS. China, Mystery, Thriller, Noir, Psychological study, Social and Political Issues

Written by: Zhou Haohui

Published by: Doubleday

Date Published: 06/05/2018

ISBN: 978-0385543323

Available in: Ebook Paperback Hardcover