"When I, just yesterday, look

and recognize myself, me Juan Nobody,

and today, Juan Somebody

I have everything today…

I have, let's see,

the pleasure of strolling through my country,

master of everything within it,

with things at hand that

I didn't or couldn't have before…"

—from Nicholas Guillen, "Tengo," required reading for every Cuban school child.
Set in 1994, w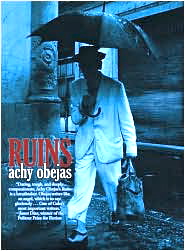 hen Cuba allowed its citizens to leave the country for the United States on anything that would float, Ruins, by Achy Obejas is a touching, close-up look at one man and his family and how he represents the life of the failed revolution of 1959.  Like his countrymen, Usnavy Martin Leyva, named for the ships outside his mother's house near Guantanamo Bay, has always lived in the shadow of the United States, ninety tantalizing miles away.  Unlike many of his contemporaries, however, Usnavy truly believes in the revolution and in the revolutionary songs sung by elementary school children.
Even now, two years after the Russians have abandoned Cuba, taking away with them the last of their meager financial support, Usnavy believes in the future, though he and his neighbors are starving.  His recent discovery that their neighbor Rosita is selling highly spiced, marinated "meat" sandwiches that actually consist of pieces of blanket that she has marinated until they start to fall apart, shocks him, and he is even more shocked when he finds that his desperate wife has bought one of these sandwiches to feed to their starving fourteen-year-old daughter.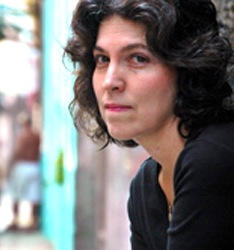 An honest man working at a bodega where the shelves are bare and he has to tell people with ration cards that there is no bread or eggs or milk, he is fair to all, not rewarding friends at the expense of the rest of the poor.   Though he has friends who have offered him a chance to escape with them to the US, he refuses, telling his best friend that "This is my dream," as he watches his friend's raft vanish "into the bright nimbus of dawn."
The brightest spot in Usnavy's life, apart from his daughter, is an enormous multi-colored dome lamp, a huge lamp anchored to the ceiling of his tiny house, so big that if the wind blew it, it would hit the side walls.  Inherited from his mother, the lamp may be a Tiffany lamp, but Usnavy has never sought to find out—he loves it, and its provenance and history do not interest him.
On the night that his best friend departs for the US, Usnavy pauses on his way home to Old Havana from the coast.  Some of his neighbors are scavenging at a collapsed construction site.  Repelled by the activity, he is nevertheless hypnotized when he sees some colored glass winking at him from afar.   Carrying his own bike and the one his friend has bequeathed him for his daughter, he locks them together in order to dig at the site of the beautiful glass reflections, and finds a small lamp, perhaps a Tiffany lamp, broken, but interesting, and possibly valuable enough to bring him a few dollars cash.  Exhilarated by his discovery, he is brought down to earth when he sees two men in the distance carrying off his bicycles, his only means of transportation.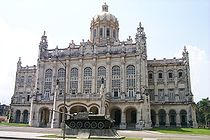 His quest to find parts to fix the little lamp brings him into contact with glass artisans, and he (and the reader) gradually learns the history of Louis Tiffany and his relationship with the island.  Tiffany was hired to decorate the Presidential Palace, now the Museum of the Revolution, but the obvious addition of a major Tiffany lamp at the entrance of the palace never occurred.  If the lamp had ever been made, in fact, it would be the "Cuban Holy Grail."  In the meantime, Usnavy learns that many of the "Tiffany Lamps" that are so valuable were actually made by counterfeiters in Cuba, who took glass making to new heights, sometimes more effectively than Tiffany himself. Usnavy quickly determines that if he can just fix and sell the little lamp, he may be able to get enough money to buy a bike for his daughter.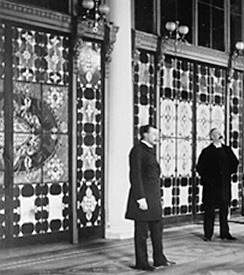 Poet Achy Obejas, born in Cuba but raised in the US, creates a vibrant, and sad picture, of life among the Cuban populace through Usnavy, her Everyman.  The emotions conjured in this book are intense, though the action is limited to the everyday life of Usnavy as he tries to live a real life within a revolutionary framework that he will not admit has failed him.  Because of its intense personal focus, Usnavy's emotional struggle resembles drama more than typical fiction, and it is easy to imagine the six parts of this novel as six scenes from a play—one which ensnares its audience in the life of a man trying to keep believing in a dream which has failed, an experience which can only be evaluated in terms of classical tragedy.  With its compressed imagery and symbolism, and its dark vision of life as it may still exist today, Ruins by Achy Obejas is a memorable addition to "Cuban noir."
Notes: The author's photo appears on http://www.penfaulkner.
The former Presidential Palace is now the Museum of Revolution: http://en.wikipedia.org
Louis Tiffany was hired to create a stained glass entrance to the Presidential Palace in Havana, perhaps something that resembles this entrance to the White House in 1882.  http://en.wikipedia.org/wiki